This week, as a part of Real Mom's Series, meet our real mom, Ayesha Nallaseth was born and brought up in a warm, loving, happy-go-lucky Parsi family. She is a single mom and loves her daughter Samara aka "Miss Smarty Pants" who will be turning six this year!
Tell us a bit about the real story behind this 'real mom'?
The day I found out I was pregnant was the scariest day of my life. A zillion things went through my head and as I sat on the pot with the pregnancy test (pointing at two pink lines) in my hand, I couldn't believe I was going to be a Mom! I was excited, scared, paranoid and dreamt that my baby will be super naughty. I had this picture in my head that he/she would be running after Spunky (my cocker spaniel) pulling her hair out. Don't know how and why did I even picture that.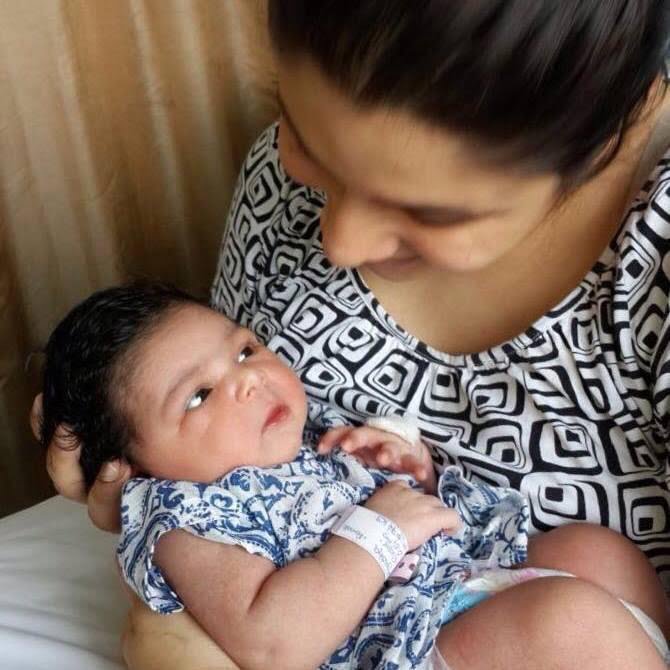 Over the span of 9 months, I came to terms with the fact that- one little buddle of joy, sleepless nights and no more 'Me time,' was coming my way and…I could not wait to embrace all of it.
Nine months later, I had a cesarean! According to my in-laws, I was to birth a boy. Their own old-wives' tales failed them. If you ask me. But, I was the happiest! While I lay on the super cold operation table, my gynecologist gave me the last tug and said: "Ayesha, congratulations. It's a big baby girl" and yes…this moment was when I felt the power of being a REAL MOM. I was teary-eyed, and just so you know why was this the best news. It's because, all these years, Delna (my sister) and I've been cruising through life together.
I feel so emotional when I think about that day!
Okay, on the funnier side, I'd never thought I would be the mom who would click pictures. I would detest that. Well! That's one thing, but I was also showing those pics to every random stranger I'd meet outside of home- out of sheer joy or because I would miss her badly. I recall traveling for work and showing my cabbie in Bangalore the pictures of Samara. "Oh man, I'm quite the obsessed mom."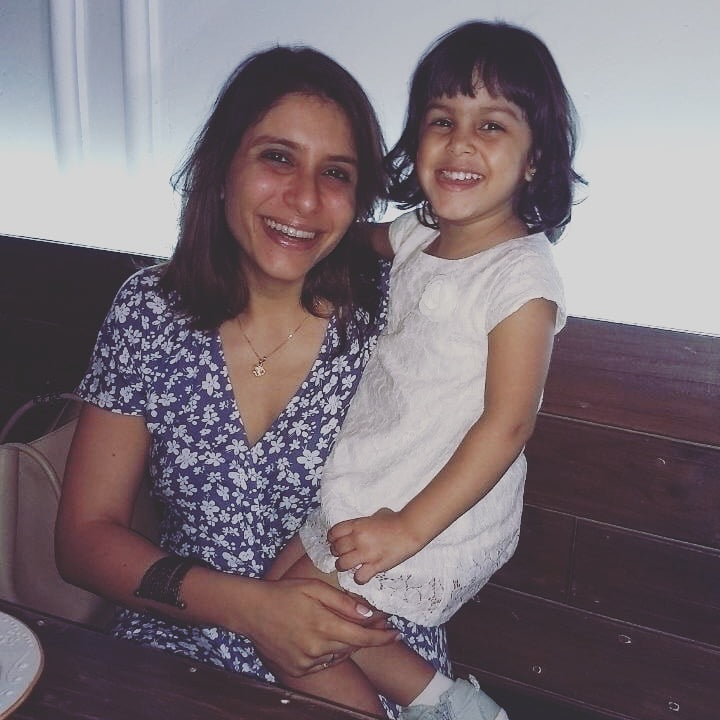 So, I guess all the moms in the world are sailing in the same boat and we continue to do so and there is nothing wrong with that. Each child is unique but each mother-child relationship is templatized. Don't you think so?
What it's like to be you?
I'm a single mom like a lot of you out there, trying to balance Samara, school projects, Samara's social life (which is definitely way better than my work), workouts, daily meals, domestic help and of course my parents. I feel like a woman who has multiple hands and sometimes things do tend to slip out of them, as most of the time we are firefighting. Therefore I have come to terms with I can't always be perfect. I have stopped going on a guilt trip and I have started focusing on the bigger picture which is Samara.
Samara is the driving force
When Samara was about 2 years of age, I weighed 120 kilos. I despised standing in front of the mirror and my confidence was in the gutter. Every day I would think of ways to ensure it doesn't impact me or my child in any way. And, then, one day I made up my mind. I had to end the tense atmosphere at home. I had to do something to bring in all the positivity and confidence back into our lives. I knew that very moment that my daughter will not see me like this, anymore. I've wanted Samara to be confident and comfortable in her own skin. Our kids are a reflection of us and therefore, I started working out and taking care of myself. Today, I weigh 65 kgs. My daughter inspired me. She is my little "Miss Smarty Pants" – my driving force.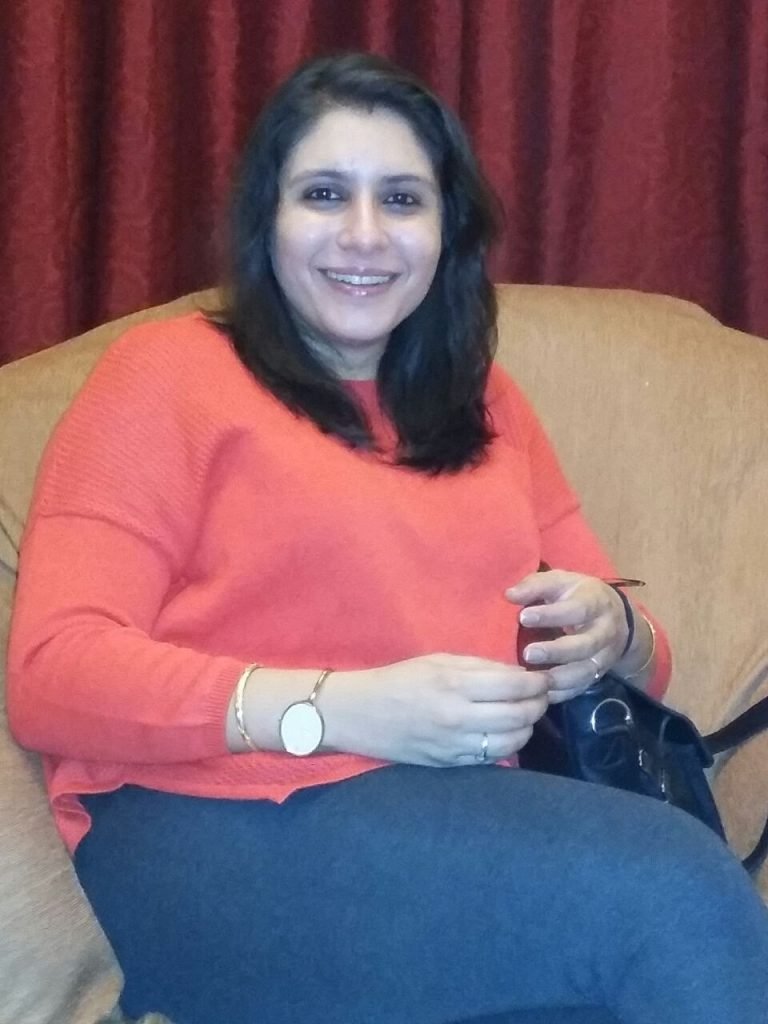 What's that one classic saying /rule you swear by in this journey of motherhood
As a single parent, it is extremely important for me to be honest and open with my daughter. I would expect the same from her. Both of us believe in communication and that's what we do every night when we lay in bed together. I listen to my daughter who gives me a lot of gyaan (knowledge). She amazes me, that my 5-year-old who will soon be 6 is actually able to teach me some real-life lessons.
We tend to glorify motherhood a lot and that tends to put additional pressure/ mental load of motherhood on a mum- what are your thoughts on this?
I totally agree with the above statement, what we forget as we glorify motherhood is that:
1. Everyone is opinionated: but trust me, moms, you know your child the best. People can give their opinions, but it's truly upon you to follow them.
2. We are our own worst enemy: we are the ones who put the most pressure on ourselves. We overburden ourselves and want to be perfect, it's natural but ease up moms. Everything will eventually fall into place trust your instincts.
3. Mental Peace: In this context, I want to share something deep and personal. I filed for separation because I wanted mental peace and sanity, I truly believe a happy mother will always have a happy child. Our kids can sense the tension even if we don't show it.
Conclusion: Be happy, and don't put pressure on yourself, we are but only humans and we will do what's best for our kids.
They say it takes a village to raise a child – tell us something about your village
I am a lucky mother and my village comprises of Samara's nanny Vandana, who came into our lives when Samara was just 9-months old and she has been my pillar. I could go to work without being stressed as I knew Samara has been in safe hands. For three years Vandana was my go-to. And then I moved back to my parents.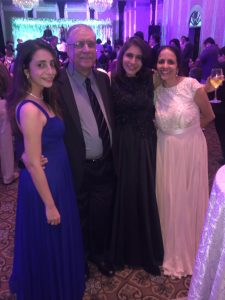 Was there something your parents did when you were a kid that you swore you'd never do yourself?
My mother is a rock star. She has been the driving force behind every single thing I have achieved by far. But mom sacrificed so much for her daughters. Mom and dad hardly had a night out alone, as they were juggling between work, in-laws and us. They invested all their free time in us. So, I definitely feel that as a young mom I owe a lot of self-time to myself.
Are you wondering that I'm being selfish? Well! Each one of us needs time to ourselves, and I've learned this from my own mother. Even 15 minutes is good to survive our crazy hectic lives.
What is it like being a working mom? What would you change?
Being a working mom can be really tough, I'm a working traveling mom and yes there is the guilt. But there is also the pleasure of sleeping on a bed where you don't have your little one literally strangling you. There are times when I don't know if I'm coming or going and everything is a big hot mess. The idea is to just keep it together and take each day as it comes. But, I have also been a stay-at-home-mom and that's way tougher. Hats off to all the moms who stay at home and nurture their little ones.
What do you want or wish most for your children?
I hope and pray that Samara grows up to be a happy content independent individual.
Today it's all about "Mommy you're the best in the whole wide world", "I made you a card", "I love you, only."
But, I'm sure to give it a few more years and it's going to be, "Mom please stop interfering your ruining my life", "Are you serious, this is what you are going to wear?" etc. Having said this, it's all a phase because I did it as well and today I know the value of my mother and being a real mom, who is true to herself!
Listen to the podcast on Radio Chimes!
Download TheChampaTree Real Moms eBook-1