Make the most of the quarantine period (caused due to COVID-19 outbreak) lockdown by spending quality time with your little ones. While we know you are juggling and also figuring ways to keep toddlers, and preschoolers busy, My Art For Life has once again collaborated with us to bring to you something fun and engaging. Check out this awesome video with 4 activities based on easy drawing for kids with alphabets. These are apt for the little ones aged between 4 to 7 years of age.
I hope you enjoyed our previous video – 5 minutes of animal drawing hacks. Click here to watch it again.
Did you know that this lion and boy were drawn using alphabets?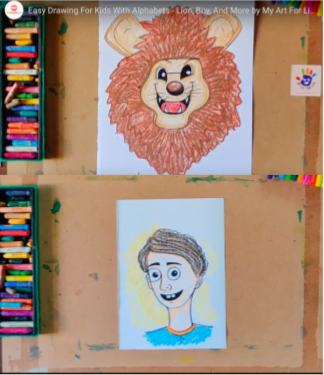 Here's a video of easy drawing for kids with alphabets. Make a lion with alphabets L, I, O and N. Similarly, draw a boy with alphabets B, O, and Y. Use a fork to make a colourful flower pot and make use of tiny fingertips to make a cherry blossom tree.
So, are you all set? Let's get started!
Hope you enjoyed the video. Show us your easy drawing for kids using alphabets! They must have turned out really well. As you might be aware of the fact, Reports say, visual information can be processed 60,000 times faster than text and it is easier to remember so teach and explain to your kids about different things via drawings. This will also help them in increasing the creativity level and they can easily create a picture of "What they read in regular life!" in their heads.
Share your opinion on the video via comments and let us know easy and fast drawing hacks for kids for different objects at [email protected] you can also give us a thumbs up if the video was helpful and subscribe to our youtube channel for such videos