We have always featured mothers with incomparable struggles. The women who have achieved the impossible and created a new benchmark in motherhood. We have also tried to bring to open the strong narratives of women who are blessed with immense talent, perseverance, empathy, and integrity. The Champa Tree met one such talent, Real Mom Sahana Naresh, who has one eternal love in her life – Music. Music is a therapy, an all healer which soothes our mind magically. Singers dedicate their lives solely to the notes in the songs because they are living the magic. Hailing from Chennai, this talented indie singer/songwriter and Hindustani musician, released her first single "Milky Hands" and its video last week. Sahana lives with her husband Dheepak and a beautiful baby girl Tara, who is 2 years old. Her parents Naresh and Menaka and his parents Ramaswamy and Usha are doting grandparents.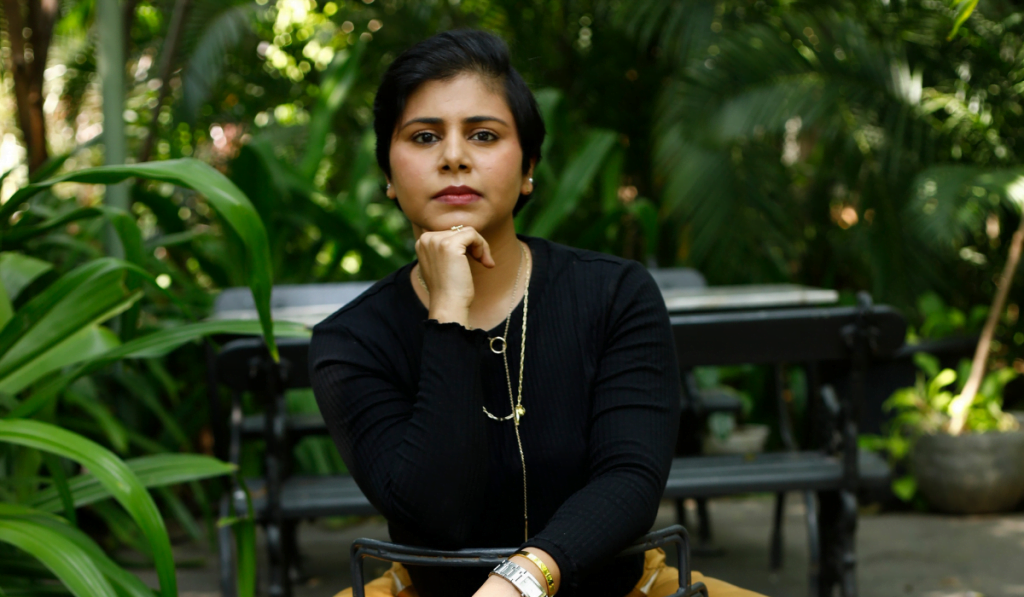 "The song is inspired by the birth of my daughter Tara. It meant to echo the duality of newly found parenthood – the unwavering bond of love and the disquiet moments brought on by the anxiety that I felt as a new mom for my daughter to feel safe and loved in this world. I used my ukulele to tell this story and hopefully guide my listeners through a labyrinth of emotions and sensory experiences between Tara and me," says Sahana. Let's listen to her journey of motherhood.
The musician mom – Sahana Naresh:
My story is about being a musician mom and my journey of releasing my own original single – "Milky Hands". The day Tara was born, I was in a lot of pain. But her beautiful face, when she entered this world, is still etched in my head. The love I have for her only grows each day. It remains even when I went through the most challenging times in my life – physical pain recovering from childbirth, postpartum depression, and sleep deprivation. A week or two after I gave birth, I was so overcome with love that, one afternoon, the song just came to me in a flash. Luckily, I had a steno pad and pen next to my bedside. Thus, I managed to jot down the lyrics and record the idea on the phone!
Facing motherhood was quite a challenge, and I took it head-on. And just as I was finding my rhythm and developing some order in all the chaos this little thing called The Pandemic happened! I was running a makeshift studio in my apartment, recording songs while planes flew above our building (never rent on the approach path to an airport if you are a musician).
Birth of milky hands:
I was also coordinating across different time zones with my cousin (also my producer) in Germany, and entertaining my daughter- it has all been part of the exciting (and wonderfully exhausting) journey of making this single and EP. Sometimes these came together in the form of a happy accident, like when one day my daughter burst into the room babbling loudly while I was in the midst of recording my album. And that vocal outburst went on to become the beginning and end of Milky Hands aka my daughter's debut performance!
My 'own' have been my strength:
I love being next to Tara when she wakes up (and she is a late riser). So, I get a good amount of my Hindustani vocal practice (Riyaz) and then rush to be next to her! After reading books and feeding her breakfast, Tara goes to spend time with her grandparents. Hence, I get the time to do my "work" – more Hindustani Riyaz, then the Indie part-writing lyrics, recording demos, recording covers (audio and video – multiple, multiple takes). I work with my husband, family, and my friends to help me mix, master, and produce the content you see on YouTube and Instagram. Further, I work on my marketing (which takes a lot of time as an Indie musician). I never miss out on my snuggle time with Tara and our reading sessions. The evening walks are our best quality time after which I get back to my riyaz.
I am grateful that I get to do all the things that make me happy. Spending quality time with my daughter, singing and learning Hindustani music.. And now, I am creating my own music, and sharing it with the world!

Real mom Sahana Naresh
My village and tribe – My family:
My husband and I spent the last decade in Seattle, USA – Tara was born there. We realized that we wanted Tara to grow up with our families. Therefore we decided to make a permanent move back to India in late 2020. And what a joy it has been for her growing up in her "village". With all 4 grandparents within walking distance, she is absolutely thriving here, and we are so glad we made the move. It has also been wonderful to watch my family spend so much time with her. The joy they get from being around her and watching her grow is priceless. I can honestly say that the production of my single and all my music was only possible because of the support of my "village."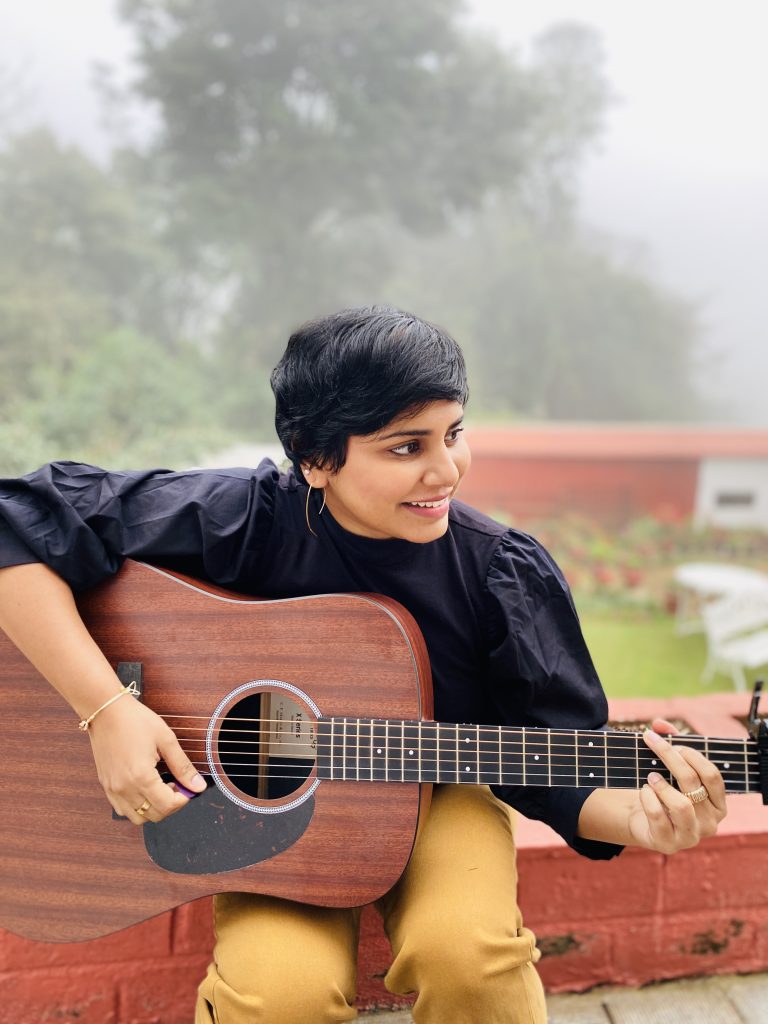 The leap of faith:
Quitting my job at Microsoft to focus on my career as a musician was the biggest "impulsive" thing I did. My dad Naresh is a Carnatic Veena player, and my uncles Ramesh and Suresh were behind the pioneering 70s Indian rock band Human Bondage. My cousin Keshav, a talented artist, and my producer was also a huge influence on me. Born into a family of musicians, my sister and I grew up viewing the world through the lens of music and we were no strangers to impromptu music, singing sessions at home and attending lots of concerts! So, music as a career was always something I felt was in my future.
When I started learning Hindustani from my teacher Vidushi Smt. Aditi Upadhya, I truly felt like I found my calling and decided to devote all my time to it. I traveled between Seattle and Bangalore spending months in India so I could get face time with my teacher. And it has been an absolutely wonderful experience. It has now been 7 years since I committed to music fulltime, and I am so glad I did it!
I am lucky in several ways! A loving family, incredible friends, a solid support system, and a great first career that set me up for the ability to take calculated risks. I wish the same for my daughter – psychological safety and empathy – that will enable her to try new things, explore all the possibilities. I want her to find joy in whatever she does and helping others around her achieve the same.
Attending mom support groups worked for me: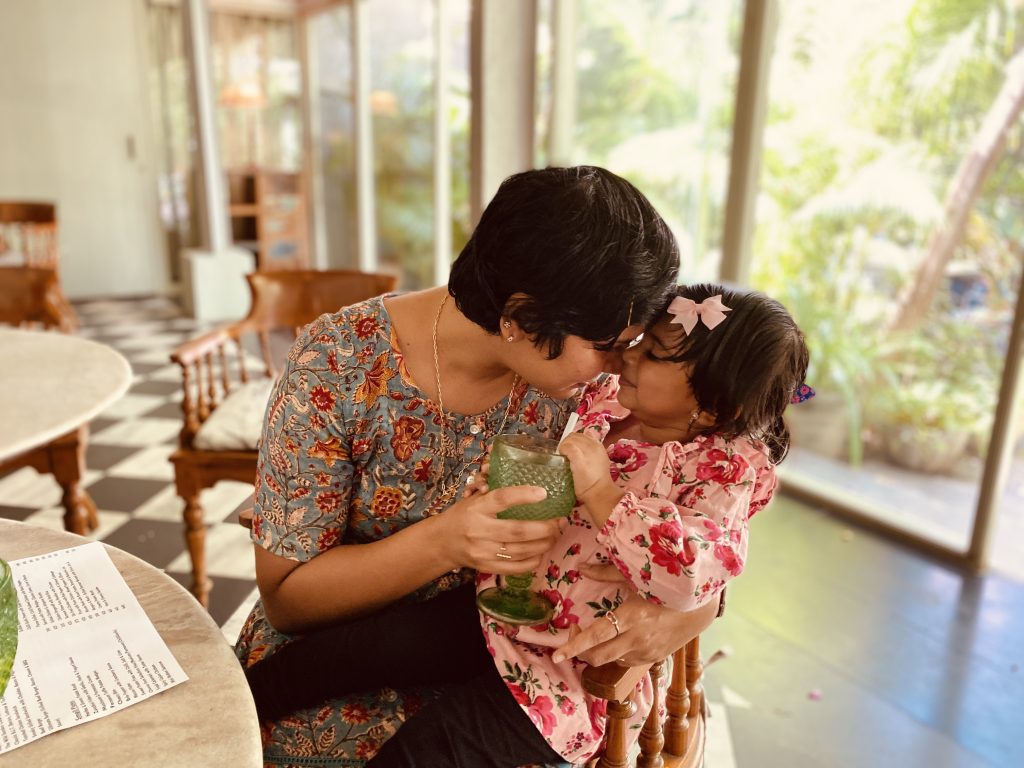 The pressure of motherhood is real. But I am glad we have communities like this that can help educate and raise awareness on these issues. I personally had to deal with a lot of emotional rollercoasters, physical exhaustion, and sleep deprivation as a new mom. Moreover, getting support from both my family and friends was extremely important. Attending mom support groups was also a great tool that helped me learn the ropes and find support with like-minded moms.
I recognized early that I was experiencing postpartum depression (thanks to my friends) and I sought professional help immediately.

Real mom Sahana Naresh
My biggest tip would be – don't hesitate to ask for help and go easy on yourself. It's very difficult to be a mom and there is no one perfect way. Trust yourself to figure it out as you learn more about yourself and your child each day.
Watch TCT live interview with Sahana on Instagram
Milky Hands is dedicated to moms everywhere – whether you are in the throes of diaper runs or in the midst of dealing with teenage angst. You are seen and you are heard. And maybe, you find some solace here. #judgementfreezone.