We've been missing out on holiday, blue sky, open area, the kids are missing getting drenched in sweat after hours of playing on the beach, making sandcastles… Trying out slushes and ice-creams as we would take breaks to sip on our favorite cocktails, all relaxed, be it the backwaters of Kerala or the pristine beaches of Goa or best tourist attractions in Singapore. Our family has always headed out of the city as soon as summer or autumn vacations begin. And, because we were missing it so much, we thought to create a beach at home (or a calming booth for yourself). No kidding.
You know what prompted me? The lovely beach towels. They inspired me.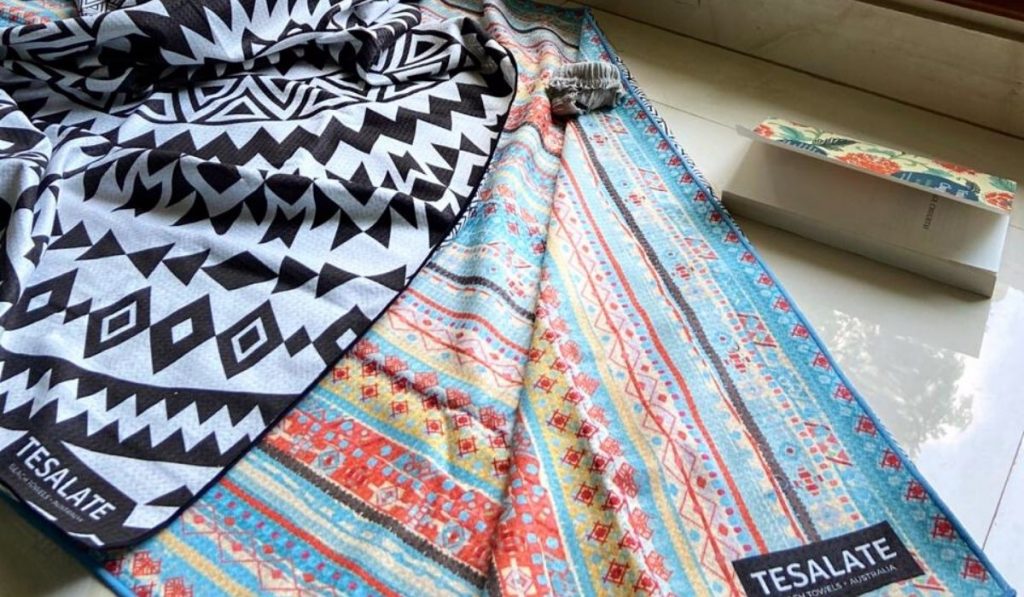 Tesalate was kind enough to send me their lovely collection. I thought to share the review for the simple reason that we at TCT adored everything about the brand. Here's our review for their bestseller – The Alchemist.
7 Reasons you should check out Tesalate towel range right away:
1. Sand free: We never brought any mud/soil/sand from our messy garden back into our home!
2. Design: What a visual treat. Over 50 gorgeous designs to cherry-pick from. I bet you will end up picking two in a row.
3. Awesome size: Multi-purpose, brilliant sized towels, really. I can use this ultra-fine fabric as a mat to lie down and sleep on- any given day! It's THAT smooth. As you can see, I'm happily reading a book, enjoying the view of the outside world as much.
4. Ultra absorbent and super light: Over 1 liter of water!
5. Rapid-drying: Half the time of a regular beach towel.
6. Compact packing: When rolled, fits in your bag, and that WON our hearts.
7. Super affordable range, just a click away: Buy now and get 10% discount
As we are experiencing a global pandemic and dealing with surreal invasiveness, and while we're missing our perpetual summer/winter holiday plans, here's something to pep you up a little now and forever. So, get set to inflate your swimming pools and bring home some holiday cheer with Tesalate's ultra-absorbent, smart towels. They won't ruin your houses at any cost.