Know about Johnson & Johnson safety commitment and why this brand is my ultimate baby care solution to everything
Over several years, Johnson's Baby, a brand synonymous with baby care, has proven its firm commitment to providing the BEST care for babies. The clinically-proven gentle formulas made Johnson's the most trusted name in the baby skin care for 125 years to be precise. Our mothers have also trusted Johnson & Johnson with that special care, only next to their own, when bringing us up. The soft and tender touch and feel of Johnson & Johnson products bring back childhood memories of a mother's care. There are emotions that we associate with Johnson & Johnson products.
And, while millions of moms out there have trusted the brand for decades, one fine day, the brand woke up to a news of how the baby talc was being linked to Ovarian Cancer and pulmonary issues, such as lung cancer, typically by way of inhalation.
So, early mid-this year, I got an opportunity to get a first-hand experience at the Johnson & Johnson Research and Development lab in Singapore. As a part of #ABCCircle, an exclusive group of Asian mom-influencers, I got to witness some of the mind-blowing, world-class R&D practices at their newly renovated Consumer R & D site. This facility is solely for the purpose of developing and testing new Johnson's baby products. From conception to shelving, all studies and testing take place here.
Some of the highlights and my observations:
1. The truth about seals:
The seals on the J&J product portfolio, which includes each and every product is not just decorative. My visit to the facility convinced me that every word they say, they take as a sacred commandment. And it is because of this commitment to make their products completely safe for babies, that there are multiple levels of checks and tests by third-party pediatricians, dermatologists, ophthalmologists, healthcare providers, safety professionals and other experts. This is especially true for the 'Gentle Seal' and 'No More Tears' formula.
2. Safe ingredients:
It's easy to be swayed one way or another with a new study or expert opinion. The brand takes any questions about their product's safety seriously and as a result, have dug deep into the evidence and science on talc. But for J&J, safe ingredients aren't just a consideration. Safe ingredients are the focus of how all baby products are created.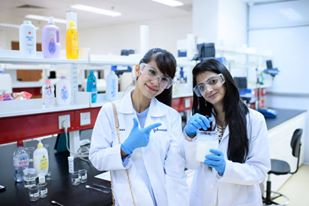 3. Adherence to safety standards:
Their industry-leading safety assurance process ensures that products meet or exceed government safety standards around the world. And that's not enough, for J&J is committed both to the science of safety and to the art of creating products that are gentle on people, as well as the environment. For instance, since the 1970s, talc used in consumer products has been required to be asbestos-free, so Johnson's talc products do not contain asbestos, a substance classified as cancer-causing. J&J Baby Powder products contain only U.S. Pharmacopeia (USP) grade talc, which meets the highest quality, purity and compliance standards. The company's sources for talc are routinely evaluated using a sophisticated battery of tests designed to ensure compliance with all global standards. It would be important to also note that the U.S. Centers for Disease Control and Prevention (CDC), which identifies potential risk factors for many diseases, has not identified talc as a risk factor for ovarian cancer.
4. Quality over quantity:
Unlike orange of brands out there which are constantly launching new and newer SKU every day, J&J is in no hurry or rush to introduce a plethora of products and inundate the market with quantity. Instead, the emphasis is on the quality of the products. So much so that it takes 32 steps and 2 years for Johnson's Baby to conceptualize, formulate, test, re-test and finally manufacture and distribute new products commercially. Good enough is just not enough at Johnson & Johnson. It is for this reason that their safety assurance process is one of the most stringent in the world, ensuring the safety and quality of every baby and beauty personal care product that is formulated and produced.
5. Constantly innovating:
Johnson & Johnson strictly believes that 'science is not set in stone'. At the labs as well as testing facilities at J&J, innovation is a constant. This means ingredients undergo a continuous process of strict checking and testing. Data is in a constant process of being analyzed. Scientists and product developers continually re-evaluate ingredients based on latest research and expert as well as customer feedback.
When processes are so streamlined, there is no reason to be swayed by civil trials (that take place in another country) that are 'non-criminal' and often filed to claim only personal damage claims. More so, if verdicts are decided by a jury that doesn't have specialized knowledge or training on the issue.
The only thing that should be relied upon is a personal testimony. And as a mother who has had the opportunity of visiting the facility, I am sure Johnson & Johnson is safe as safe can be.
Subscribe to Blog via Email
You might also like: [display-posts tag="keep-kids-safe" image_size="thumbnail" posts_per_page="5″ wrapper="div" orderby="rand"]