Picking out jewellery that complements your clothing has now been simplfies. for a particular outfit can get really tedious. Oftentimes people get confused on whether they need jewellery for an outfit or not, but someone great said, accessorizing is always a good idea. Different designers give different ideas and look at how to style a particular outfit, what to wear, what not to wear and what jewellery that complements your clothing can be worn that day/evening. Evolving times brought a great change to the fashion industry which in turn also made the jewellery industry go through a change.
The jewellery that is made now is modern and beautiful and they do come in a large variety. This is what makes it so hard to pick the perfect set of jewellery for the perfect outfit that one will wear. There are certain ways that the experts suggest, by which picking out jewellery gets easy and smooth. Picking out jewellery also depends on the occasion for example; workplace jewellery will be very different from festive jewellery. Here are some basic rules to follow while picking out jewellery for any outfit.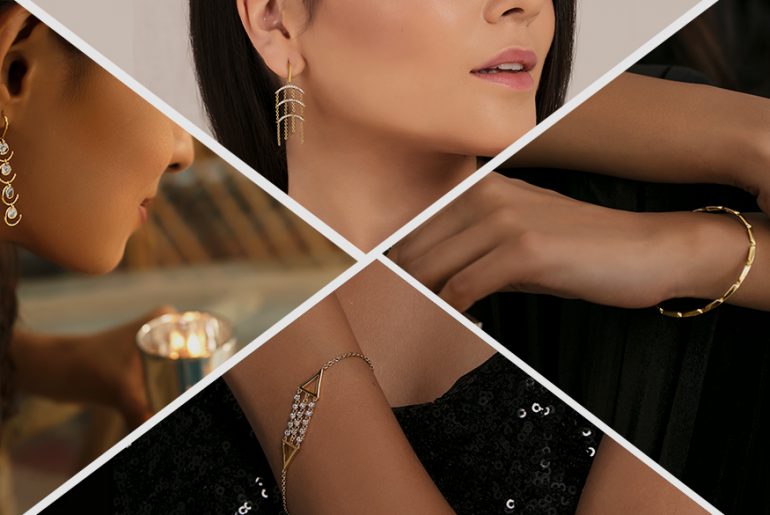 1. Keep it minimal
One should never go too overboard with the jewelry. Keeping it simple and minimalistic gives a good look at the outfit. For the workplace, one could use little earrings of gold plated material or even rhodium coated ones. These are simple and give a minimalistic look. One can also go for studs with office wear or a simple small pendant.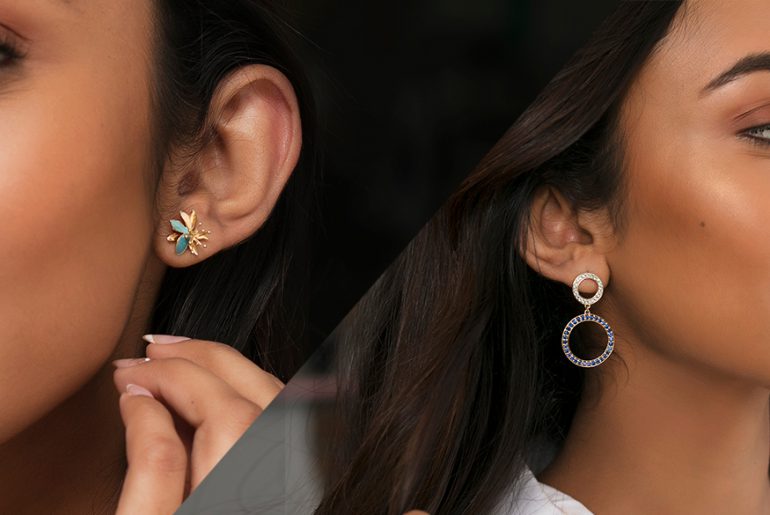 2. Necklace to brighten up
A big piece of necklace can make the simplest clothing item look glamorous. A big necklace is always a good idea with traditional clothing, shirts, bohemian dressing or even dresses. The entire look changes once a necklace is worn. Usually wearing earrings with a necklace is avoided because it looks very junk and the minimalistic tone is lost. So either one can go for dangling earrings or a big necklace to create an amazing look.
3. Bangles
Bangles are the perfect addition to any festive look as they uphold the traditional outfits. The modern minimalistic ones are also perfect for gaudy dresses and gowns. The latest gold bangle designs available in the market are a perfect fit for all these looks.
4. A handful of rings
Rings are the most minimalistic piece of jewelry that adds a different glam to any look. They can make any clothing item not look pale as they shine brightly on the fingers. There are a variety of gold ring designs for girls available in the market and one can choose accordingly for the clothing item.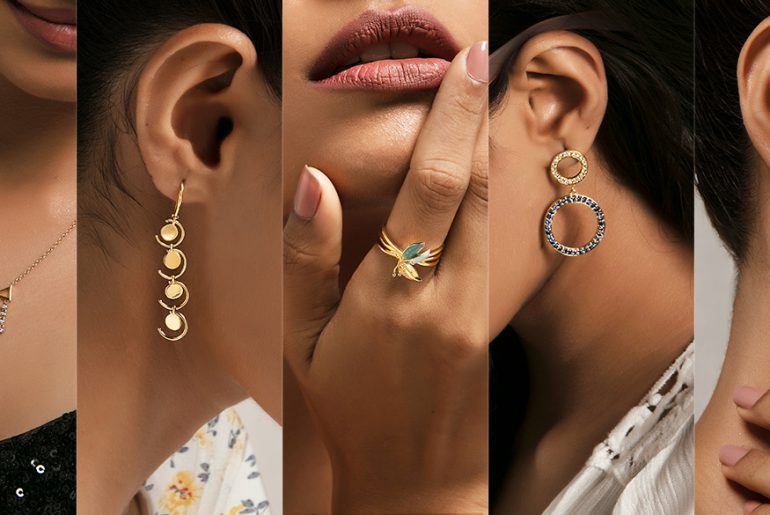 Picking out the perfect jewelry which complements the clothing item is definitely something one needs to put the thought in. Be it a choker necklace for deep necks or hoop earrings for high necks, accessories will never fail to glam up the clothing. These are some simple ideas, which if followed can give one a good look where the jewelry will perfectly complement the clothing or the entire outfit.