Monsoons are here and with the pandemic looming around we cannot let our kids go anywhere to play. Quite a few kids brands including our favourite Hamleys has a great stock of not just toys but K's kids range so that the rains don't stop your children from having fun playing indoor games for kids. If they do go outdoors, we also have some fun and cheery rainwear for kids to recommend.
Best indoor games for kids:
With online classes dominating the academic picture, the worries about the screen time of your child would be higher than ever. To make them engaged with indoor games for kids that don't demand screentime is important. The options of indoor games I am listing down are not your standard video games or board games but are innovative, funfilled, activity-oriented and encourage creativity in children. And what's even better is that most of these can be enjoyed by their friends and family.
1. The Zoomer Puppy & Dino:
The multiple award-winning ranges of Zoomer toys are internationally popular indoor games for kids and what's more, they are now available in India. The 'Zoomer Puppy' and the 'Zoomer Dino' are available exclusively at a Hamleys store in your city! The 'Zoomer Dino' & the 'Zoomer Puppy' are interactive robotic toys with optical sensors that respond to hand gestures. While aimed at children aged 5 and up, the toys appeal to everyone (even I found it amusing) making them the perfect toys to be enjoyed by the entire family. They are available at Hamleys India store in your city. Price: 9999 (INR).
2. Crayola magnetic double easel
When it comes to indoor games for kids, easels are the best choice. Draw, colour, make words and help unleash your kids' creative side with Crayola 3-in-1 Double Easel. One side of this easel features a magnetic dry erase board for drawing pictures, colouring or making word art with the magnetic letters available along with the set. In addition, the easel's reverse side has a chalkboard for your little boys and girls to practice their shading skills. Each side can be quickly erased to start a new art project, or it can also be put on display for the whole family to enjoy a mini art show. Isn't that so much fun with learning? This indoor game for kids is an investment as it would be used once the kids grow up as well. Available at Hamleys India store in your city. Price: 7555 (INR).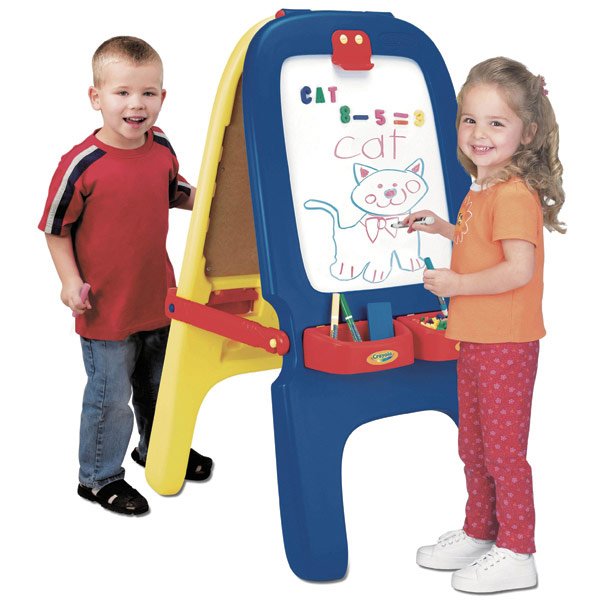 Related article: 5 Best toys that can boost development of your infant
4. Hape happy grand piano
Is your little one feeling musical this rainy season? Then, here is a perfect pick for him/her. Happy Grand Piano produces grand sound to accompany its extravagant appearance. The highlight of the piano is its excellent resonant sound and stylish appearance. Happy Grand Piano has a lid that can be closed. Moreover, Hape products are all non-toxic, child-safe and of the highest quality. The finish is non-toxic and hence ensures child safety. Know what? I can already imagine Brat H playing Moonlight Sonata on a cold rainy evening :)… Price: 9499 (INR).
5. Exyroller ultimate riding machine
This is the machine that started a movement: the original, authentic EzyRoller. It's a genuine article, extendable to allow kids from four to 14 (and even adults) to curve their way. Sit low, put your feet in the foot zone and you'll soon be joyfully swooping around the asphalt. For an ultimate smooth riding experience indoor that's so much carefree fun, go for EzyRoller which works off an instinctive reptilian movement in all of us. This possibility of keeping the kids active makes it one of the best indoor games for kids. EzyRoller is truly a celebration of liberated imagination and the play possibilities are endless. Available at Hamleys India store in your city. Price: 8500 (INR).
Rainwear and umbrellas:
Hamleys Stephen Joseph rain ponchos themed around butterfly and tiger are so bright and beautiful. My niece fell in love with it, the moment she spotted this rainwear for kids. She has been flaunting it even when it's not raining. And if a raincoat is not your baby's preferred style, then an umbrella themed around Disney Cars/Frozen or Dora and Barbie can be a good buy! These stunning monsoon wear and accessories are available at Hamleys. Price: 399 (INR) onward.
There are a few more options available on Flipkart, take for instance this smart Spiderman umbrella. Oh! And it comes attached with a whistle too. This an apt umbrella not only during rains but also helpful in keeping the sun away completely. Besides, it is lightweight. Price: 495 (INR).
Make this monsoon season entertaining for your kids both in and out of your house. While the indoor games for kids keep them occupied inside, the umbrella and rainwear for kids add colour to the pouring rains. Special thanks to my niece Aarna for enthusiastically posing for the photos.