One question that seems to bother us the very minute our baby hits the toddler and pre-school stage are – "How do I choose the best play school or daycare or creche near me for my child? Have you been asking yourself, "What are the best daycare centers or day care centre near me for my child?"
You must think about choosing a daycare exactly how you would look-for or find a new job for yourself. After all, it's for the sake of your child's best care. The approach to finding the best daycare is to go about asking around co-workers at your workplace, go on interviews, and seek the advice of friends, ask for referrals from parents whose kids are already attending the daycares you have shortlisted from the list.
What really matters at the end of the day is how well your child spent his/ her day at the daycare. Did they learn anything interesting? Did they have good-quality fun? Was the environment enriching enough for the little one to absorb good values?
What is the definition of good daycare? A daycare that allows mothers to return to their workplaces without compromising on the quality of care and love their little ones get.
In today's fast-paced life, where dual income is a must, one is expected to jump right back into work part-time or full-time. Most working parents rely heavily on a good daycare facility which is able to meet the basic pre-requisites. With such limited schedules and restricted lunchtimes, getting out of the office early or in-between is a rare possibility; therefore, finding the right daycare in which ACTUALLY takes care of your child is a task in itself!
Top 10 highly recommended day care centers in Gurugram:
1. Footprints 
One of the best things about this daycare facility is that it has over 7 branches in Gurugram alone (and 14 in Delhi-NCR)! You can watch your child Live on a CCTV camera (install the application on your handset) to get real-time child updates on your phone. They provide 100% nutritious food. Isn't that cool? There is more. They have world-class after-school care and adult-to-child ratio and tons of amazing kids' activities, such as sandpit, story-telling, Tae Kwando. Wait! There is more:- transparent operations! Nothing stays hidden from the folks! Open Doors – World's best Infant-Toddler "High Scope" Curriculum; Full day all-female teachers staff with unmatched customer-friendly policies. The best is still to come. They have something called – "Pause Policy". It means that if you are not satisfied, you don't pay!
Address: From Mayfield Garden to Sohna Road to Gurugram Phase IV, you name the area and they have the facility at your doorstep. For details, click here; Timings: 9 AM to 6:30 PM; Age group: 9 months onwards.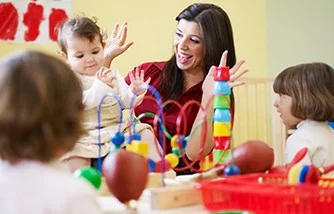 2. Aadharshila
Aadharshila is known for its simplicity. It is not a fancy one, however, it provides an exciting and inspirational experience to the little ones. This daycare is unique and different from others. Their motto is to teach the basic skills of life to kids. A highly recommended day-care facility to take care of your little ones while you are busy with your daily routine.
Address: Q1 Block, Behind B Block Market, South City – 2, Gurugram, Haryana – 122010.
3. KLAY (Kids Learning and You)
KLAY provides a full daycare program for children between the age group of 1 to 10. The program schedule includes schooling in the morning till 12 and Art, Craft, Dance, Karate, Yoga, etc. in the afternoon program. The full daycare program has been designed to provide a facility for parents who like to see their children be comfortable and safe, while they are at their workplaces. Their Emergency Day Care timings are 9 AM to 6 PM. This facility is available only for parents who are registered for the service. 
Address: NS-08, B Block, Opp. AVA Court, South City II, Sector 49, Gurugram, Haryana 122018; For website, click here; Age group: 1 year –to 5.6 years.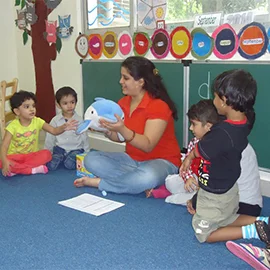 4. Pathways Early Years
Early Years mind-blowing curriculum features activities and equipment designed for the development of gross and fine motor coordination. That is exactly what our toddlers need to learn at a tender age. Hands-on activities that are appropriate for children at this age are planned and incorporated into their daily routines. This curriculum is focused on individualized care and attention to build strong foundations of love and security. They have 4 branches across Gurugram.
Address: Orchid Petals, Sector 49, Sohna Road. For website and find out about the other locations by clicking here; Timings: 8.30 am to 6 pm, all working days; Age group: 1 year onwards.
5. iDiscoveri
A holistic system of learning, started by an international corporate professional who was unhappy with the quality of care and education his kids had access to when they were younger, you can expect every step of your child's day to be constructed thoughtfully.
Address: Sector 46, Near Nirvana South City; Timings: 9 am to 1 pm; Age group: 2 years onwards.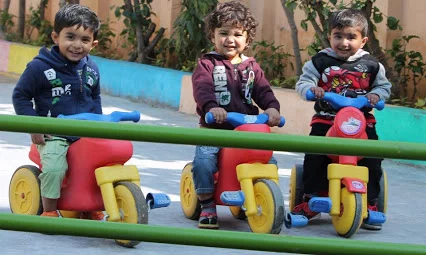 6. Kidzee
This nation-wide chain of pre-schools and day-cares values it's commitment towards quality child care and education along with complementing aspects of self-reliance, peer interaction, and individual growth. Being a pioneer and a leader in ECCE (Early Childhood Care & Education), Kidzee has set unparalleled standards in the CDE (Child Development & Education) space. They have 7 branches in Gurugram.
Address: Click here to locate; Website: www.kidzee.com; Age group: 1.5 years onwards.
7. TSEY (The Shri Ram Early Years)
TSEY aims at providing a good child-centric environment. Another plus point is that they boast of a well balanced and nutritious snack time menu which has been carefully planned by a qualified nutritionist with due emphasis on hygiene and health. They are currently running 3 programs based on the number of hours which range from 3 hours, 5 hours and 7 hours.
Address: Behind Vipul Greens, Sohna-Gurgaon Road, Sector 48, Gurugram, Haryana 122018; For website click here; Timings: 12:30 am to 3:30 pm/ 12:30 pm to 5:30 pm and 12:30 pm to 7:30 pm.
8. Pallavan
This program for children aged 1.5 to 10 years with an aim to provide an environment where children are able to discover the genius within themselves. The staff/child ratio at Pallavan is 1:8. Each group has 12 children in the age group of 1.5 to 2.5 years or 16 children in the age group of 2.5 to 3.5 or 20 children in the age group of 3.5 to 4.5 years. There is one caretaker attending to the needs of each group. So, all-in-all, they have three programs at Pallavan where children are divided according to age
Address: Plot No. 1107, D-Block, Shahtoot Marg, Opp. Qutub Plaza, DLF Phase 1, Gurugram, Haryana 122002; For website click here; Age group: 1.5 to 4.5 years.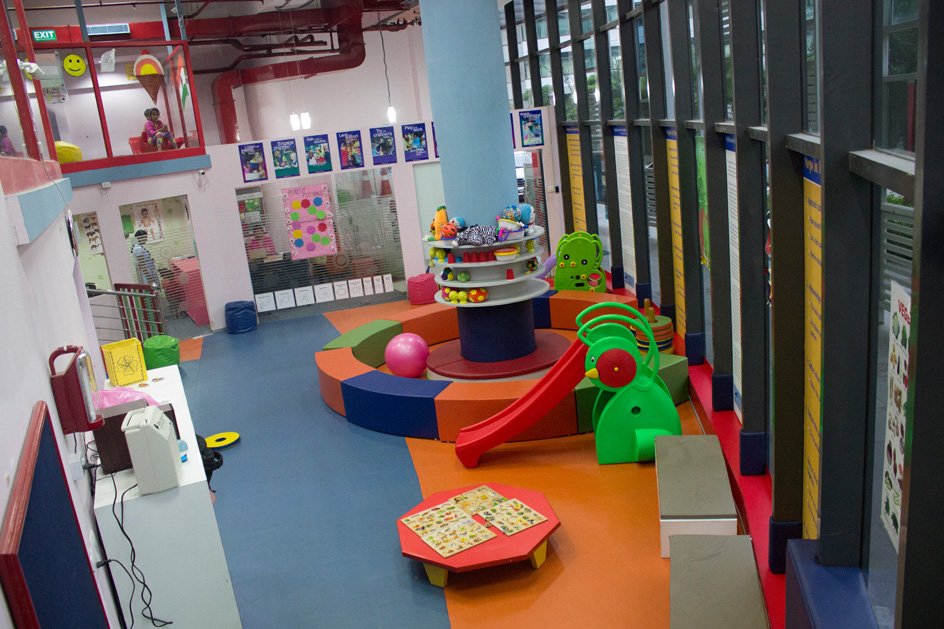 9. Ipsaa
They run their daycare like a large family home, grouping children vertically or laterally, to allow across-age group and sibling-like bonding. Growing up in this environment, kids learn the importance of relationships, sharing, empathy, and co-habitation, which are important life-skills.
Address: J-Block, Mayfield Gardens, Opposite Nirvana Country, Sector 51; For website click here; Timings: 8 am to 8 pm (they are quite flexible); Age group: 6 months to 1 year (Beauty program) and 1 to 2 year (Joy program).
10. Crystal Children's Centre
Crystal provides a safe, secure "home away from home" environment where a child can learn, play and grow. Their trained teachers and caretakers offer a nurturing and creative environment for the development of infant and toddlers' minds. Crystal offers an ultra-safe and stimulating environment with a wide range of indoor- and outdoor toys, selected especially with the child's safety in mind. They also emphasize a lot on reading. That's why they have a well-stocked media library that exposes little ones to a wealth of experiences, instilling a voracious appetite for information, knowledge, and learning.
Address: DLF Phase-II, K-Block; For website click here; Timings: 8.30 am to 7.30 pm; Age group: 2 months to 15 months (Cradle Program); 1.5 to 2.5 years (Tots program).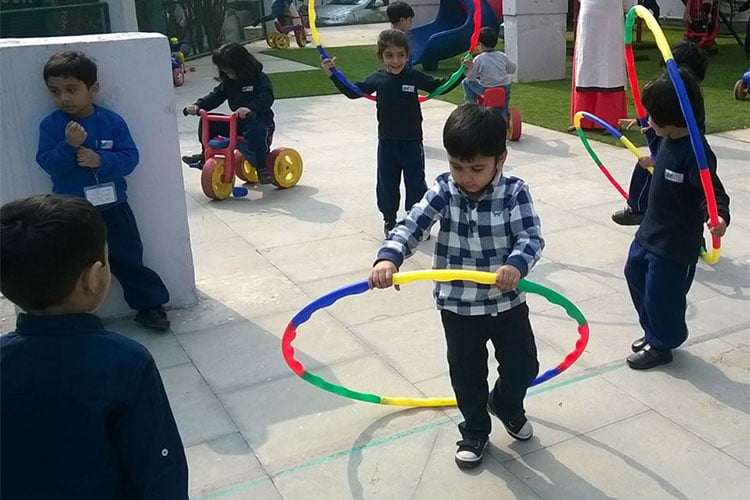 Daycare centres near me (in Delhi):
1. Ignited Minds Special School and Learning Centre
Address: Rohini Sector 3, Delhi
Contact: +917947223846
Ratings: 4.6*/5 (Rated by 129 Customers) 
2. Kidzee 
Address: Ignou Road Saket, Delhi
Contact: +917947376263
Ratings: 4.1*/5 (Rated by 41 Customers) 
3. Creche Little Friends
Address: Rohini Sector 4, Delhi
Contact: +917947218402
Ratings: 4.1*/5 (Rated by 33 Customers) 
Daycare centres near me (in Noida):
1. Trinity Tiny Tots Play Schoo

l
Address:Noida Sector 62,
Contact:+917947211536
Ratings: 4.4*/5 (Rated by 24 Customers)
2. Maple Bear
Address:Noida Sector 62, 
Contact: +917947228249
Ratings:4.5*/5 (Rated by 56 Customers) 
3. Iris Florets
Address: Noida Sector 62,
Contact: +91114159730,  +918130778772, +919999688147
Ratings: 4.5*/5 (Rated by 7 Customers)
4. The Little Scholar
Address: Noida Sector 19, 
Contact: +911204354424,  +919811342002, +919873399567
Ratings: 4*/5 (Rated by 35 Customers)
5. Makoons Pre School
Address: Gaur City 1,Noida
Contact: +917947210015
Ratings: 4.3*/5 (Rated by 20 Customers) 
6. Kindergarden Pre School and Day Care
Address: Noida Sector 66
Contact: +918130986500, +918826682502
Ratings: 4.3*/5 (Rated by 8 Customers)
7. Sperowz Daycare
Address: Noida Sector 10, 
Contact: +919540751751, +919540651651
Ratings: 4.8*/5 (Rated by 2 Customers) 
Image source: 01, 02, 03, 04, 05, 06
Subscribe to Blog via Email