Tricycles are a great option for children who are too young to ride a bicycle. They offer an enjoyable and comfortable ride, perfect for young children in their developmental age. Let's discuss the factors we must consider before buying a tricycle.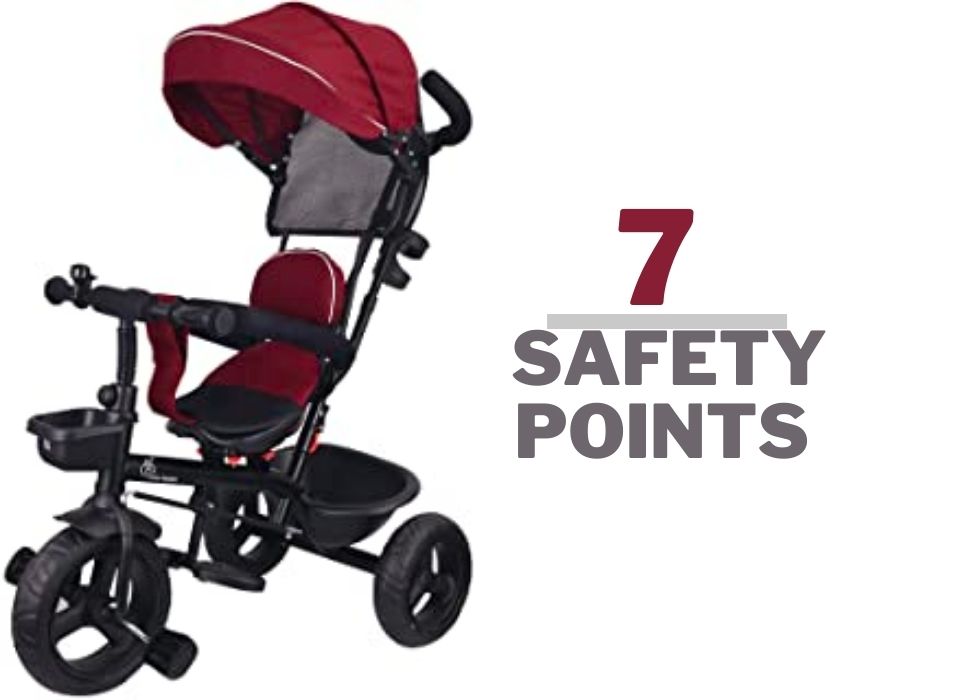 Questions to ask yourself before buying a tricycle:
1. Is your child the right age?
Tricycles are a good choice for children who are still developing their coordination and balancing skills. Tricycles come in various shapes, sizes and designs which are visually appealing and provide a satisfactory riding experience. Consider a mix of what suits your child's needs; like seat height, pedal size, etc.
2. Is your child ready for it?
It's always necessary to assess the developmental condition of the child, and make sure they're ready for it. Tricycles are generally designed for children between the ages of 3 and 5 years old. The skills required to ride a tricycle, like coordination, cognition and balancing develop between 2 and 3 years of age. But it's also worth considering that every child has his own pace which is why one must observe the child and see if it's okay to start riding. It's better not to hurry and wait for the right time to know if your child can handle the tricycle.
3. Is it safe to ride the tricycle?
Before buying a tricycle, see if the model has features like a safety harness, a footrest, and a handbrake to help your child stay secure while riding. Look for a tricycle with sturdy construction, a stable base, and a low centre of gravity. The tricycle must be made of durable materials and must come with robust tyres that aren't fragile.
4. Where is your child riding?
You cannot trust any surface no matter how flat and even more dangerous are outdoors. Tricycles are made for flat and smooth surfaces like bike parks, parks, and indoor flooring. Be wary of steep slopes and rough paths as tricycles are not built for that kind of speed and operations. Also make sure the child isn't riding near traffic and crowds.
5. What suits your budget?
Tricycles are available at different price ranges depending on variations in the features they offer. Take into account your child's needs, preferences and align them to your budget to get the best product available. While cheaper ones are available, affordability does not always guarantee durability. That doesn't mean expensive products are always better. A little awareness always comes in handy while making a choice. Do not forego safety features for an inferior pricing.
6. Is it worth the money?
Let's be honest, no child is careful with their toys and that's how they should be, at least for
for the sake of learning. That doesn't mean the money we spend must be wasted on things that don't last. A tricycle made out of durable metals with a trendy design and safety features is what we are looking for. If it comes with a storage basket and a canopy, what else can we ask for?
7. What brand are you looking for?
It's always advisable to go with brands that are reputable, or have the best customer reviews.Always go for tricycles with sturdy frames, adjustable and comfortable seats and durable tyres. Compare different user reviews and products across brands, talk to other parents and choose what meets your requirements and budget, offering the best value for your money. This brings us to one of the most preferred and best rated tricycles in the market right now; the R for Rabbit Tiny Toes T40 Plus.
What makes R for Rabbit Tiny Toes T40 Plus the best choice?
The R for Rabbit Tiny Toes T40 Plus, a BIS safety certified tricycle with weight capacity of up to 25 kgs has:
High quality Plug and Play rubber wheels
360 Degree Rotatable Seat with Footrest
Adjustable Canopy which helps you protect your kid from harsh UV rays
Front & Rear Baskets
Parental control that lets you steer your child in a safe direction.
Conclusion:
Tricycles are a great investment for parents who want their child to have fun while learning and exploring. Bearing in mind the child's age, readiness and environment, buy a tricycle that has quality, durability, safety and budget. An informed decision is the key to having amazing experiences.