A diaper rash is an itchy and bothersome nightmare for a baby as well as the mother. For a baby's sensitive skin, the irritation caused by the constant use of a diaper can be very painful. So what are you doing to treat it? Just applying baby powder or changing the diaper regularly isn't enough. What you need is some soothing diaper rash cream to keep the inflammation away and keep baby's skin soft, supple and rash free. Having gone through this painful process myself, and having tried and tested a huge variety of products, here are the amazing diaper rash creams I would recommend to keep your baby smiling all day long.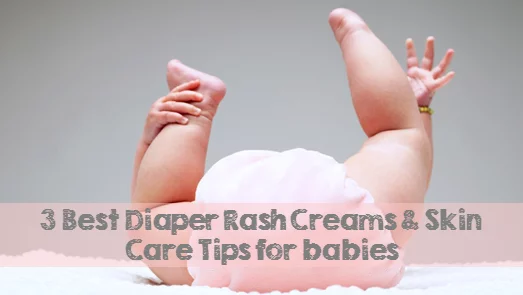 1. Himalaya Diaper Rash Cream:
One of the most popular products available in the market is the Himalaya Diaper Rash Cream. This cream is made with natural products like Aloe Vera and Almond Oil which simultaneously provide relief from the rash and nourish the skin. The Natural Zinc elements and the extracts from the five-leaf chaste tree are known to keep the skin dry, thus helping the infection heal due to their antiseptic, astringent and anti-fungal properties. All you need to do is apply it regularly to the part of the baby's skin where the edges of the diaper rub leading to a red and irritated skin.
Here are a few reasons, why the Himalaya Diaper Rash Cream is highly recommended:
Affordable pack sizes at Rs. 55 for 20 gms and Rs. 95 for 50 gms. The quantities are good and it lasts for a long time.

All natural ingredients have anti-inflammatory and anti-bacterial properties to heal baby's skin.

There are no side effects due to the Ayurvedic nature of the product.

It treats the rashes, prevents scars and overall keeps the baby's skin soft and smooth.

Easily available over the counter as well as online.

Convenient pack sizes make it easy to carry around wherever you go.

Distinctive and attractive packaging is very eye-catching.

It is free from parabens, mineral oil and synthetic colors.
Click here to buy online!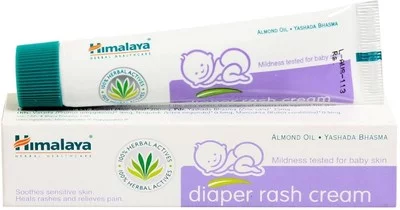 2. Sebamed Diaper Rash Cream:
One more product which stood out in the trials was the Sebamed diaper rash cream. It is clinically tested and proven to suitably treat the baby's skin infections. Here is why you should give it a try:
Balanced pH levels of 5.5 normalize the baby's skin pH which could increase due to constant wetness and contact with urine

Regularised pH levels help protect against microorganisms and infections from growing

Provides instant and long-term relief from rashes

Composition of substances helps protect against further rashes and inflammations
Click here to buy online!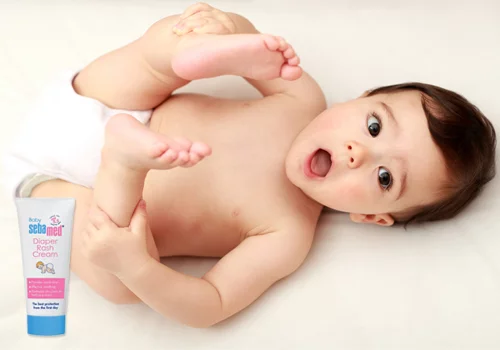 3. Mothercare All We Know Baby Nappy Cream:
There is another great option and I swear by this one too! Mothercare's All We Know Baby Nappy Cream, a hypoallergenic and dermatologically tested diaper rash cream. It is made with a number of natural ingredients which cool and soothe baby's irritated skin.
Moisturising olive oil and soothing chamomile provide instant relief to the baby and soften the skin

It prevents any discomfort caused by the use of nappies or diapers

It's all natural formula makes it suitable for use even with new borns
Click here to buy online!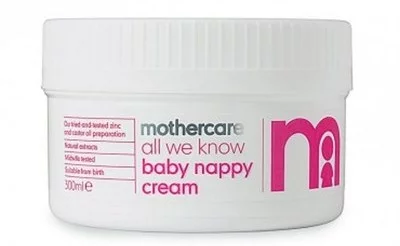 Start using a diaper rash cream right away and keep your baby happy and free of the itchiness and irritation caused by the constant use of nappies and diapers. There are sure to be smiles all around when you do.
Home Remedies:
In one of my previous posts, I did discuss home remedies (in details) for treating a diaper rash. Capturing 3 basic tips here. For details, please click on this:
1. Avoid using wet wipes.
2. Apply a few drops of coconut oil on baby's ultra-soft skin.
3. Regularly clean the area with water and sterilized cotton balls.
Disclaimer: These tips and recommendations might not be applicable in all cases. However, we suggest you do a patch test before applying any of these creams. Each baby is different from the other. So is their skin. Consult your pediatrician for advice.
Subscribe to Blog via Email