Take a look at best of the best, super cute baby shower presents in neutral, pink and blue colors as ideal gifting option for all seasons!
Have you been invited for a baby shower? Traveling all the way to join your sister and her husband in their baby shower celebrations? Haven't got time to step out and shop for baby clothes? You are absolutely clueless and have no idea how a baby care product list looks like? Then, don't you worry. TCT brings to you 8 amazing gifting ideas for a baby shower.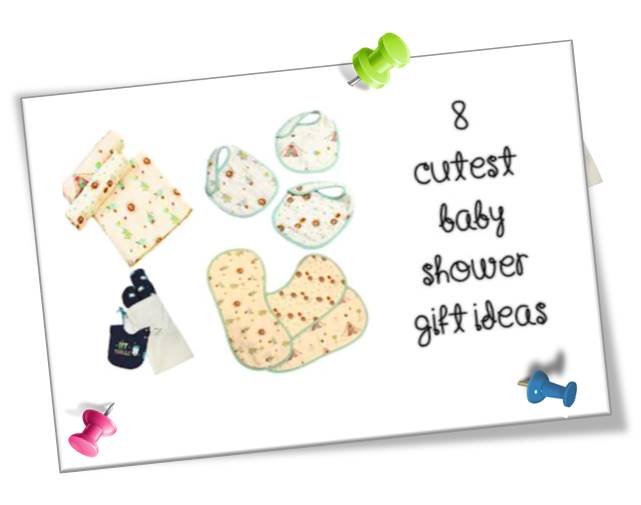 Whether it's a January baby or a hot summer one, you don't really need to think twice before choosing from any of the options mentioned below. These baby clothes, and related accessories are adorable, comfortable, and suit all skin types. Infact, some of the items are multi-purpose and that's why every mom-to-be is going to really appreciate such gifts.
The reason why we have handpicked these gifts:
High on quality; International look and feel.

Just a click away and offers the best online shopping experience.

Have a variety of options in neutral shades, hues, and colors.

Easy to wash; Colors don't bleed.

Brands such as Little West Street add finishing touch on your gift with their signature gift bag or box finished with a satin ribbon, and a complimentary message of your choice on a greeting card.
So, think of some interesting baby shower games, celebrate with your mom-to-be, join her in the excitement and celebration. Hey! Don't forget to take a look at these cute baby shower gift ideas for little angels?
1. Starry Sleep Sack by Little West Street: The dreamy detailing of this lightweight, wearable muslin sleep sack is sure to tuck your baby into a comfortable sleep. Made from four-layers of breathable, light-weight muslin, that keeps baby warm but comfortable. Replaces loose blankets ensuring safer sleep. Zips from bottom for easy night-time changes. Available for newborns, infants and toddlers. Price: Rs. 2999; Available online via Little West Street website.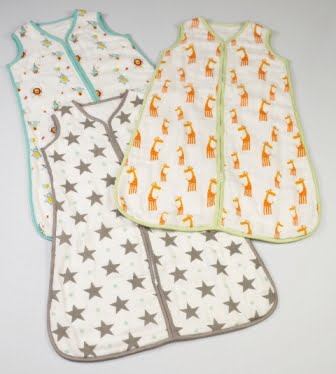 2. Lion Animal Hooded Wrap by Little West Street: These cute and cozy animal wraps are perfect to bundle up your baby after a playful bath. Each animal features adorable details like eyes and ears. Loomed from thick cotton terry for extra softness and absorption. Ideal for a newborn. Price: Rs. 1999; Available via Little West Street website.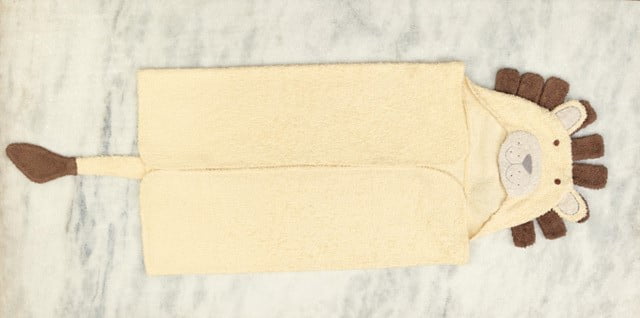 3. la Rose Diaper Clutch by Little West Street: Stay stylish with this elegant vintage-inspired grab and go clutch. Roomy enough to keep diaper-changing essentials handy, while easily converting to become a padded changing station. Unfolds into a easy-to-wipe, roomy padded changing area. Designed to fit in a diaper bag. Slim inner pockets can hold wipes and several diapers. Handle makes it easy to attach absolutely anywhere! Price: Rs. 1999. Available via Little West Street website.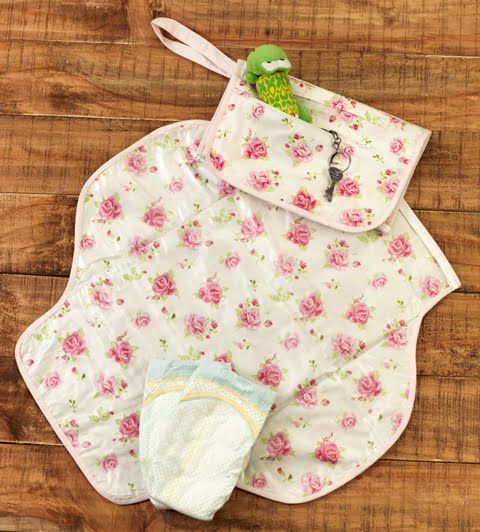 4. "New Beginnings Gift Set" by Little West Street: Perfect gift for a baby shower or when welcoming a new baby home, this gift set made of pure muslin essentials shows your love in many ways. This set has all the essentials that a new mum needs to keep baby comfy, clean and happy! The set includes super-soft muslin swaddles, set of 3 muslin bibs and set of 3 burp cloths in coordinated prints. Light, breathable hand-printed swaddles are perfect to snuggle up a little baby. Also doubles up as a stroller cover, nursing cover, burp cloth or a light blanket. Super soft, muslin burp cloths, are uniquely shaped for maximum coverage. Printed, bright bibs make any mealtime fun, and with adjustable snaps they grow with the little one. Price: Rs. 5100. Available via Little West Street website.
5. "A is for Apple" Bathtime Essentials Set by Little West Street: Make learning fun with these amazingly soft and absorbent "A is for Apple" hooded towels. Paired with "A is for Apple" washcloth set for a complete gift. Set of two hooded towels and three multi-purpose wash cloths. Loomed from thick cotton terry for extra softness and absorption. Perfect for baby's first years. Price: Rs. 3750; Available via Little West Street website.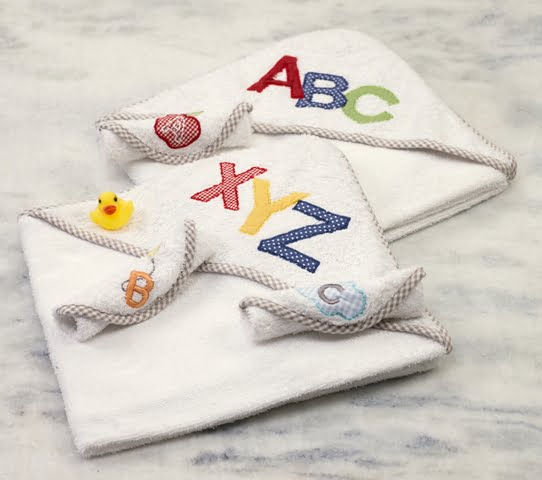 6. "The Beebeeboo Gift Set" by Zeezeezoo: Beebeeboo gift set has three baby essentials – bibs, blankets, and burp cloths together in the most useful gift set. These come in 4 cute design options. This gift set takes cuteness up a notch with a super soft blanket, a reversible bib, and a multipurpose two-sided absorbent cloth (ideal for comfortable burping and wiping). Beautifully wrapped in their signature organic twill drawstring bag- that can be used for years to come. Perfect to gift or enjoy. The bibs are designed to allow for two neck size options. Made with 100% organic cotton, and organic dyes. Price: 1649; Available online via Zeezeezoo website.
7. "Hug Me & Dottie Baby Pink Pillow & Birdies Baby Pink Knitted Blanket + A Set of Blossom Wash Cloths" by Pluchi: The Knitted Hug Me pillow is colored perfectly for a baby's room, and it's designed keeping a newborn baby in mind. Using the softest cotton yarn and installing a zipper into one seam means that the pillow case is easily removable. Price: Rs. 599; The knitted Dottie pillow is colored perfectly for a baby's room. Price: Rs. 699; Let your little one fly high with these little birdies. Sure to make your walk in the park more fun and comfortable, a great stroller blanket. Price: Rs. 1299; Softest thing to touch your baby's or your own skin. Made in 100% premium cotton it's perfect for bathing even the youngest infant. The size makes it easy to handle for young kids. Ideal as a baby shower gift and doubles as a face cloth for mommy! Price: Rs. 599. Available online via Pluchi website.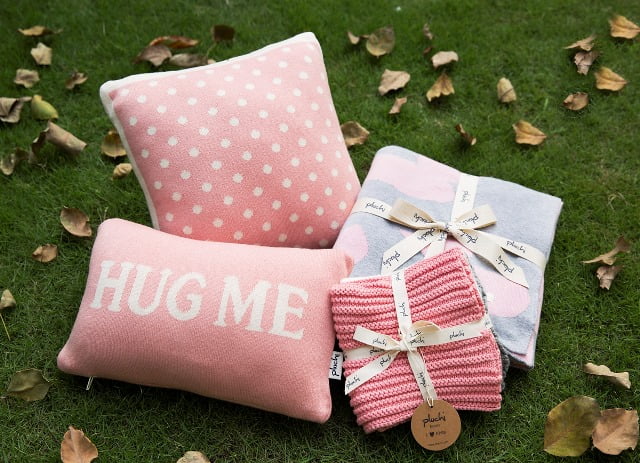 8. "ABCs With Gizzie Gift Set" by Little West Street: Let Gizzie take your little one on an adventure from A to Z, in this charming bedding gift set that includes a quilt and a pillow & bolster set. Sunny hues, intricate embroidery and decorative alphabet appliqué bring the perfect balance of delightful learning and colorful comfort to your little one's nursery. 100% cotton. Quilt has a soft cotton filing for warmth and comfort. Pillow & bolster inserts are filled with light, soft polyester. Price: Rs. 7500; Available online via Little West Street website.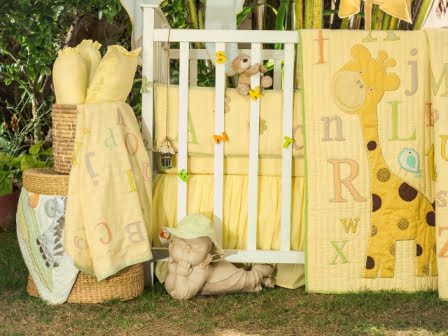 You might also like:
[display-posts tag="baby-clothes" image_size="thumbnail" posts_per_page="5″ wrapper="div" orderby="rand"]