Have you ever felt butterflies in your stomach while delivering a speech? Or do your hands sweat when you have to lead a meeting? If yes, you would know the struggle of facing large crowds in school, work, or social gatherings.
Public speaking is orally communicating effectively by making speeches in public. It has been proved to be important in everyday life. From speaking to inform people or getting information in an academic or professional capacity to persuading others through speeches, debates, or minor persuasions in normal conversations, communication and public speaking skills are extremely valuable in daily life and a great asset.
We all experience situations every day at home, school, or work where we are expected to voice our opinions. But this requires a lot of confidence which most of us lack because we view it with doubt and fear. To have faith in ourselves, we must have a good command of the English language since the medium of communication in most cases is this.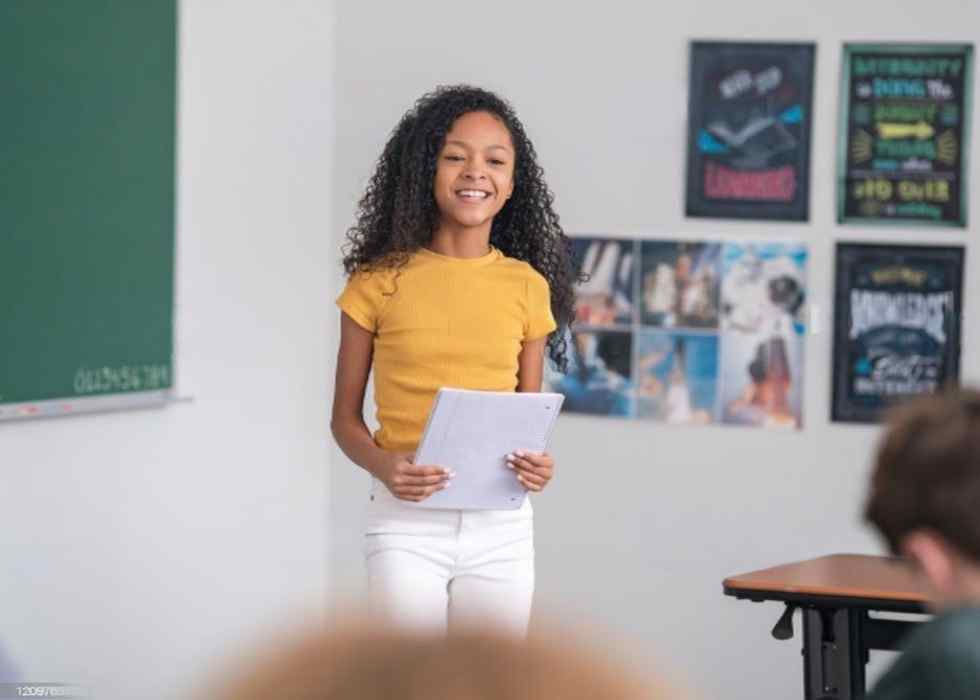 Personal benefits of public speaking include personal satisfaction, as clearly communicating in front of the public seems like an accomplishment for many of us. Even though it can be a nerve-wracking experience at the start, it keeps getting better with time. Our communication skills also improve due to speaking in public as it improves our non-verbal and verbal skills. Personal benefits also include becoming a good listener, which enables us to accept diversity and appreciate peoples' ideas and craft and communicate our part of the story.
Public speaking also helps influence people and bring change since putting your message across efficiently is vital to convince people. It helps you reach out to people faster and bring your campaign to life to make sure the public understands its cause.
Being socially comfortable with making conversation is also an important ability everyone must possess to increase their professional network, which would help people learn from others and implement the learning in their own life.
The increase in online classes for kids during the past two years has also affected the personality development of students. While students and teachers had a communication barrier due to virtual teaching, kids were not taught skills like public speaking, which immensely affected their growth and potential. Parents should thus, look out for public speaking online classes for kids in uncertain times to ensure this vital skill isn't compromised. Some benefits of public speaking include:
Helps overcome stage fright:
According to the National Institute of Mental Health (NIMH) research, 79% of the total population is impacted by Social Anxiety Disorder. This is because of the overestimation of peoples 'expectations and underestimation of your one's ability. Performance and speech anxiety has affected many of us for years, but public speaking classes for kids can help overcome fear and nervousness. They would also enable kids to welcome all opportunities and perform efficiently rather than having thoughts of rejection, humiliation, judgement, and failure.
Stage fright is a common issue faced by people, and kids should be enrolled in public speaking classes from a young age. It will develop the ability to be confident in front of large audiences. This will improve their performances later on in the workplace life in general. Constant practice is the key to overcoming stage fright and reducing anxiety while facing large audiences.
Affects career progress:
A good public speaker stands out in the workplace and increases his or her chances of accelerating his/her career. From giving job interviews to presentations to getting the promotion you want, public speaking skills help people communicate their thoughts clearly, bring their message to life and sway people in their favour. Public Speaking experiences are guaranteed to build confidence when presenting in front of familiar people or even strangers and makes difficult social situations easy to adjust in which is why it is important for kids to learn this skill.
Develops leadership skills:
Leadership and public speaking have been strongly linked. Good communication and public speaking skills are imperative to get ahead in life. It can be derived from history that good speakers become good leaders and good leaders get good opportunities in social settings, educational institutes, and careers. Most leaders today are expected to possess a great public speaking ability in order to communicate to their teams effectively. Informing, persuading or motivating a team requires clear communication because being good at your job is not the only important thing for a company or department to flourish. Making effective use of our power of speech will help build a huge organization of our own.
Improves critical thinking skills:
Public speaking is important not only to improve speaking skills but also for the improvement of critical thinking skills. Critical thinking skill is the ability of the brain to look at a problem, understand it, and solve it efficiently and accurately. It is the most important cognitive skill one can develop. Excellent public speaking skills require choosing appropriate words and delivery style instantly. For this to happen, critical skills are required to improve the quality of one's thoughts and decisions to analyze situations critically.
Better relational and interpersonal skills:
Public speaking classes for kids help develop confidence, which in turn improves relational and interpersonal skills. These skills help people initiate conversations, make new friends, and drag people into speeches. Development of these skills seems extremely important, but people do get overwhelmed when they are at a party or face large crowds consisting of unknown people. The only way to develop these skills will be to develop the confidence to maintain good relations and connections with family, friends, and colleagues in school and at work.
All the reasons stated above show that the importance of public speaking is immense as it affects all areas of life. Parents should make sure they enrol their children in public speaking classes for kids to ensure that from a very young age, this skill is instilled in their life so that they can benefit from it in all opportunities they get and in all walks of life.