Dear Son,
I am writing this letter in agony. Just as sometimes you don't have pretty mornings and smooth nights, likewise, I don't. And today has been a terrible one. While you sleep away to glory and I see you smiling in your dream, you know what I want to do (for a change)? I want to not appreciate your innocent face or those cute little hands or those wet lips! Because as soon as you will wake up, you are going to be all set to turn the house upside down.
You will pull my hair and demand milk (my milk at your own whims and fancies). You will come crawling after me and flash a gorgeous (evil-ish) smile after having pooped everywhere. All this would have happened within 2 minutes. Baby! Mumma needs pee breaks, meal breaks, and a much-needed breather. God hasn't taken away those rights from her. Motherhood doesn't come with any such clause, you see!
Before she became your mumma or your father's wife, she was a girl, a woman who knew nothing about cooking, laundry, cleaning, feeding, and singing lullabies at odd hours, etcetera etcetera. How could she? She was an enterprising, young woman who attended school and passed her university examinations with flying colors. She worked full-time for years before marriage and motherhood happened. So, all she knew was how to breathe freedom.
Yet, she took on the responsibility of a doting wife and a mother with all her sincerity. You were not left unattended for a single day. Your daddy wasn't made to traumatize over the latest designer handbag (mind you, women do that! I swear they do), not once.
But, there were days when Mumma would end up in a fit of anger or emotional breakdown. Daddy helped then. But, you see, she too has backaches, her bones are going to go brittle, her neck will go stiff if she continues to soothe you and handle your tantrums (with a bent back) for hours. And when you get nasty, throw your arms up in the air, shake your head in frustration and just begin to scream, Mumma tries to comfort you. Doesn't she? Despite all that physical pain.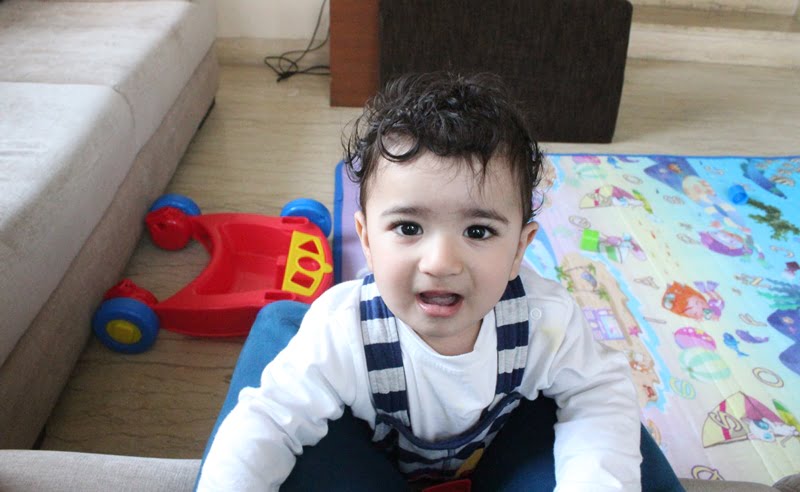 So, all she is saying is that as you grow up, learn to start behaving yourself. Not for your mamma's sake but for the sake of sanity. Don't treat women as superwomen. They aren't. They are learning on the job. They aren't trained wives, sisters, daughters, daughters-in-law, mothers, sisters-in-law, or lovers.
Oh! And one more thing. I was looking up for the exact meaning of a superwoman on the internet. This is what I came across: Superwoman is the name given to several fictional characters published over the years by DC Comics. Most of them being, like the popular Supergirl, a woman with powers similar to those of DC's highly popular Superman.
Baby! Does Mumma possess powers? Above all, does she look like this?
My dear son, your mum is not a superwoman!

Image source: 03