A baby grows within a sterile environment within its mother's womb. However, as soon as the little one is born, their immune system has to become immediately active, since bacteria and germs are everywhere. Isn't it amazing how our body is equipped to keep us safe from these hordes of bacteria? However, there are some dangerous childhood diseases that the immune system needs help with. This is exactly what children's hospitals are trying to do when they recommend a child vaccination schedule in India. Here's a look at the schedule recommended not only by the government of India but also the WHO and UNICEF for all children born in the country.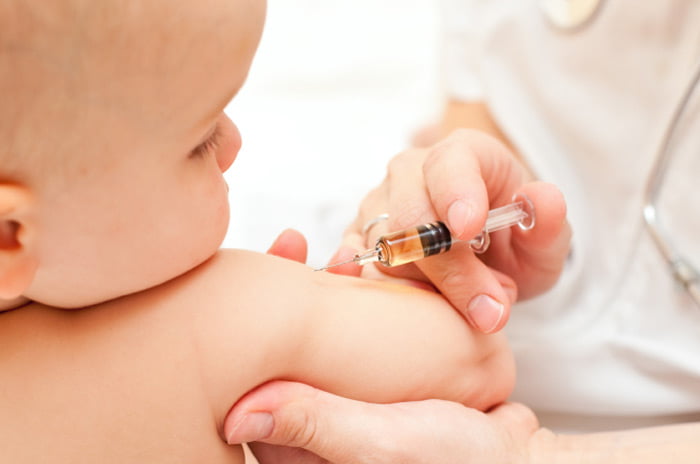 The Important Child Vaccination Schedule:
Some of the most common, and yet most dangerous, childhood ailments that you can protect your little one against by ensuring the right vaccination at the right time include tuberculosis, diphtheria, polio, measles, hepatitis A and B, mumps, rubella, and more. Here's a look at the important child vaccines and baby immunization schedule followed by the best children's hospital in India: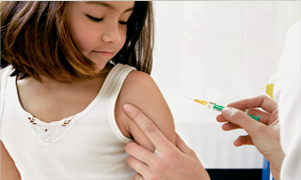 Birth: The mandatory vaccines administered at birth are those for tuberculosis (BCG) and the first hepatitis B dose. An oral polio vaccine will also be administered. This recommended immunization schedule in India needs to be conducted at regular intervals up to the age of 5 and is available for free on Pulse Polio Day. The second hepatitis B shot should be administered between the ages of 4 to 6 weeks
6 Weeks: Another dose of the hepatitis B shot is given, along with the OPV group. The first dose of the DTP group for diphtheria (an ailment of the upper respiratory system), tetanus, and pertussis is also given. The first dose for Haemophilus influenza, rotavirus, and the pneumococcal conjugate shot are also given at this time. This is an optional vaccination, although it is recommended to give them, especially if you intend to travel with your baby outside the country.
10 Weeks: This is the time for the second DTP dose, along with an oral polio dose. You can opt to give the little one the second dose of the Haemophilus influenza, rotavirus, and the pneumococcal conjugate shot at this time. Your baby might need a total of three doses of these, depending on the brand of vaccine used.
14 Weeks: Now is the time for the third DTP dose, along with those for hepatitis B, oral polio, and Haemophilus influenza. The best children's hospitals in Hyderabad will give you the schedule that you need to follow before you leave the hospital after the birth of your child. Make sure you keep this schedule safe and follow it diligently.
18 Weeks: Your baby is now more than 4 months old and needs to be vaccinated against measles, rubella, hepatitis A, mumps, and varicella, along with another dose of the DTP and polio vaccines.
At 6 Months: You can opt for another rotavirus shot at this time, along with the influenza vaccine. Another optional shot at this age is the Human Papilloma Virus or HPV injection against cervical and other genital forms of cancer.
9 to 12 Months: The age when your baby gets another measles shot. You could opt for the MMR (Measles, Mumps, Rubella) shot as well, and can also opt for varicella or chickenpox shot.
15 to 18 Months: Pneumococcal booster shot is recommended by children's hospitals. The MMR, DPT, and oral polio vaccine are also given at this age.
2 Years: Typhoid vaccine/shot, along with hepatitis A are given.
4 to 5 Years: This is the time for a DPT booster shot. Don't forget to continue with the polio oral doses. The MMR booster is also given at this age.
Below is the Vaccination chart for babies in India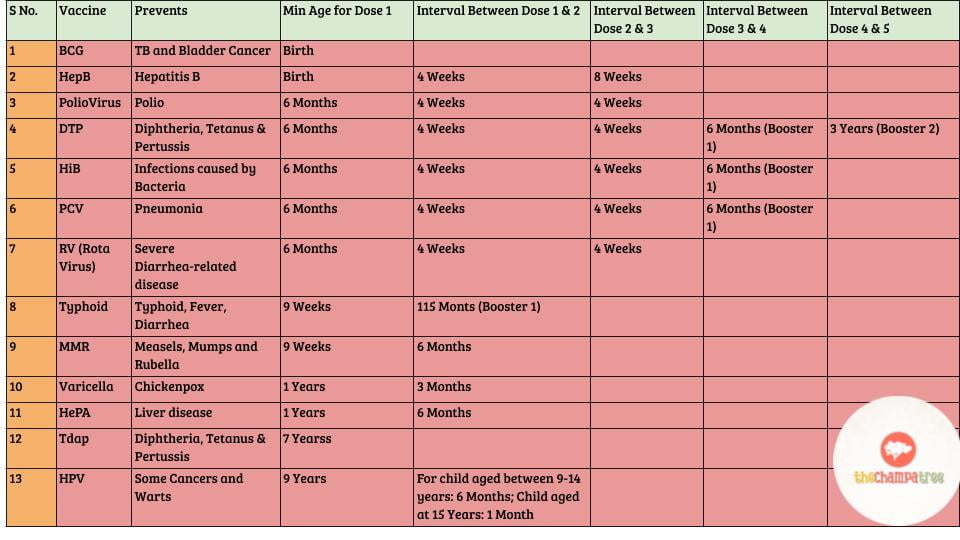 Refer to the above child vaccination schedule in India and keep your baby immune and safe from all diseases.
Disclaimer: Kindly consult your pediatrician before planning to get your baby/child immunized!