Last week at a hip kids' store launch I saw one of the A-listers attending the event with her little one. She looked like a mini-version of her star mom. Striking similarities, exact same features. These 17 Bollywood celebrities' children aren't only stealing all the limelight but also our hearts. Being a famous Bollywood (or Hollywood star) isn't easy. Their private life is out and in front of everyone. Despite all this, these famous personalities are raising their kids with the utmost care and attention. A mix of protective and positive parenting has helped a lot. Many of these celebrities have pretty much quit their jobs to raise their kids.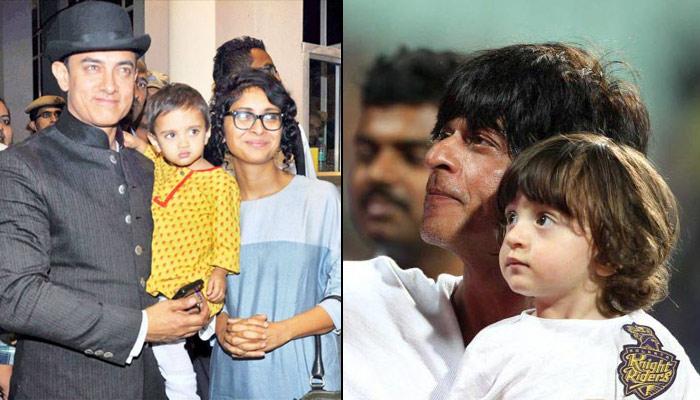 List of 16 Bollywood Celebrities' Children. Tell Us Who Do They Really Look Like?
1. Shahrukh Khan with AbRam (he also has a son- Aryan and daughter- Suhana)
Shah Rukh Khan and Gauri Khan are proud parents of three children. Speaking about the religion of his kids in an interview, he revealed that he has taught his kids that before any religion, they are Indians and nothing else.
2. Aamir Khan and Kiran Rao with Azad Rao Khan
Bollywood actor Aamir Khan (off-late) has been posting happy/deep pictures of his adorable son Azad Rao Khan, which have been melting our hearts ever since. Such a great mix of Amir and Kiran!

3. Aishwarya Rai and Abhishek Bachchan with Aaradhya Bachchan
This power couple with a bright daughter has been much talked about. Aaradhya's monologue on women empowerment in December 19 moved everyone to tears. In the video, Aaradhya can be seen crooning a dialogue about girl power and the possibilities on which she can shine.

4. Riteish Deshmukh with Genelia D'souza and son Riaan
Genelia D'Souza and Riteish Deshmukh have been married for 8 years now and they are proud parents of two sons Riaan and Rahyl. The couple welcomed Riaan in 2014. Rahyl was born in 2016.
5. Lara Dutta with Daughter Siara
In an open letter, Lara (who is married to Indian tennis player Mahesh Bhupathi) expressed her love for motherhood and daughter Saira. She said, "For me, there's a lot that's learned by trial and error. I genuinely believe that a child teaches you more than you will teach it."

6. Farah Khan with Anya, Diva, and Czar
Triplets- Czar, Diva, and Anya are quite a fun affair and every day Farah must feel like a celebration. Look at their happy faces! Fun is so much in vogue!

7. Shilpa Shetty with Son Viaan
Viaan is an exact copy of his mother, Shilpa and loves dancing just like her. At a young age, he has been dancing and is acing cartwheels. Like mother – like son!

8. Sanjay Dutt With Twins Shahraan and Iqra
Sanjay Dutt and Maanyata Dutt's little munchkins have been breaking the internet. Whether it's their adorable family photos or Shahraan's daddy's innocent smile and Iqra's Mumma eyes- they are both so adorable.

9. Kajol With Nysa and Yug
Nysa is quite active on social media and is shaping up to be quite a perfect mix of her dad Ajay Devgn and mom. As for Yug, he will be turning 10 this year. Both Kajol and Ajay are doting parents to them both.

10. Karisma Kapoor With Samiera and Kiaan
Samiera and Kiaan are quite popular on social media, thanks to their regular outings with their mum Karisma. Samiera is her mum's biggest fashion critic. And with the cutest daddy looks, Kiaan will grow up to follow the family tradition.

11. Hrithik Roshan With Sons Hrehaan and Hridhaan
This January, as Hrithik turned 46, Sussanne (his ex-wife) shared a kaleidoscope of memories he and sons Hrehaan and Hridhaan have shared over the years. The boys have got the looks, and they sure have the best daddy in the world.

12. Celina Jaitly With twins Winston and Viraaj
Actress Celina Jaitly, gave birth to her second set of twins in 2017. Unfortunately, one of the babies couldn't survive. Nonetheless, Celina is blessed to have Arthur join the gang and he looks exactly like her.
13. Emraan Hashmi With Son Ayaan 
In 2019, Actor Emraan Hashmi revealed his son Ayaan has been declared cancer-free. The best news ever. Ayaan was diagnosed with kidney cancer at the age of three. The actor had also co-written a book titled The Kiss of Life: How A Superhero and My Son.

14. Raveena Tandon With Rasha and Ranbir
Raveena Tandon is often found sharing photos of her family on social media. Rasha is into jazz music and sings very well. Ranbir looks a lot like husband Anil Thadani. Raveen also has two elder daughters Chhaya and Pooja who are adopted.

15. Madhuri Dixit and Her Husband, Sriram Nene, With Two Sons, Arin and Ryan
Bollywood actress Madhuri Dixit's younger son Ryan will be celebrating his 15th birthday on March 8 and we are so looking forward to her sharing a picture. Arin will be turning 17!

16. Akshay Kumar and Twinkle Khanna With Daughter Nitara 
What just happens when elegance meets power. That's right, daughter Nitara has inherited the best from both sides and we can't stop appreciating that.

17. Kareena Kapoor With Taimur
Cute and adorbs- Taimur Ali Khan has taken after his mom. Not much has changed from his first picture that started to float online (after the news of Kareena Kapoor's delivery broke) to how he looks right now.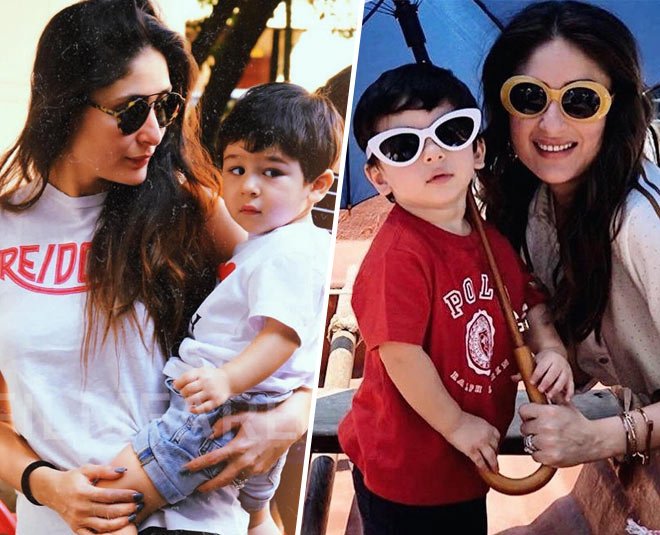 Image source: 01, 02, 03, 04, 05, 06, 07, 08, 09, 10, 11, 12, 13, 14, 15, 16, 17, 18, 19, 20, 21