The touch therapy is gaining its due importance of late. The magic of a mother's touch can cure an ailing child. There has been a lot of awareness towards the massage and touch therapy in kids recently. Moreover, it has been scientifically proven. You might be too busy with work to spend time with your kids. Nonetheless, you can cover up by a simple gesture. Kiss your children goodnight.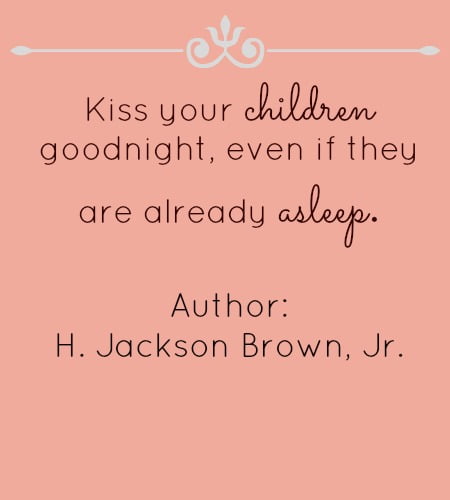 Kiss your children goodnight even if they are already asleep – H. Jackson Brown, Jr
The Champa Tree's thought for the day: Kiss your children
You might not fathom the relevance of kissing your child goodnight. You might be thinking that "I do pamper my child , so why should I kiss them goodnight specifically?"
Well the moments before thay go to their good night's sleep is the most important in their psyche. They are reviving themselves for the next day. If you can make that moment precious for them, there is nothing more you can do for your child. Even if they havee fallen asleep, soothen them with your touch, run your hands through their hair, and kiss them goodnight. In theor deep sleep also they will feel the warmth of your touch.
Let's make this a routine for a week or so. after a week, come back and tell us what difference did it make in your child. I bet you will come back with good news. If you are already doing this, tell us how it has influenced the lives of both of you.