With only a day left for the festival of Diwali, we are sure you are already sorted as far as clothes and footwear are concerned. Grooming yourself for the D-day is also one thing ladies look forward to during Diwali. Parlours are booked days in advance during the festive season. Also, glam up your nails this season; they might as well shine out along with the beautifully lit diyas. Fret not if you couldn't book your parlor appointment. There are close to 25 DIY easy nail art designs by hand that you can try!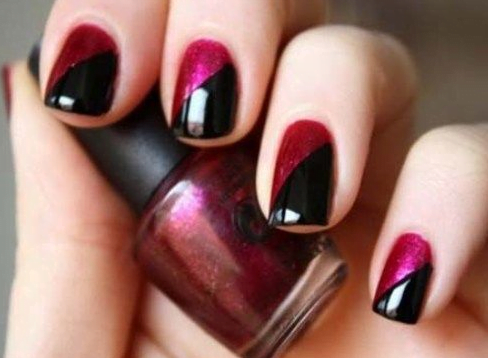 Presenting some easy DIY easy nail art designs for this festive season which you can easily try doing at home. You need not be super creative as far as the designs are concerned. And what better advantage than doing it yourself? You already have your outfit colors sorted so matching the designs of the nail won't be a hassle.
DIY easy nail art designs and amp up your glam factor:
1. Two-toned nail art:
Why do one when there are scope and chance of two! Before you get your grey cells working, we are only talking about the nail color on the nail bed. The two-toned nail art is by far the easiest one to do. All you need is two different but contrasting nail colors. Use your creativity and get rolling by using the two colors in a pattern of sorts. Check out a similar nail art design which is actually along the lines of ombre.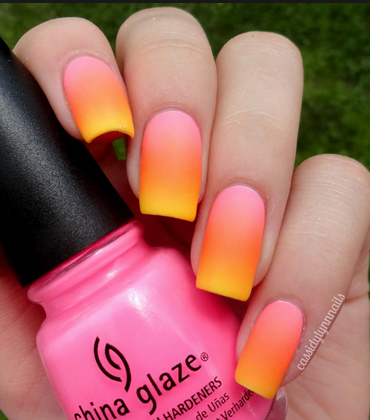 2. Nude glitter nail art – it is one of the best DIY easy nail art designs for beginners
Well, if you are low on time and creativity, the nude glitter nail art might as well come to your rescue. These are quite easy and nude nails are a rage in the fashion circuit these days.
3. Variation in ring fingernail art
You might not have heard about this trend, as it is completely new. In this nail art, the ring finger stands out as it displays a different color or design.
4. Stamp nail art
These days, there are nail art kits readily available on the market at decent and affordable prices. these consist of an ink pad and a ready-made stamp which is easy to apply and lasts for quite some time post-application.
5. Dotted nail art
Polka dots can never go out of fashion. Neither in clothes nor on your nails. This is also not very high as far as the difficulty parameter is concerned. the only extra thing which you require here is the dotting tools, which are easily available online. You can either use two colors or do a multicolor polka dot nail art.
Did you like above-styles? Click here for more sassy nail art designs
Check out these 25 simple and easy nail art at home:
Here is wishing you all a very

Happy Diwali 🙂
Subscribe to Blog via Email
Image source: 01, 02, 03, 04, 05, 06, 07, 08, 09, 10, 11, 12, 13, 14, 15, 16, 17, 18, 19, 20, 21, 22, 23, 24, 25