We are just a few days away from the jingling festival of the year. Yes! That's right, it's Christmas time and the Christmas traditions around the world include installing and lighting the Christmas tree, buying or creating homemade Christmas gifts and giving these as presents to our loved ones, observing a midnight mass, singing carols, decorating the house, greeting, and feasting!
Christmas is also about looking fabulous. So, this year, all you mommas out there, who are probably busy with a lot of tasks during the winter holidays, we recommend you sit back and relax a bit. Look after yourself, and indulge in some beauty therapies. Get inspired by the lovely Christmas ideas and try on that stunning outfit on Christmas eve. Or perhaps, enhance your natural beauty with the festive makeup ideas.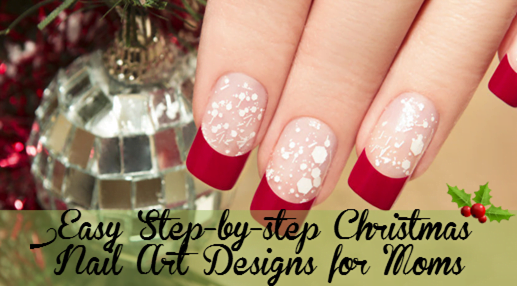 To simplify your life, The Champa Tree brings to you easy beauty tips based on beautiful nail art designs. This winter season, draw your inspiration from the Christmas-y colour theme- red and green. Go for gorgeous nail art designs which are really easy to do at home. Choose from these 10 DIY nail art designs and achieve a perfect festive look.
Whether it is the frosty snowman, metallic pine trees, a sparkly Christmas tree, or a simple red French tip, trust us, all these nail art designs can be done under 10 minutes. Throw in some silver or golden glitter for a final touch. Use a toothpick or bobby pin to make dots, and scotch/cello tape for broad lines. Make sure to have at least 1 top coat and 1 base coat. Besides, let your kids fall in love with your nails. Make stories out of the designs and add in a bit of humour with the hand movements. The kids will have so much fun with the miniature version of a Santa or the Christmas tree decorations!
TCT recommends:
Red Nail Polish: Revlon Nail Enamel Ravishing; Lakme Absolute Gel Stylist Tomato Tango
Green Nail Polish: Maybelline Go Graffity Nail Polish Green; Colorbar Nail Enamel5 Magical Green
Here are 10 DIY nail art designs inspired by Christmas motifs. You can click on the link given towards the end of the post (under 'Image Source') for step-by-step instructions.
Not one but 10 Christmas nail art designs for you:
1. Christmas tree (with a red star) set against mossy green nail

2. Christmas tree (with yellow star) set against the white coat

3. Red and white pattern using cello/scotch tape

4. Metallic Christmas tree using scotch/cello tape

5. Christmas Tree – Red and green using butter paper

6. Santa Claus cap

7. Christmas Tree and Candy Cane inspired nail art design

8. Christmas lights

9. Simple Christmas tree set against the white coat

10. Silver French tips set against the red base

So, all you mommies out there, this Christmas, decorate your nails in style. Unleash the creative side of yours and paint them with holly, stockings, ornaments, lights, wreaths, Santa Claus, candy canes, garlands, Xmas tree, and other Christmas tree decorations!
Image source: 01, 02, 03, 04, 05, 06, 07, 08, 09, 10