Rangoli is an art form that is enjoyed by kids and adults alike. These brightly-colored patterns and designs are such a cheery way to welcome guests when they visit your home. Some Rangoli designs for kids have been passed down through many generations over hundreds of years. It's impossible to create a beautiful Rangoli design without a little bit of mess, but the results are always well worth it and the patterns can be easily cleaned away after all the fun! Children are fond of colors and like to play with them often.
A Rangoli allows them to do this. Rangoli designs not only improves the creative skills of your kids but also their motor skills as they learn to use their hands and fingers. Above all, Rangoli-making is a fun and joyful activity. It is difficult to not get messy while creating Rangoli designs. We have curated some easy rangoli designs for kids but before that let's see how they can create the designs without putting many efforts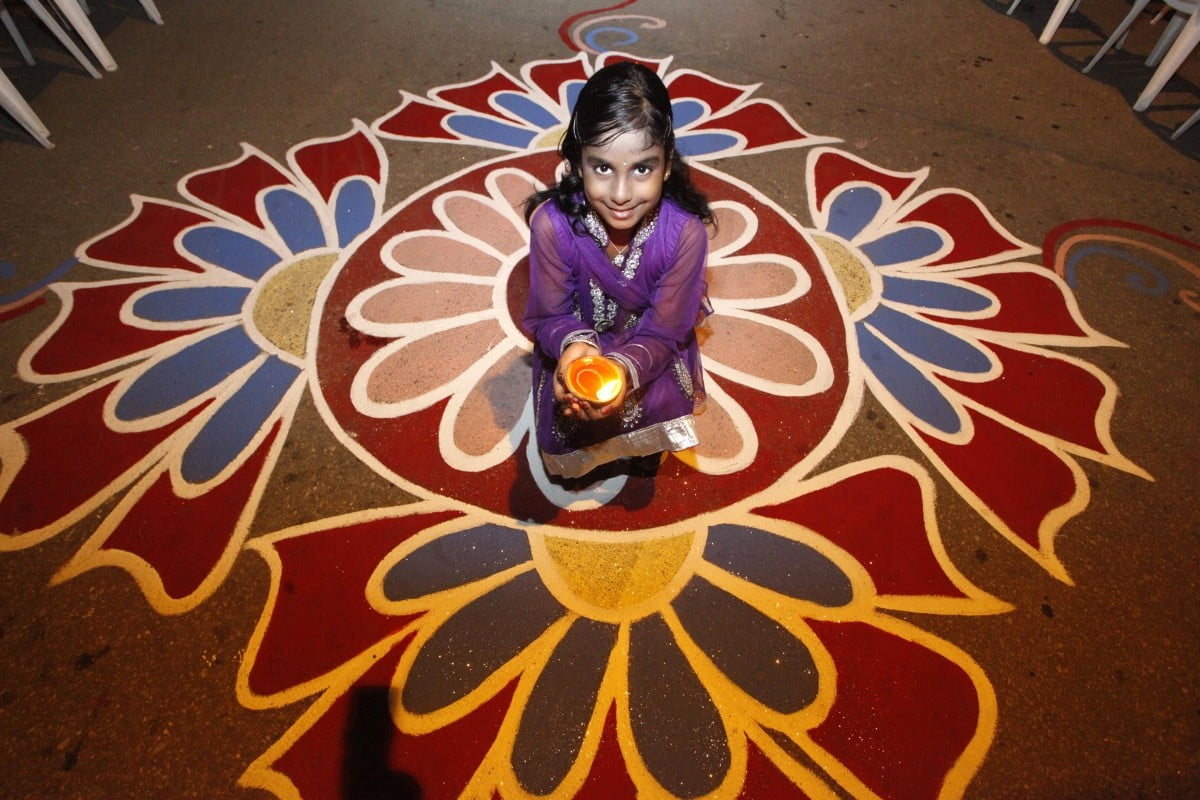 The geometric nature of the Rangoli and the use of different shapes is also a good learning technique to teach them shapes. You can also help your child to think out of the box and explore different mediums. Besides Rangoli powders, your child can use colored paper, painted stones, Hama beads, colored rice, pulses, and flowers to make a Rangoli for Diwali.
Best rangoli designs for kids:
1. Children can also make patterns using cardboard or flat wooden planks that have been cut into interesting shapes. These cardboard or wood pieces may then be used to create a Diwali rangoli in the form of mosaics or jigsaw puzzles.
2. You can also make a Rangoli on a large plate or on a platter in case you are using powder or flowers. This also makes cleaning up much easier. Paper plates are a good option for younger children.
3. Playdough is such a cool material to make Rangoli with! Children love using play dough to create patterns. A play dough Rangoli is not only colorful but also has this amazing 3D effect that looks really pretty.
4. Kundan rangolis – made using plastic Kundan stones – are non-messy and easy to make. They are made using colored stones and favorite among children.
5. It will be a nice idea to draw the pattern on the floor with a piece of chalk for your children so they will stay within the patterns.
6. Ganesha, peacock, geometric flowers, fish and stars are basic patterns that you can always improvise on.
Colorful and asy rangoli designs for kids:
Subscribe to Blog via Email
Image source: 01, 02, 03, 04, 05, 06, 07, 08, 09, 10, 11, 12, 13, 14, 15, 16, 17, 18, 19, 20, 21
by Aarti Kapur Singh