This Diwali, indulge in easy-to-do craft projects and get your kids to make useful, creative handmade Diwali gift items with a bit of sewing. From a handmade greeting card to a multipurpose pouch for grandma. Apart from these, make an organizer or a notepad holder for daddy to a cushion cover for their own room. This festive season, let's add some fun in our kid's daily activities.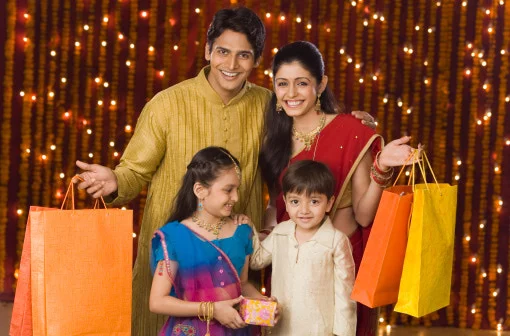 Usha My Fab Barbie sewing machine:
I would always think that sewing is not my cup of tea. But, one day when I came across Usha My Fab Barbie sewing machine, I decided that I will be learning and embracing craft and sewing skills before the festive season embarks. Not just that, I would be involving my little one in these mini-projects too. I would like to add here that sewing has become quite a part of my gorgeous life. It has added a fresh, youthful, and contemporary perspective to my thoughts on the art of gifting.
So, this August and September, we were busy creating beautiful gifting ideas. Inspired by the sparkling, glittery festivities, we came out with 8 handmade craft products which shall be gifted to our loved ones this Diwali.
Handmade Diwali gift ideas for your kids:
Take a look at the top three DIY craft items that are not tricky. Feel free to click on my mini sewing project demo and learn how to get started.
1. Handmade Diwali gift card

Material required
Handmade paper

Embroidery hoop

Felt

Coordinated silk threads for embroidery

Fabric glue, pattern paper, and scissors

Decorative material for embellishment
Step-by-step instructions:
Create a paper template of 8' X 8" size. Fold the felt piece & place the pattern adjusting the fold line. Afterward, pin it to secure and cut through the pattern edge.

Place another felt piece on the embroidery hoop and set it on the memory craft machine. Select the diya design and monogramming for the card. Further, select the coordinated silk thread and finish the embroidery as well as monogramming.

Take out the felt from the hoop. Cut the outline of the design and make a diya. Place the diya cutting on the top side of the card. Sew the outline of the design with the matching or transparent thread.

Cut the monogrammed design and arrange it below the top design. Sew through the outline of the design to fix it on the base.

Select a decorative border stitch.  After this, draw a square at a distance of half an inch from the outer edge on the top side of the card. Sew a decorative line along the line with a coordinated thread & complete the outline.

Add some decorative stones around the diya design with the help of fabric glue.

This slideshow requires JavaScript.
2. Swastik design coaster

Material required
Felt piece

Sequined fabric

Embroidered patch

Decorative studs

Spray glue, coordinated thread

Small and big size design template
Step-by-step instructions
Take 2 templates. Secondly, take a bigger design template and cut four pieces of felt fabric. Next, take an individual felt piece, sew a decorative embroidery stitch at all the sides of the felt with coordinated silk thread.

Take a smaller design template. Place it on the wrong side of the sequined fabric. Trace out the edge with a marker and cut four pieces of the same fabric.

Now take a sequined fabric piece and spray an adhesive on the reverse side of it. Paste the sequined piece on the felt piece with the right side up. Make sure you paste it leaving an equal border from the sides. Repeat the same for all the pieces.

Take a few bright colored decorative studs. Fix the studs on the right side of each felt border design with the fabric glue to embellish it. Repeat it for the rest of the 3 pieces.

Take a circular embroidered patch about —" in diameter. Cut a small circle about 2 cm in diameter in the sequined fabric. Spread some fabric glue at the center of the patch & paste the circle on the patch to embellish it.

Arrange all the felt pieces in the clockwise direction so as to form a design swastika. Just like this, you can also arrange it in different ways keeping space in between & then putting a circular patch at the center.
This slideshow requires JavaScript.
3. Photo frame

Material required
Black felt

Embroidery hoop SQ 23

Coordinated threads

Scissors

Glue gun

Photo frame

Embellishment material-

Stick on studs
Step-by-step instructions:
First, take SQ 23 from Memory craft 15000. Set & fix a black felt on the hoop.

Secondly, select a Design & Design size (Approx. 9" * 2.5") as per your requirements. Set and fix the hoop on the machine and thread the machine with the first color thread as per the design.

Once you are finished with the first color, rethread the machine with the second color & start the machine. Repeat the steps and complete the first line of embroidery as per different color choices. Afterwards, do the second line of embroidery.

Measure the frame height and trim the excess part of the embroidery. The cut parts of the embroidery can be used to fill up the space width-wise.

Take an individual piece of embroidery and paste it lengthwise on the frame with the help of a glue gun. Repeat it to the other side.

Lastly, fix the cut remains at the top and bottom side of the frame to fill up space.

The frame is ready with an embroidery patch, put some stick-on studs on the design to embellish it.
This slideshow requires JavaScript.
A few more handmade Diwali gift options:
The HAB by Usha:
This post has been powered by 'The HAB' by Usha. Learn more about this revolutionary concept where design, craft, and fashion come together to create a signature experiential haberdashery store, 'The Hab' by Usha, in Mumbai. This first of its kind store in India is aimed at making sewing a trendy concept that will inspire people to create, innovate, and experience the art of sewing. Moreover, a haberdashery is a one-stop-shop for all sewing needs, a concept fairly well known internationally.
It is a one-point destination for people with a creative streak who prefer adding a personal touch to their outfits or accessories. This experiential store invites its audience to take a fresh, youthful, and contemporary perspective to the art of sewing and accessory making. It offers a plethora of new experiences, encourages learning and creativity through workshops, demos, and store exhibits, for all age groups. Click here to follow them on Facebook.
Image source: 01