I hate to put this crudely, but if there is one part of raising a kid that contributes majorly to increasing the size of the hole in your pocket, it has to be your little one's wardrobe. And if you are a real fashion-conscious mom like me, nothing but the best attire would do. The most crucial catch here is that kids outgrow the most beautiful (and sometimes expensive outfits/clothes) really fast.
The trick is in giving old clothes a brand new makeover or using them to create something unique for your child.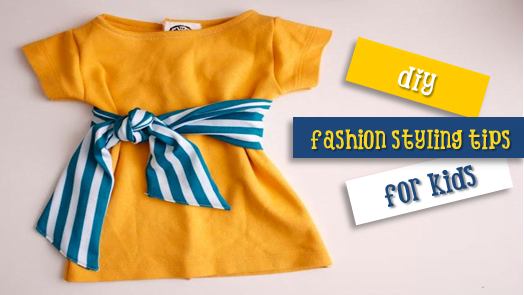 Here are some thrifty DIY ideas that are just as good on the style meter.
5 Kids fashion styling tips for parents:
1. Fingerless gloves from an old sweater
A sweater that is a bit too tight now? Worry not. Your child will love your creativity in giving it a new form. While you only need the sleeves for the gloves, the body can still be used to make a cover for the hot water bottles as well. Or, if you have a younger daughter, convert the body of the sweater into a mini skirt by sewing on some elastic.

2. Brighten up a T-shirt with appliqués
Kids often end up staining their T-shirts with food and dirt. Often, scrubbing it too hard damages the fabric. Sew on a market-available patch or better still, make one yourself and revitalize the garment.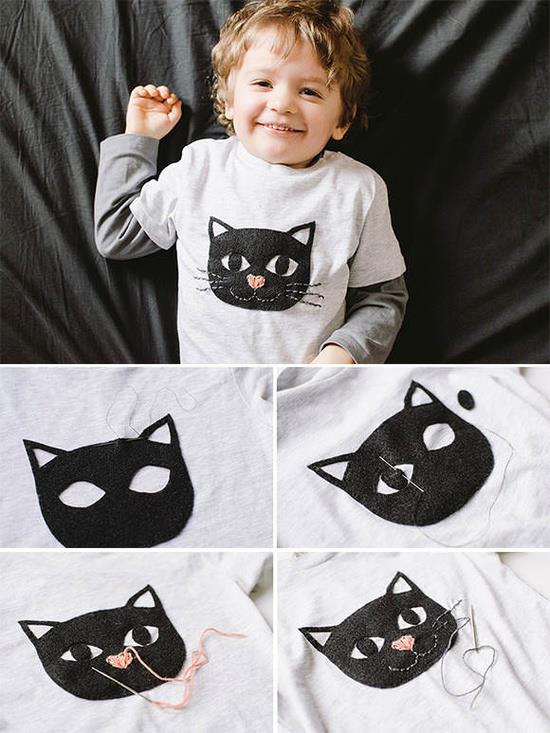 3. Hand-painted T-shirts
If you want to invest some more time and creativity, hand painting garments with unique patterns or personalizing them with your child's portraits is a great idea. My son loves flaunting a T-shirt that has his portrait on it. What's more, the T-shirt painting bug has bitten him as well and he keeps his eyes peeled for plain T-shirts to paint patterns that he fancies.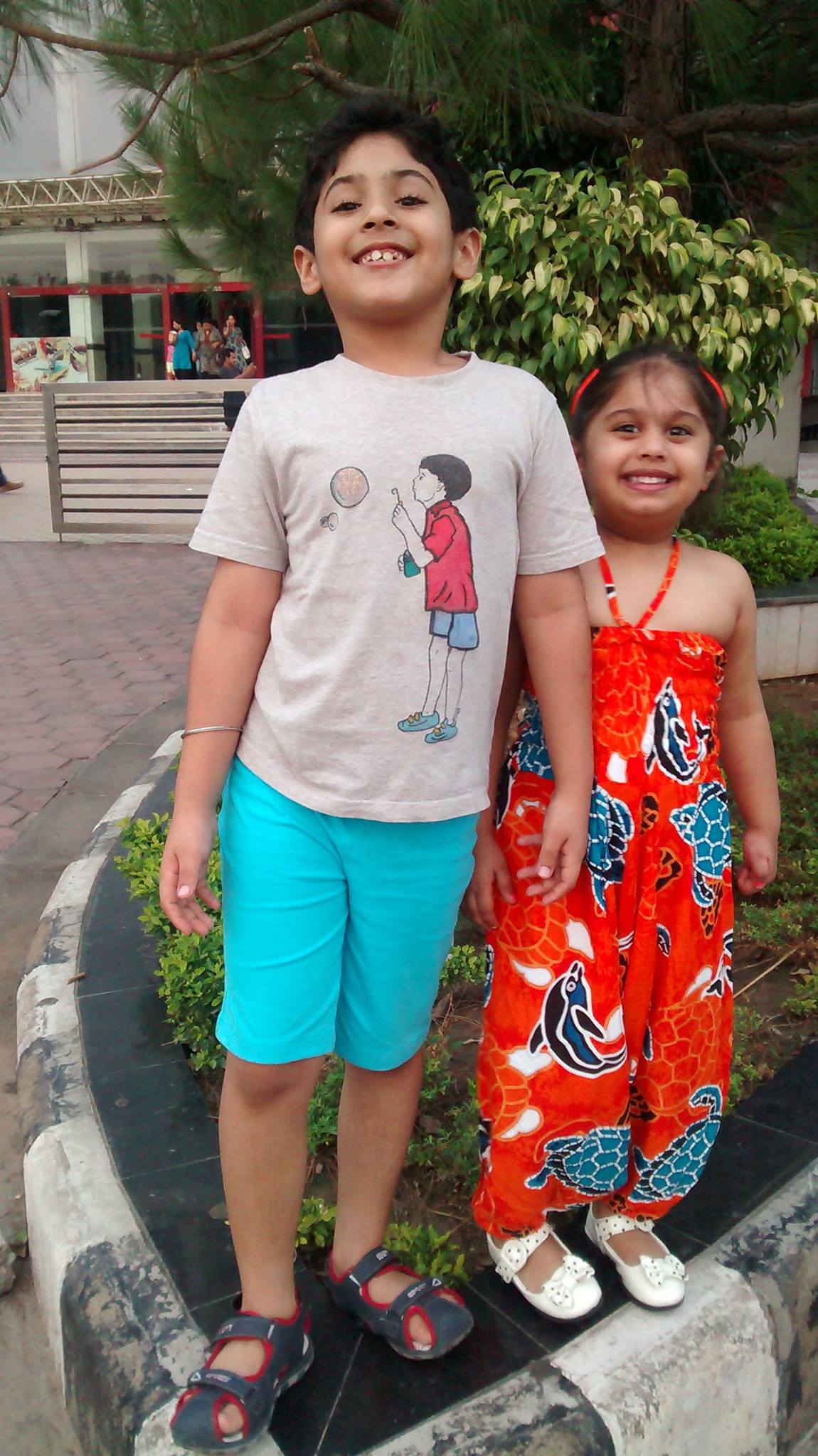 4. Revive old shoes with a lick of paint
Cloth or canvas shoes take the maximum beating when your boisterous outdoor-loving kid wears them too often. The repeated washing makes the laces and the seams fray. All you need are a few shades of acrylic paint and your imagination to make them good as new for at least a couple of more weeks. There is a standing rule in my house that we never wear white canvas shoes plain and will have some of the other theme – this picture is of a monster-theme pattern I did last year. The project this year is to do dinosaurs.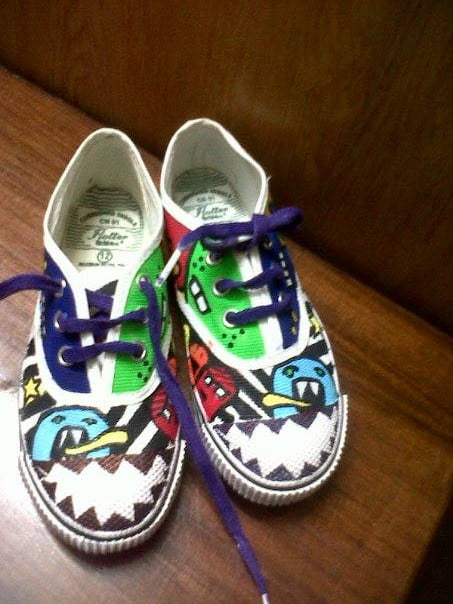 5. Costume party gear
Last year my son had to dress up as a character from the Ramayan. The out-of-box thinker that he is, he chose to become the Golden Deer that lured Ram away from Sita. I have never been a fan of hiring costumes from fancy-dress walas (shops that do theme-based costumes for kids) simply because I am not comfortable with the idea of who all may have worn it. So I set out trying to fashion something from what I had at home. A faded kurta pajama (Indian ethnic wear) was spray-painted with shades of brown and gold (the son loved doing this). We then put white fabric paint dots on and golden fabric paint. The antlers were fashioned out of old tree branches.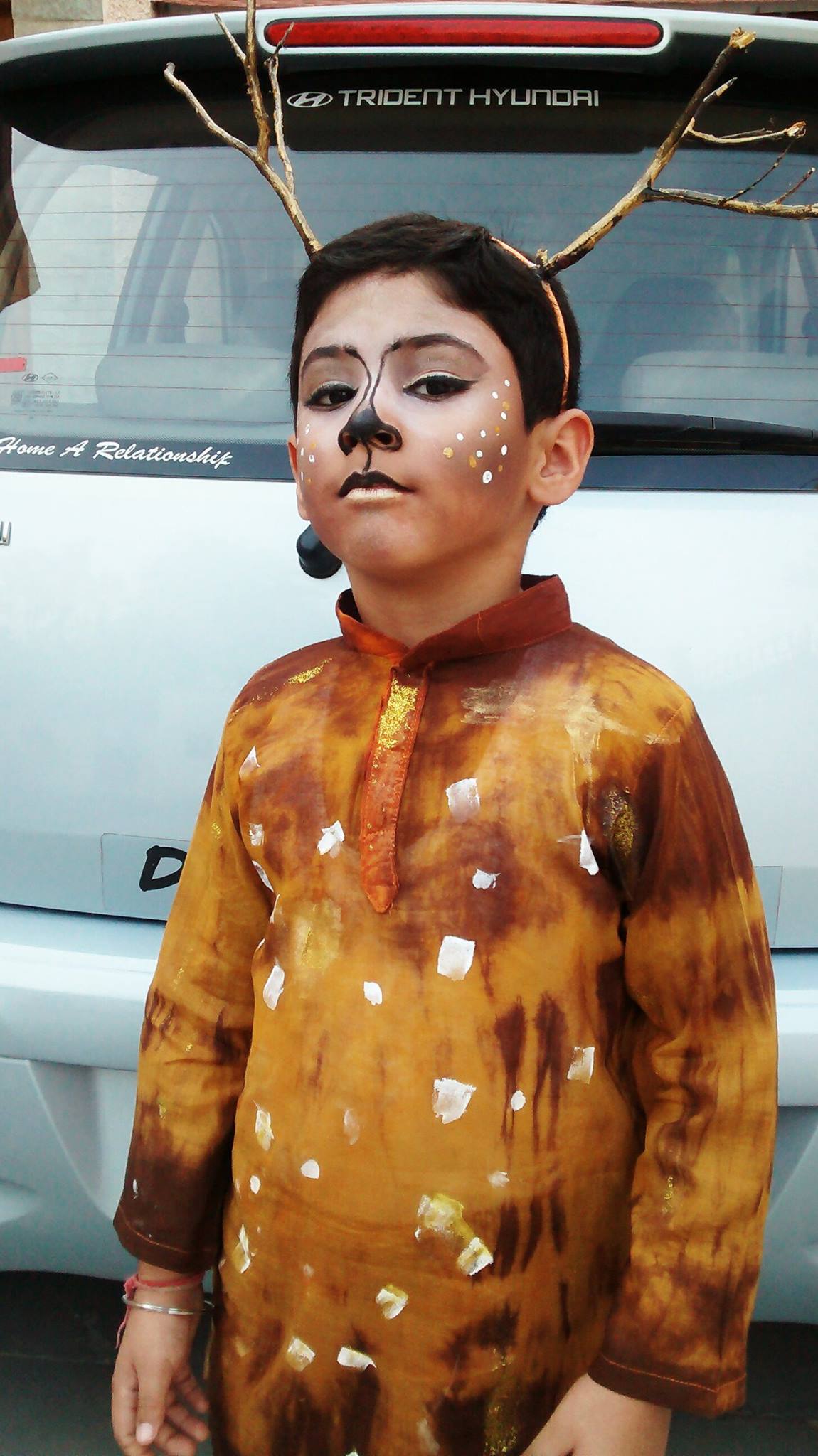 So if your kid wishes to become a superhero, fashion an easy cape or mask like this…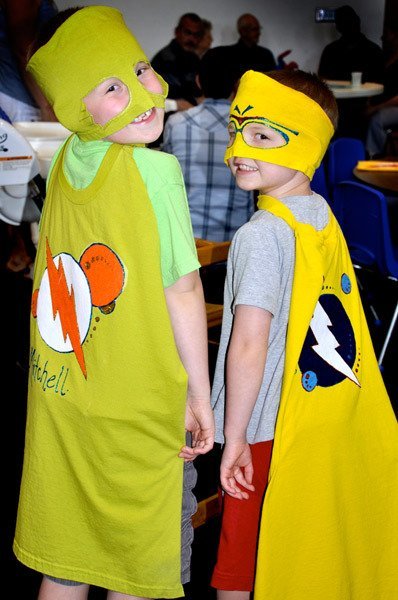 Top tips:
1. Jeans that are ripped? Cut them into strips and cover a plastic hair-band for your daughter
2. A T-shirt that is growing small? Take a cue from this picture and create a T-shirt dress
3. Upcycle your old sweaters into darling hats from babies
Do you want your kid to be happier, playing in the yard, wearing chip but cute and beautiful homemade things? Of course, you want. So, look at these pictures below and make these DIY kids crafts ideas or let your children do it. It will be fun for sure and you will renew your connection with your child. It is a well-spent time! Good Luck and have fun!
Subscribe to Blog via Email
Image source: 01, 02, 03, 04, 05, 06 (Shared by the writer), 07, 08, 09, 10