Do you wonder what can be a perfect piece of jewellery that can help to add glam to your look? Diamond jhumka earrings are undoubtedly the best ornament that you can have to create a good look. The more earrings you have in your jewellery box, the better it is for you to enhance your look without any effort.
Diamond earrings will undoubtedly help you look the best no matter what the occasion is. From the wide options available in the market, you can choose the best ones for you. While small yet elegant studs are perfect for a formal event, the long drop diamond earrings are undoubtedly more apt for times when you need to look glamorous and so on. There are numerous diamond earrings options suitable for every occasion.
Here are the details of how you can style your eye-catching diamond jhumka earrings for different occasions. Let's dive deep!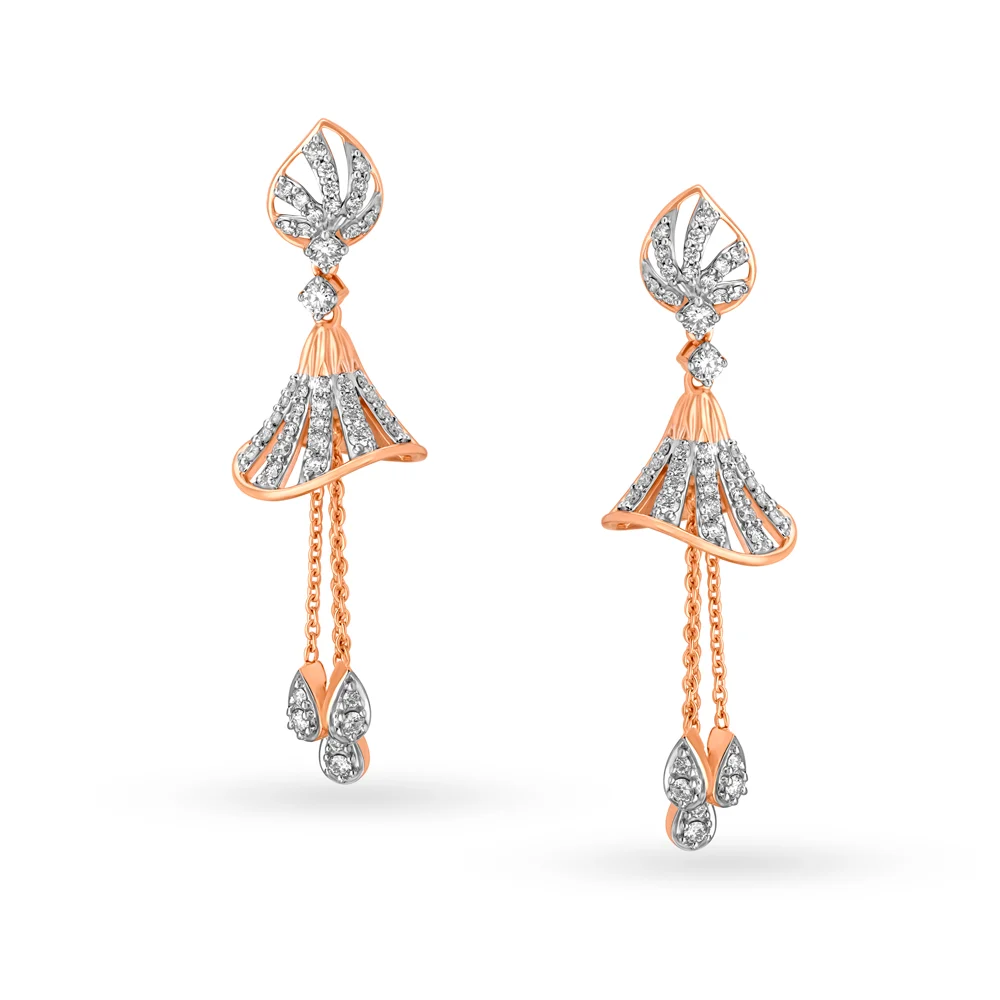 Image Source: Mia by Tanishq
Diamond Jhumka Earrings can be sported on 4 different occasions:
1. Workday
It is extremely important that your work accessories must be simple, clean and classy. A pair of sparkling halo studs are a perfect option for you. These studs will offer you the perfect professional looks. You can pair your casual outfits with hoops that will be a fabulous expression of your personal style. Also, the pearl and diamond studs are smart and sophisticated options that are even adorned with coloured gems to add a pop of colour to your look.
2. Dinner date
No one wants to look dull and boring on their dinner date. An elegant piece of sparkling diamond earrings will help to make a statement. For such occasions, you can prefer a pair of elegant drops. Trust me; these drops look so beautiful that it will become difficult for your date to take your eyes off you. Style them with your hair pulled back into a ponytail or a low bun.
3. Girls outing
For an outing with your bestie, you need something simple and minimalistic. For this purpose, you can look for diamond stud earrings that are available in distinct shapes like heart, pear or trillion. The floral halos are also the most demanded diamond earrings that help to lend a feminine touch to your attire. To create a bold look, you can even go for gorgeous drop and dangle earrings.
4. Wedding
You would never want to miss a chance to rock the show, especially in the wedding ceremonies. Whether it is a casual outdoor wedding or a black tie one, the key here is to dress up like a diva. For such occasions, you must prefer long drop and dangle earrings to make the heads turn around.
These diamond earrings are classically elegant, help to elongate the neck and will beautifully complement your lovely dress. You can style them with all the fancy, blingy outfits to add the oomph factor to your look without any extra effort. Drop earrings in vintage style are apt for introducing a little hint of drama.
Whether the occasion is something fancy like a wedding or something simple like a meet-up with your friend, the diamond earrings will never ever fail to enhance your look and grab the attention of people. Their sparkle and bling look will add glam to your outfits.
There are undoubtedly numerous options for diamond earrings available in the market. Choosing the one that suits your personality and needs is extremely important. To buy pure diamond earrings with unique designs, you can rely on Mia by Tanishq.
This jewellery store never fails to satisfy the demand of its customers and is always aimed at enhancing the looks of the wearer. With the super elegant designs of diamond earrings offered by Tanishq, you will never fail to rock the show. Buy the best diamond earrings at the most pocket-friendly prices from MIA by Tanishq and enhance your look without any effort.