Are you looking for just the right birthday cake which goes well with the child's winter-birthday theme? Well, birthday parties are one of the most important family day activities which need to be celebrated much in style. Our list of 20 winter-inspired birthday cakes for kids will make it really easy for you. For those little ones who celebrate their birthdays in the winter months, here are some gorgeous season-inspired wonderland cakes to draw your inspiration from. From simple Frozen-themed cakes to the ones which have lovely snowflakes, we have curated a list of 20, yes twenty ultra-cool ad yummy-licious birthday cakes straight from where the snowflakes are falling.
Twenty tasty winter-inspired birthday cakes for kids:
1. Chocolate snowflake cake
This chocolate cake is easy to whip up. The sugar snowflakes add the much-needed zing to the plain chocolate cake.
Plan a perfect kids party in just 5 simple steps!
2. The igloo cake
This fondant cake with igloo and penguins is one of the best winter-inspired birthday cakes for kids. It gives you that winter season feels.
3. Santa Claus-themed cake
Christmas and winter season go hand in hand. So why not get a Santa themed cake for your child on their birthday.
4. Snowman cake
Winter season is incomplete without a snowman. A snowman themed cake is all that you need for your winter baby's birthday bash.
5. Polar bear and candy-themed cake
This chocolate cake is a delight for tummy and eyes too. It portrays the winter season in a perfect manner.
6. Snowman and colorful ornaments-themed cake
This cake looks really classy and is apt for your baby's birthday bash.
7. Colorful presents-themed cake
This fondant cake looks attractive with cute colorful presents.
8. Reindeer-themed cake
Embrace the holiday spirit with this amazing reindeer themed cake. The combination of blue, white, and brown looks wonderful.
9. Chocolate-pine tree cake
This fondant cake with chocolate pine trees is perfect if you are planning to have a winter wonderland themed birthday party for your child.
10. Red-velvet candy cake
This masterpiece is going to fetch you many compliments. The combination of red candies and white balls sets this cake apart from others.
11. Rose-pink fondant cake
If you have been blessed with a baby girl then this cake is your best bet. The baby pink fondant decorated with colorful balls and snowflakes looks really pretty.
12. Teddy bear-themed cake
This is yet another beautiful fondant cake in hues of grey and pink. Your darling daughter will surely love this one.
13. Vanilla cake with colorful trees
If you want to have a feel of snow in your kid's birthday bash then this cake will do the needful.
14. Gingerbread man cake
If your kid's birthday falls around Christmas then you must get this cute fondant cake. It goes well with the holiday season.
15. Stocking cake
This is yet another cake that spells out the Christmas cheer. A great option for your little one's birthday party.
16. Snowman and penguin-themed cake
If you are looking for a fondant cake with snowman and penguins then go ahead with this one. I am sure your little one will be awestruck.
17. Fireplace-themed cake
This fondant cake portrays the chilly winter season in the best way. The teddy on the side looks really cute.
18. Penguin-themed cake
This is another beautiful fondant cake with penguins and snow. It instantly gives you that winter season feeling.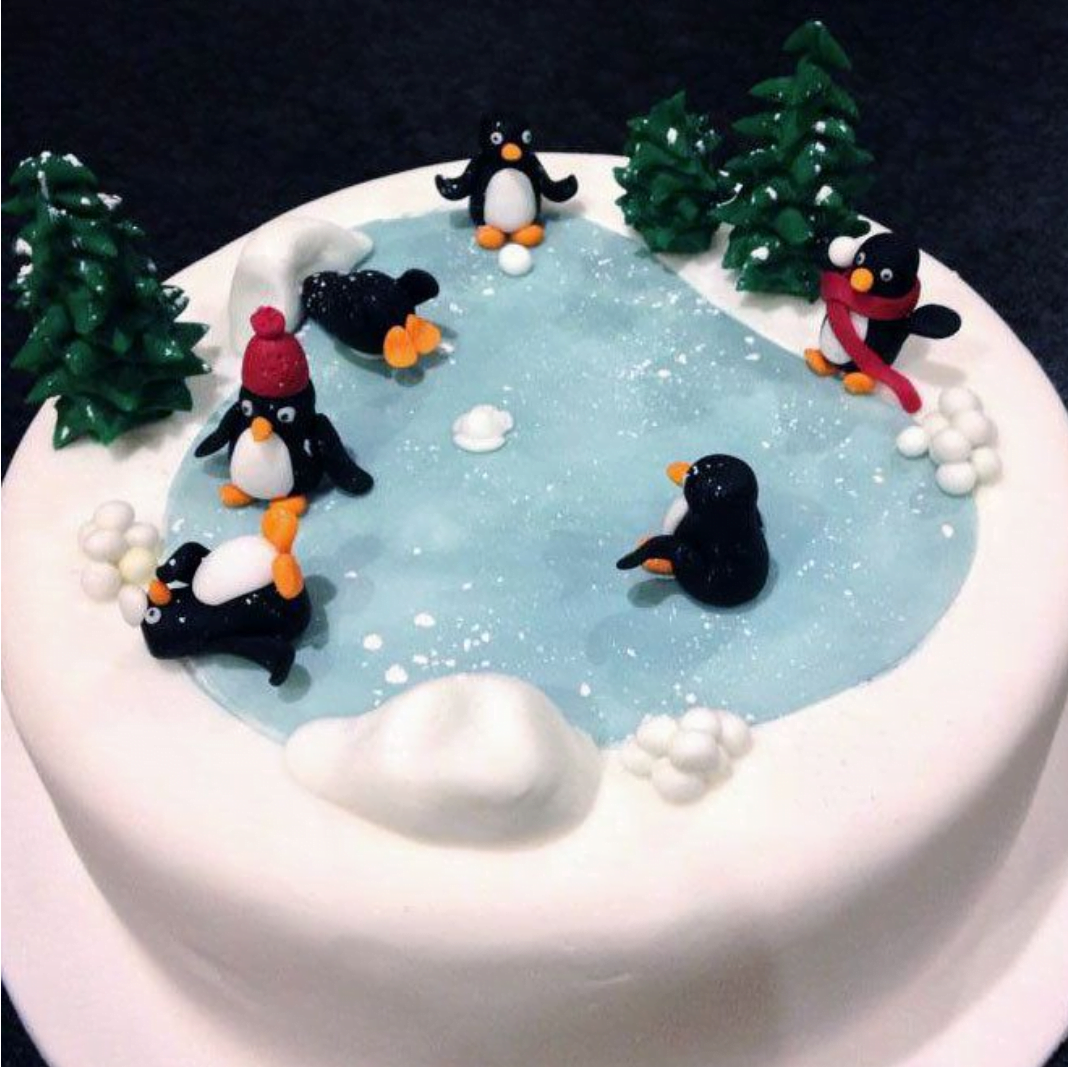 19. Christmas tree-themed cake
If your child is fond of Christmas tree then they will definitely love this fondant cake. It is done up in the hues of white, red, and green.
20. All in the one-holiday cake
This cake has everything that winter season has to offer; from Santa Claus, snowman to reindeer.
Look at Pinterest for more inspiration!
Subscribe to Blog via Email