Time passes very quickly, and before you know it, your baby graduates from being a newborn to a toddler and in no time transitions into a kid who is now ready to run around and explore the world. With this growing pace, activities that foster a toddler's physical and mental growth are imperative. Cycling is among the best physical development exercises for kids. It aids in improving motor abilities and muscles in the lower body.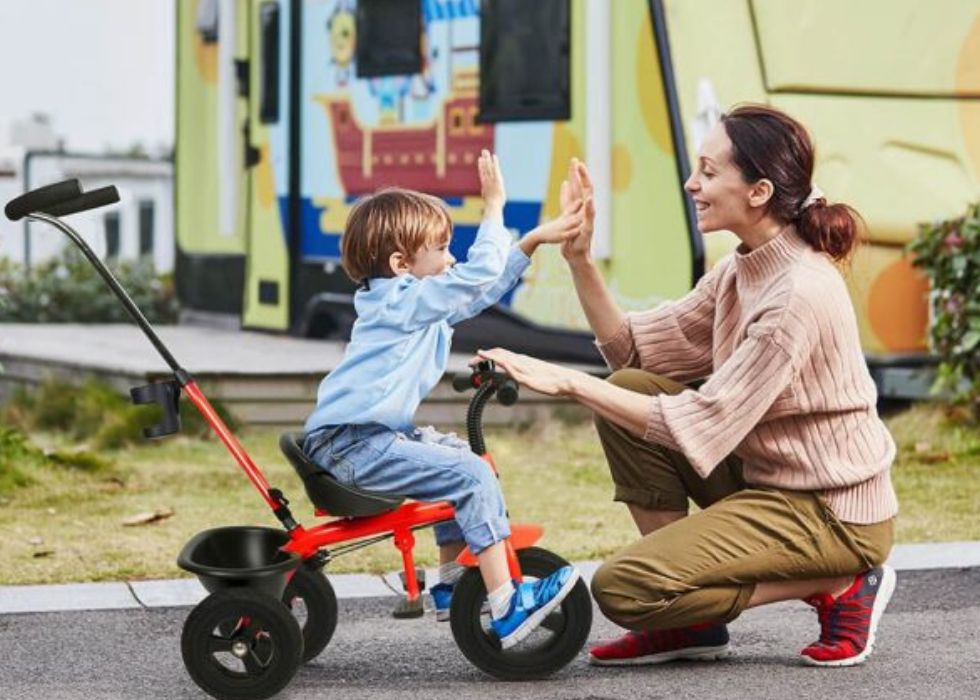 Besides offering educational toys to your little ones, it is also crucial to create awareness around a wide array of outdoor sports, such as cycling. Riding a tricycle encourages kids to take initiative to go on new adventures independently and makes them ready for their next step, i.e. to ride a bicycle, as they are already acquainted with balancing, coordination, and steering skills.
A kid's three-wheel tricycle is the first thing that parents cherry-pick for their children since it is safe and lets them learn to paddle.
Keep the following in mind when picking the best kids tricycle with pedals that are sturdy:
1. The colour: Kids tricycle comes in attractive colours like neon, red, lake blue, and more, and makes it look stand out from the crowd. Choose the one that your kid is attracted to.
2. The style: Tricycles are easy to install and their safe design and certifications make tricycles an excellent choice for kids.
3. Design aesthetics: The latest designs of tricycles come with incredible features that attract not only kids but parents as well. For instance, it is portable enough to be easily stored and carried in the car. Furthermore, tricycles come with a wireframe design and come equipped with a storage basket, removable canopy, and adjustable seats, which gives your kid comfortable riding.
4. Safety: But, most importantly, the safety of the child – It features a front tire that allows the tricycle stability and prevents accidents. It comes with parental control to balance steering and speed control.
These are some key considerations parents bear in mind when they're making their first such purchase.
Parents are overjoyed to watch their young darlings riding these gorgeous tricycles with pedals that have eye-catching colors and sophisticated decorations. So, when choosing a kids' tricycle, be sure to select one from among the established brands like R for Rabbit in the area.
Pick from the best kids tricycle with pedals offered by R for Rabbit:
Your little ones will enjoy riding on this R for Rabbit tricycle for kids, which is simple to assemble. The child is provided with the utmost comfort as it has a foldable footrest. This kid's tricycle with pedals is made with high-quality materials and has a wheel lock to protect children. Before selecting any tricycle for kids, make sure it is made of metal, and not plastic.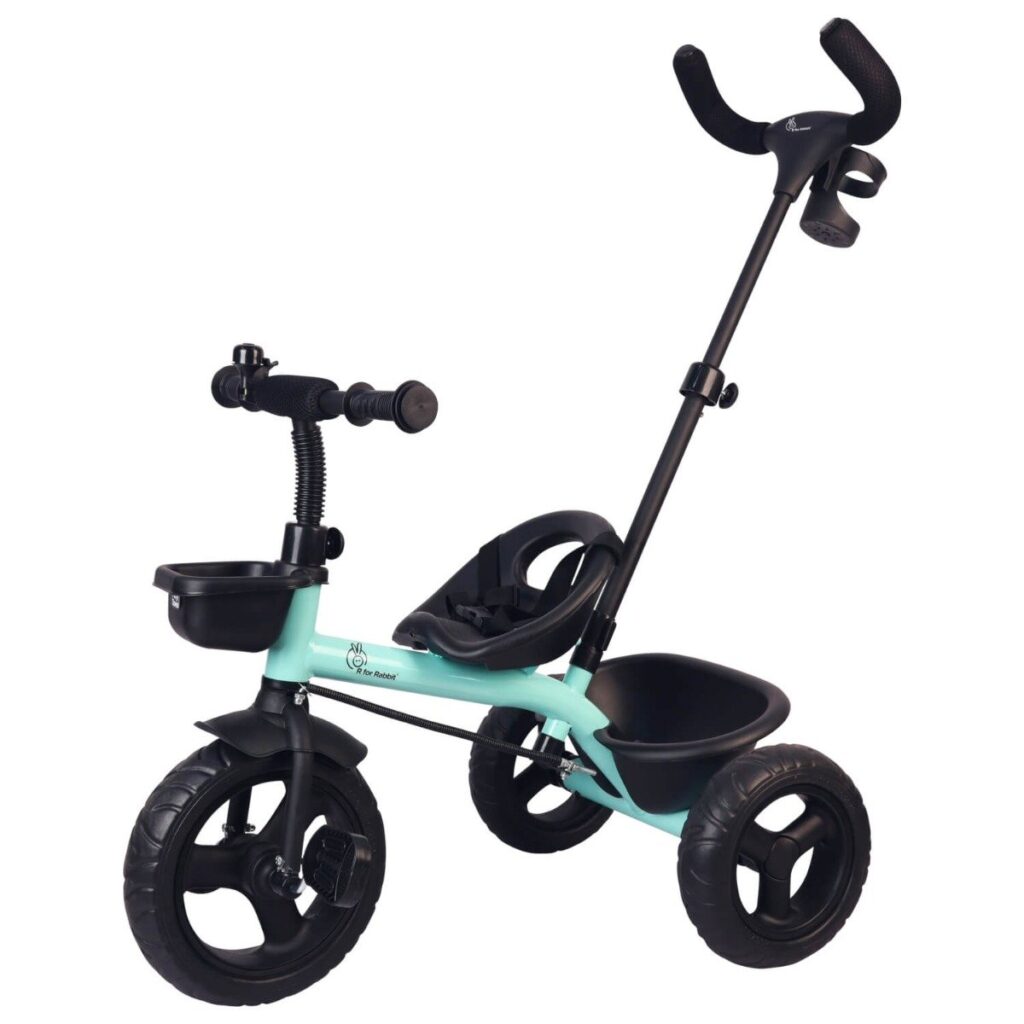 This adorable baby tricycle comes with Plug N Play EVA wheels and a pedal lock. You can easily steer them in the right direction using parental control. Incredibly, this baby tricycle with grips features a sturdy push bar that can be adjusted in height. The tricycle is lightweight, so it is easy for your child to handle it as they ride it. Also, it helps them in developing hand-eye coordination thus, honing their steering skills.

The product weighs up to 4.75 kg and can withstand up to 25 kg, which means your kid can ride it for a good 3-4 years after you buy it. If you liked this product, you can buy this tricycle for kids online at a special offer price of 2769/- from R for Rabbit.
If you are looking for a perfect tricycle for kids to enjoy their evenings with pals, then Tiny Toes T10 Ace Smart Plug n Play kids tricycle with pedals from R for Rabbit should be your choice. The Tiny Toes T10 Ace kids tricycle with pedals is safe and has a beautiful design. It comes with high-quality EVA wheels that make the ride more comfortable and fun and can be installed within minutes. A child can ride for extended periods if they are comfortable sitting.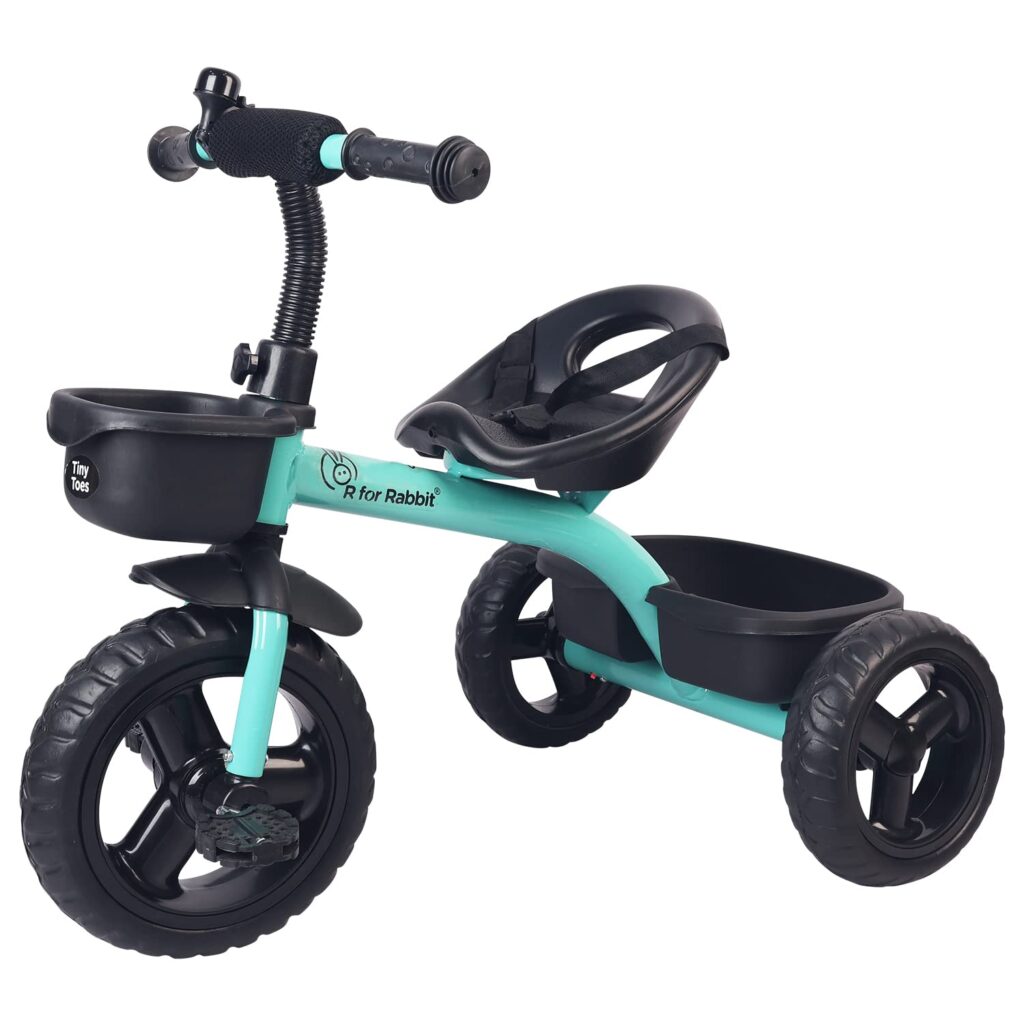 Additionally, the robust push bar on this child tricycle with grips is adjustable to different heights, which is great. In addition, it contains storage baskets in the front and back for the baby's belongings when riding. It weighs 7.8kg and is an excellent choice for kids from 1.5 to 5 years of age. The tricycle is made of steel, so it is strong to withstand various temperatures. Buy this tricycle for kids online at an affordable price of 1749/- from R for Rabbit and surprise your munchkin with this adorable gift.
Conclusion:
If you want to see your baby overwhelmed, every time he takes a ride with his friends, then buy this riding companion right away. Before deciding to purchase a tricycle for kids online, be sure it is secure and meets all the requirements. Nowadays, a variety of tricycles with various features are available. Therefore, it's important to choose products from a reliable brand for your little one.
So a kids tricycle with pedals is a good pick from R for Rabbit, because it provides all the technically correct parameters for a kid's tricycle, keeping them safe from risks.