Are you planning to get on vacation soon? If yes, have you thought about the process of bathing your baby when in the hotel room?

It is often noticed that parents tend to face a lot of trouble when they are trying to bathe the baby at home with the baby soap and shampoo as the baby tends to get cranky, let alone when they are traveling with a baby.
New parents when planning on vacation end up thinking twice as there are hardly any options available that can help you give your baby a nice warm bath, as most the size tubs in a hotel room are designed to fit a full-grown human and not a little baby. Perhaps, even if you end up bathing your baby in the adults' bathtub instead of the baby bathtub, there is always an added danger of growing possibilities and the number of germs they carry.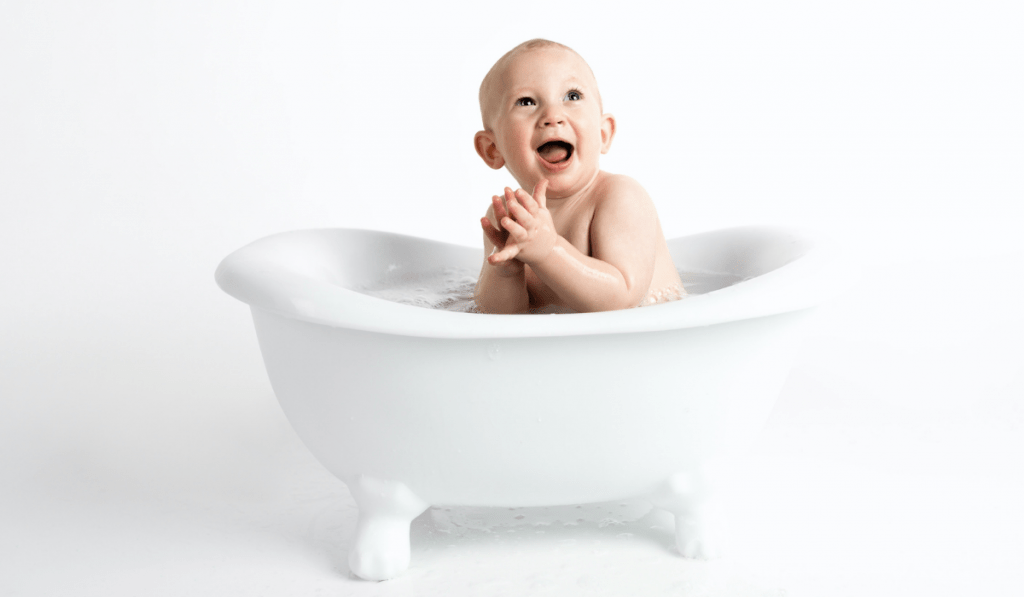 How to give your baby a bath when on a vacation?
Here are a few options to help you bathe your baby when on vacation while ensuring the bathing safety of your child.
1. In the bathtub
Hotel rooms mostly feature a bathtub in their bathrooms, perhaps it is possible to bathe your baby in there. Nevertheless, the bathing process could get a little risky as they are quite large for your baby, so make sure you are around them at all times. Also, make sure to nicely clean them before you give the infant a bath in warm water as it was perhaps open to all and could have germs.
2. In a sink
In case your sink is big enough, you can choose to bathe your baby there, but again make sure to give it a good scrub first. With a sponge- Opt to put the baby on a flat surface and sponge them to clean.
3. In the Shower
This is comparatively the easiest option that could be available to you when you travel. However, they are quite risky too as there is an added danger of slipping and hurting your baby.
4. Using a sling
Bathe baby when wearing a sling as this helps reduce all the dangers and allows you to give the baby a quick shower.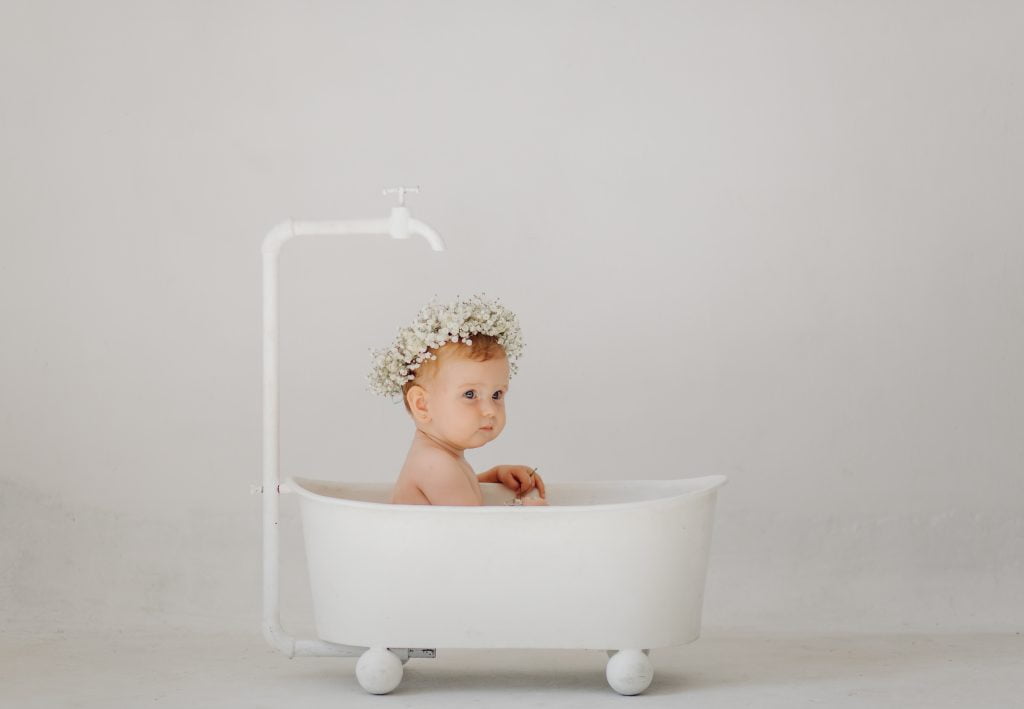 On the other hand, as you might have noticed, irrespective of the above list helps you out with your baby in the shower, they all gave an added danger that could be quick risky for the babies while traveling. Therefore, to help you prevent the danger, Parenthood Bliss would recommend you to purchase an inflatable baby bathtub instead. But what is an inflatable bathtub?
Travel-friendly baby bathtub:
To help give your baby a good and safe bath option you must consider buying a baby bathtub as they are travel-friendly, affordable, inflatable, portable, and are absolutely safe for newborn babies as well as the toddler. Therefore, there are two options available for you to choose from:
1. A Foldable baby bathtub
As the name suggests, this baby bathtub is designed to foldable when travelling. However, this tub for babies does not completely fold into a smaller size but is durable as compared to the inflatable baby bathtub.
2. An inflatable baby bathtub
This is an inflatable option that can be esily carried along with your luggage and is easy enough to assemble as they would only require an air pump. However, unlike the folding bath option, the only downside of this baby bathtub is the possibility of air leaks, especially when dragged along.
The top 5 best baby bathtubs to choose from when travelling:
Listed below are our top 5 picks for the travel-friendly inflatable baby bath tube:
1. Blooming bath lotus – A portable infant bathtub
This baby bathtub features helps us to bath the baby in the sink. It is made from soft polyester flower leaves that are soft, quick to dry, prevent the baby from slipping, and is portable. However, the baby bathtub measures around 33 inches and could require some space in your luggage.
Pros
Use this bathtub in a sink, tub, and/or the shower
Use a pillow or a soft towel when bathing with a sponge for safety purposes
Cons
Not quite compatible
Doesn't fold really small
Takes a long time to dry even after a wipe
2. Stokke Flexi baby bathtub – Collapsible
This inflatable baby bathtub is travel-friendly as it is lightweight and foldable that works best when it has to fit a suitcase when travelling. Stokke Flexi features a weight of around 3.4 pounds with ergonomic and flexible support, has a heat-sensitive rubber stopper that makes it even easier to drain after washing making it easy to clean.
Pros
Is quite durable in nature
This baby's tub is excellent great for toddlers and preschoolers.
Easy to set up
Sturdy in nature
Can be stored
Has a heat-sensitive plug
Cons
Is large in size, therefore will take up more space
One can slip in
3. Fajiabao Inflatable tub
This bathtub is durable in nature, as leaks are likely to occur, lasting for about a couple of months and 2 years. It is sturdy, is baby-safe, is designed using non-toxic materials, and has a special drainage outlet to allow easy cleaning. On the downside, the baby bathtub could smell in the initial days but will fade away soon enough.
Pros
Is durable and sturdy
The baths would be big and the best
Includes an inflatable pillow to prevent slipping
Cons
Could be too big in size for the little baby
4. Inflatable Disney baby bath tub
This baby bathtub allows the baby a bath that is filled with fun when combined with bath toys and is also cheaper on the parent's pocket. The infant bathing tub is made from materials that are free of BPA, Phthalates, and heavy metals, and measures around 20.5″ x 7″ x 30.5″ while weighs 1.8 pounds.
This portable water tub is not quite deep, therefore safe for a newborn baby too, and allows them to splash the water around while playing with their bath toys and being safe.
Pros
Is lightweight
Easy for a trip
Has storage pockets for babies to store their bath toys
Has a suction cup included
Cons
Is small in size and would be a good fit when travelling and using in the hotel
Has a non-detachable support pillow
Could be slippery
Has no easy drainage way
5. Munchkin white hot inflatable bathtub
The Munchkin inflatable bathtub is good for travelling as they are lightweight and easy on the pocket. It features a padded design, is safe for the infant to sit in, and provides comfortable baths for your little one. The duck's tail bring is additional back support for your baby and is sturdy when filled with water.
The duck tub should be inflated when blowing into the 2 provided valves (one at the bottom and the other on the sides and head). We recommended using an air pump as it might get really tiresome when using your mouth.
Pros
Is budget-friendly
Has a removable drain
Comes in a cute design
Cons
Could be difficult to pack back
Could be small but perfect for 6 to 15 months old babies
Conclusion:
Bathing your infant when you travel could be quite a task as the babies are prone to infection and parents must be quite cautious when washing the little one as the tubs in the bathroom could be slippery and dangerous when wet. Therefore, the only other safe option here is to carry an inflatable baby bathtub when you travel along with the towel, baby soap, bath toys, etc when on a trip. Choose one that is easier for you, be it the one to blow into or the one that is foldable.
Don't forget to pack overnight diapers and the baby diaper bag along!
FAQs:
1. How do you bathe a baby when traveling?
If you are traveling for long and your baby cannot stay without a bath, make sure to keep an extra sponge along to give them a light sponge bath. However, the best option is to purchase a baby bathtub that is portable and inflatable in nature. These avoid the slippery nature of a tub and help the baby with a good warm shower.
2. How do you bathe a baby in a hotel?
The best way to bathe your little one in a hotel is by using an inflatable bathtub. They are easy to carry in your luggage bag and are extremely light, compactable, easy to clean, safe, and affordable.
3. Where do babies sleep when travelling?
Let your baby sleep in their crib or in a bassinet as they normally do.