When does one start worrying about their little ones? When does one stop worrying about their little ones? The constant and exhaustive search for everything that is perfect, safe and most importantly just right for your baby begins the moment we realize we are bringing new life to this earth. From the moment we welcome our little miracle and embrace the baby with our whole heart, we struggle with the needed thoughts that surround us that are all about the safety of our babies. And, so our mission to keep our baby safe and therefore, the hunt for pure baby care products takes an aggressive route.
Pure baby care products that are safe and high on quality:
Safe and quality products are the number one concern for every new parent, which is why brands like R for Rabbit have encompassed the market with its quality and well researched products. Amongst their creations, their latest campaign "#ChoosePurity backed by science" in collaboration with actress Shriya Saran (who has welcomed a little one herself) emphasises the importance of quality and organic products and why they work the best on the sensitive skin of newborns. According to Shriya, "A new baby is the beginning of all things, hopes, a dream of possibilities. You want to be able to give your child the very best and make their routine safe, exciting and a whole lot of fun for them."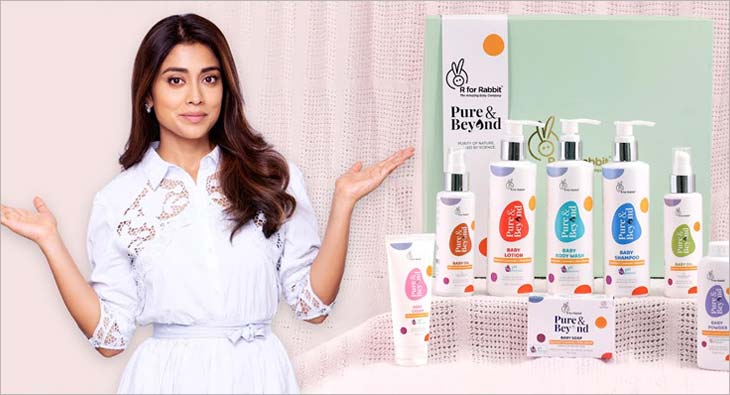 As a part of the new generation parenting style, we are all extremely conscientious about reading labels and understanding the ingredients that go into making these products for our delicate little ones. Products that are minus any chemicals are always going to be the number one choice for this reason.
R for Rabbit has spent countless hours, dedicated resources to create products keeping in mind the core philosophy of 'Purity of Nature, Backed by Science'. A baby's skin is different, sensitive and sometimes even requires time to adapt to the outside world and as such requires products that are specially crafted keeping these values in mind.
R for Rabbit Pure and Beyond:
R for Rabbit Pure and Beyond products contain zero harmful ingredients that are designed through numerous testing and research to ensure the baby's safety first and foremost. All the products are developed by naturally sourcing the finest plant-based ingredients which are the very best for your baby's skin and hair.

The R for Rabbit's new range includes baby bathing, skin and hair care products like baby soap, baby wash, shampoo, baby powder, cream, lotions and baby oils. Handpicked ingredients like oatmeal and lavender are used as the base to ensure a balanced pH value of 5.5 to make every product free of chemicals and toxins like parabens, silicone, phthalate and petroleum for the utmost safety and standard for your little one.
Mr. Kunal Popat, the founder of R for Rabbit, says "R for Rabbit is known for developing innovative, quality and safe products for babies and kids. We envision meeting our end consumers' needs by giving them high quality products that drive our brand values to every new parent. Our new campaign 'Choose Purity' aptly signifies our loyalty to consumers. We believe that Shriya Saran, one of the leading Indian actresses and a wonderful new mother, resonates these sentiments beautifully with our newly launched Pure and Beyond range.

With this new range, we hope to inspire new-age parents to choose only safe and quality baby care products."
Top features of Pure and Beyond range of baby care products: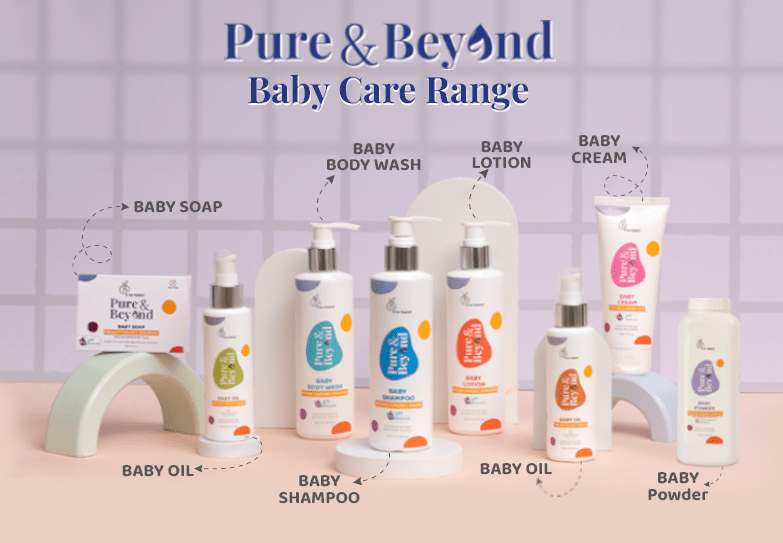 1. The baby soap is made with natural plant-based ingredients like oatmeal, lavender, and shea butter to give high nourishment and deep conditioning to your baby's smooth and soft skin
2. The baby shampoo is made with the goodness of oatmeal, lavender and avocado as the major ingredients to take care of their scalp hair
3. A plant-based and naturally sourced concoction of oatmeal and shea butter that gently cleans their skin and provides deep nourishment is what makes our body wash a favourite
4. Free from harmful chemicals like talc and cornstarch and blended with the goodness of oatmeal, lavender and arrowroot; Pure and Beyond baby powder is just perfect! Plant-based tapioca starch and arrowroot starch is put together to absorb excess moisture from your baby's skin, keeping the baby's skin dry and soft
5. Made with oatmeal, lavender and milk, Pure and Beyond Baby Cream deeply nourishes your baby's skin and helps develop a healthier skin
6. With a perfect blend of oatmeal, lavender and shea butter; our baby lotion helps to keep your baby's skin deeply nourished and hydrated while also giving a relaxing and calming effect

Honestly, with quality products like these what more can parents want except maybe to welcome their new born with arms and hearts wide open