"A baby is as pure as an angel and as fresh as a blooming flower."
And so that baby deserves all things pure. As his/her primary caretaker, someone who has given birth to this purest soul, it is my responsibility to provide nothing but the best for his/her wellbeing. And to be honest, just as me, no parent would ever compromise on baby products when it relates to the baby's skin. To make my baby's skin healthy and soft, I carefully choose skin care products like baby oil, lotion, soap, and body wash. Each child is unique, so as a mother, I would have a fair idea as to what would suit my child and what may show an adverse reaction on their skin.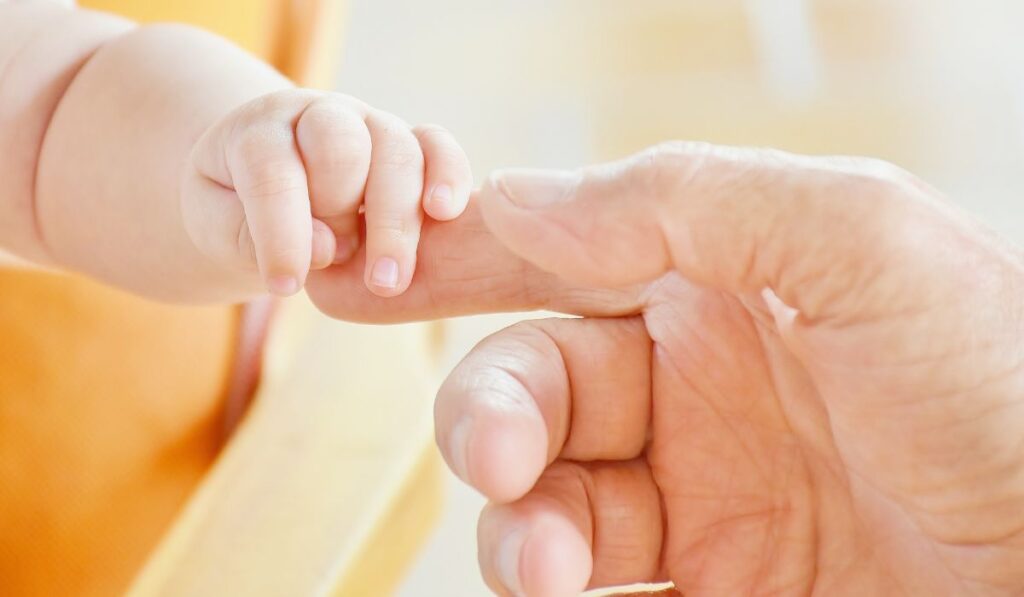 Baby's skin is super delicate and extra sensitive than the skin of say an older child. Babies don't develop a full skin barrier until they're as old as two years of age, so their skin isn't able to maintain moisture levels and is less resistant to irritants.
Certain products may contain specific ingredients that can be irritating to your child's sensitive skin. That is why I always look for the ingredients used before purchasing any baby product.
While I was looking for the right baby product for my little one, someone recommended me to use oatmeal and lavender based baby products from R for Rabbit. And as expected, all the baby skincare products of R for Rabbit are made using organic components. The brand aims to provide the best and purest baby care products and ensure that products are chemical-free, so you won't have to worry about allergic reactions or irritation on your baby's skin.
Well, if you are a new mother, you must be concerned about the right baby skin care products to choose from an array of products available in the market. So, here are a few reasons that I guess helped me in picking the right products for my little munchkin.
Reasons to choose baby care products containing oatmeal and lavender across seasons and across baby stages:
Lavender is a purple-colored flower; most of us like the flower's scent. What most of us don't know are the skincare benefits that the flower has to offer. Instead of using harsher chemical ingredients R for Rabbit has used lavender in the baby bathing range products. Do you know why lavender is the major ingredient in baby products?
1. Children are more susceptible to microbial infections. Lavender reduces the chances of microbial reactions such as bacterial infections because of its antibacterial properties.
2. If you live in hot and humid weather conditions, there is a high chance that your child will absorb a lot of sunlight, which can sometimes damage the skin. Sun damage can also lead to inflammation. Keep your baby protected by using lavender-containing products and make your child's skin safe from the heat.
3. Do you know according to research lavender has healing properties too? The antioxidant properties of lavender sometimes contribute to wound healing.
Like lavender, oatmeal is another ingredient R for Rabbit uses in Pure & Beyond baby skincare products.
5 Benefits that oatmeal offers:
1. Your surroundings can profoundly impact the baby's skin. Oatmeal protects the baby's skin from environmental damage such as dry weather and sunray damage.
2. Oatmeal is a carbohydrate, so it works as a natural skin moisturizer. Oatmeal-containing baby care products can moisturize your baby's skin throughout the season. That's why I prefer buying oatmeal-based products for newborns.
3. Oatmeal suits every skin type and causes zero irritation after applying it to the baby's skin.
4. Baby skin requires a lot of nourishment during the developing years. Oatmeal possesses anti-inflammatory properties and keeps the skin exfoliated.
5. Oatmeal is a rich Thiamin (vitamin B) source, which helps in cell growth and skin cell regeneration.
How can you ensure that the skin care product you chose is not harmful to the child?
At a tender age, it is natural that the child will not be able to develop a robust immune system. That is why I, as a mother, always go for organic skin care products. I become pickier when choosing skin care products. Natural products remain gentle but start to show the effects in a short period. Oatmeal and lavender products keep your baby's skin soothing and free of allergic reactions. Moreover, if your baby has sensitive skin like mine, then it is always good to test the product first on your skin. Other than that, you can do the following things to ensure the skin care products will not harm your child's skin.

1. Read the customer reviews before buying anything in the skin care product range.
2. Check the ingredients used in the product. If the product contains any chemical that might harm your child's skin, avoid that product.
Top oatmeal and lavender skin care products for babies:
Here is a list of some products that I strongly recommend for little ones.
1. Pure & Beyond baby body moisturizing lotion with oatmeal, lavender, and shea butter
The moisturising lotion from the baby skin care products range of R for Rabbit moisturises every skin type and provides the required nourishment to the skin. The mix of several plant-based products in the lotion such as lavender, oatmeal, shea butter make the baby's skin soft. The product is dermatologically and paediatrician tested and also keeps the baby's skin pH 5.5 balanced.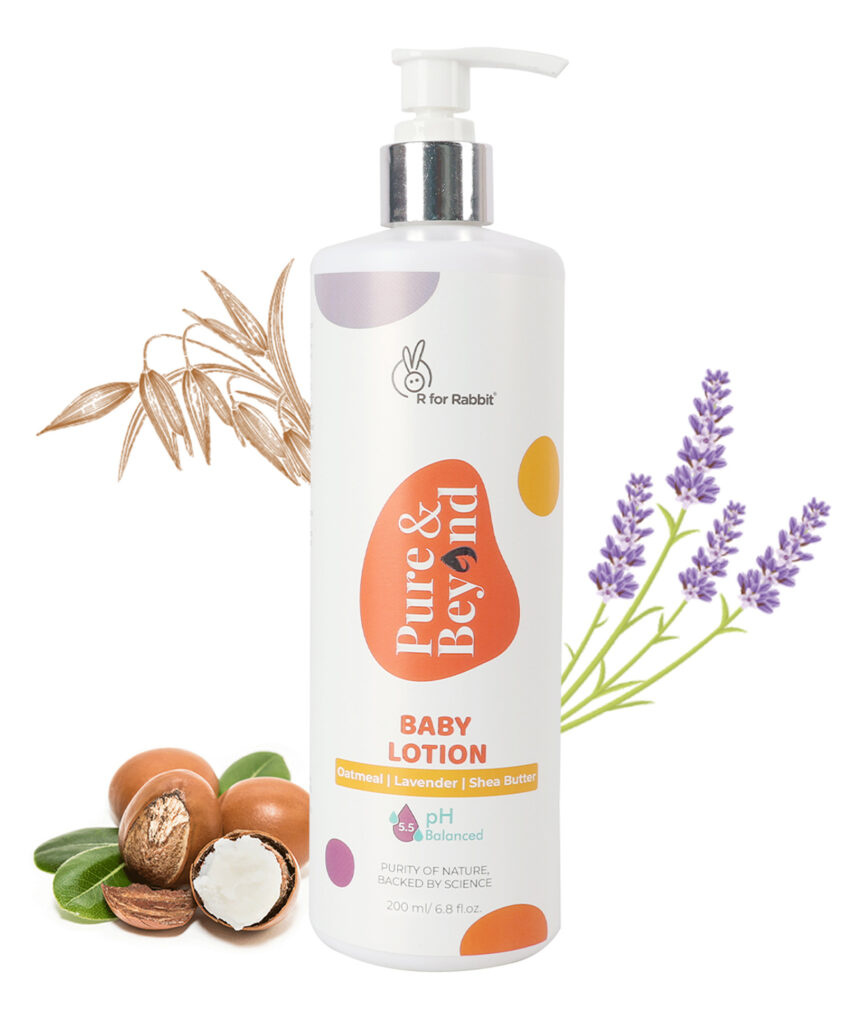 2. Pure & Beyond baby soap-oatmeal 75 grams
To make my baby's bath time more fun, I chose this pure and beyond baby soap. The primary ingredients of this soap are oatmeal, lavender, and shea butter. The pH is 5.5, which is ideal for a baby's skin and causes no irritation or allergic reaction. Additionally, the combination of oatmeal and shea butter ensures the nourishment and hydration of the skin.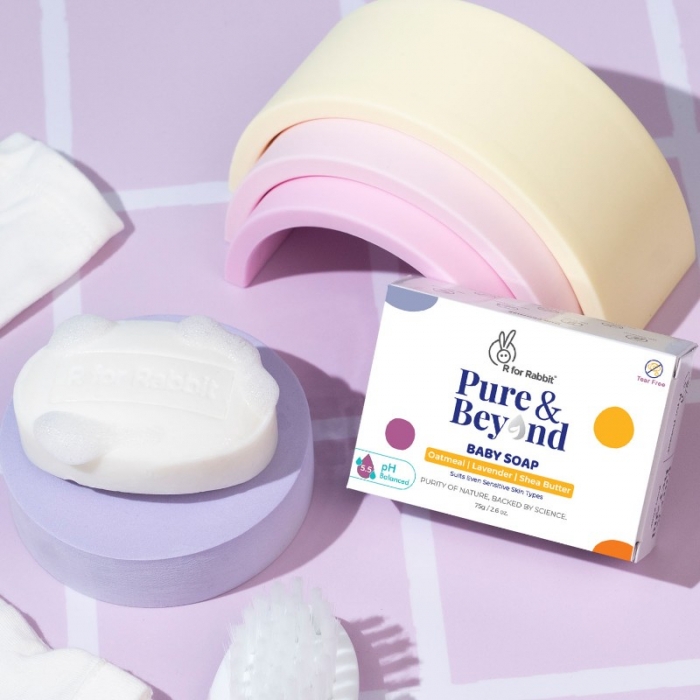 Conclusion:
R for Rabbit presents you with a vast range of pure baby products such as baby oil, baby body moisturizing lotion, head-to-toe wash, and more. All these products are chemical-free and made using organic and refined materials. So, you can trust R for Rabbit's products for several applications for across spectrum of baby stages. Buy oatmeal baby products that contain lavender, and, in some cases shea butter, almonds and sesame for your little one like I did.