Rakhi is here and we are super thrilled! All because it actually kicks-off the start of Hindu festivals in the latter part of the year. It is not a great situation to step out of our homes – Owing to COVID-19 lockdown. While we miss the excitement of purchasing the best rakhi designs for our siblings, there's something else that can be done to bring cheer on our little ones' faces. Why not learn 'How to make Rakhi at home?'.
We would love to share a few easy and homemade inspirations for you to try at home with your little ones. So, mommies and daddies, what are you waiting for? Make this festival a special occasion for yourself and for little munchkins. Celebrate and enjoy the sibling bond in an arty-crafty way!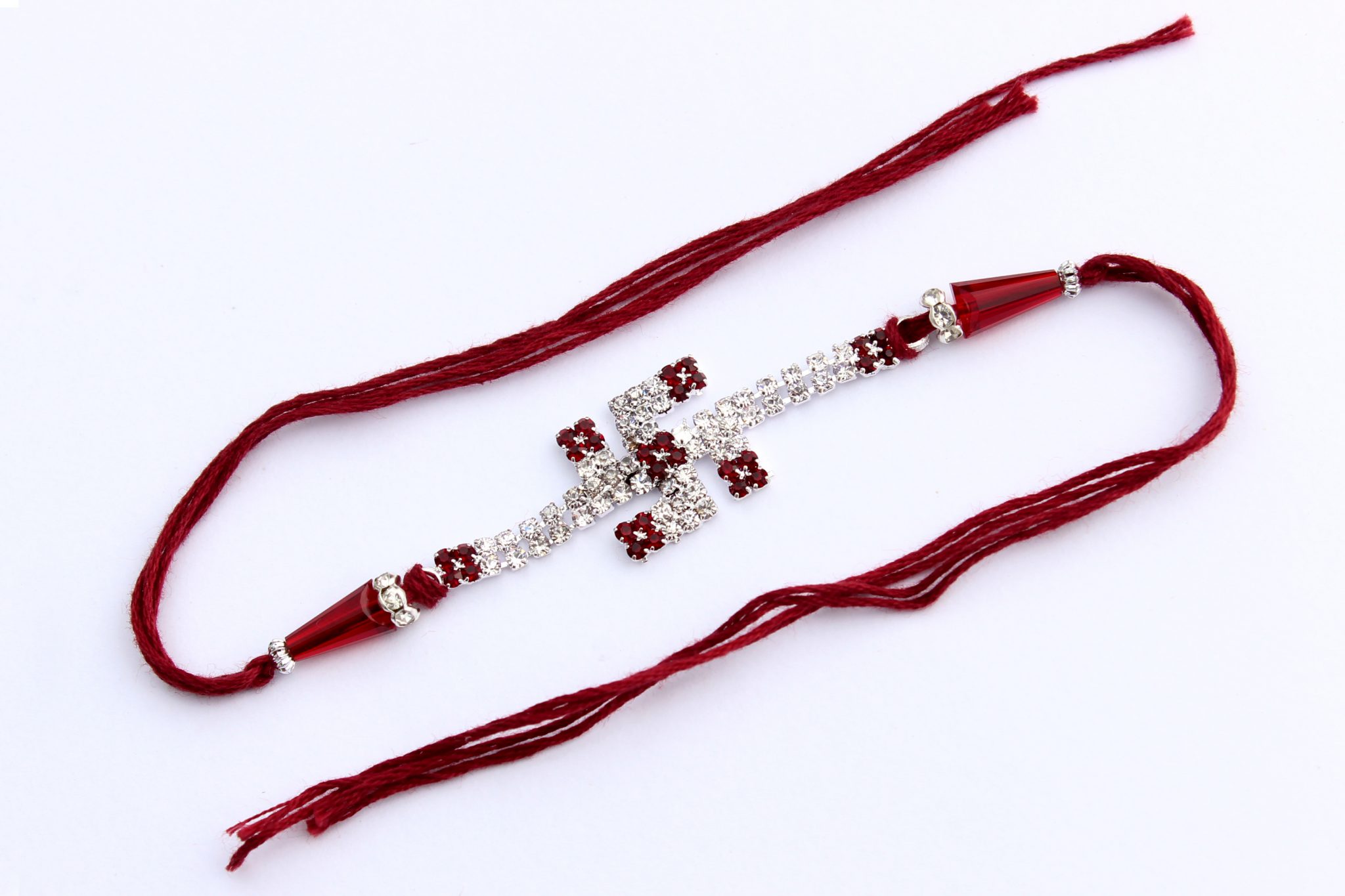 How to make Rakhi at home?
The current global pandemic situation requires us to be at home. Make the most of this festival by spending quality time with your immediate family. Your kids can learn how to make rakhi at home. All this can be done with things that are easily available in your kid's art n craft box. Let your creative juices flow. Make beautiful DIY rakhis (simple, traditional, or modern ones) at home for your brother. We have curated a few quirky designs which will definitely uplift your festive spirits and get the mood for wonderful and joyous family time!
Let your creative juices flow! Make beautiful rakhis (simple, traditional, or modern ones) at home for your brother. We have shortlisted a few quirky designs which will definitely fill the room with smiles- infectious ones.
On this day, sisters tie an amulet on their brother's wrist, to celebrate the spirit of love and responsibility. It's a fun way to catch-up on all the family banter!
So in this post, we have shortlisted five beautiful rakhi designs (and two additional designs at the end) that are super easy to make and will surely fetch you loads of compliments from your darling brother. So let's get started.
1. Wool rakhi
Most of us have wool yarns lying in some corner of the home! Time to put it good use? The options are umpteen, as there is a varied range of color options available. This rakhi design looks really pretty and will catch everyone's attention. You would need some yellow wool, red ribbon, embellishments, such as litter or pearl beads, and a pair of scissors. You just need to twist the wool around your fingers for about 20 rounds and then securely tie it at the center, the way you would do it for a pompom. After this tie a wooden bead at the center plus another strand behind for making the rakhi.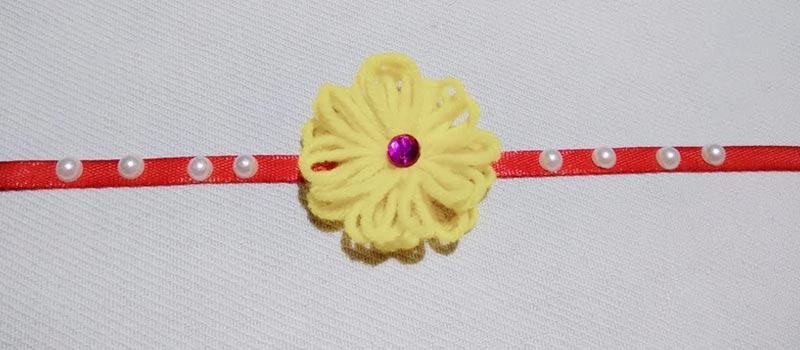 Material required:
E

mbroidery thread

3 different size pearls, needle, scissors.
2. Craft foam rakhi
A craft foam rakhi is every craft and DIY person's delight! You would need craft foam in bright hues, scissors, glue, and decorative stickers to make this rakhi. Just cut out quirky shapes, could be a car, flower, cartoon character-shaped foam in different colors, and secure them with glue. To this, you can sprinkle some glitter for that extra zing effect or even paste different stickers. This rakhi design is perfect for kids as they generally like more funky rakhis.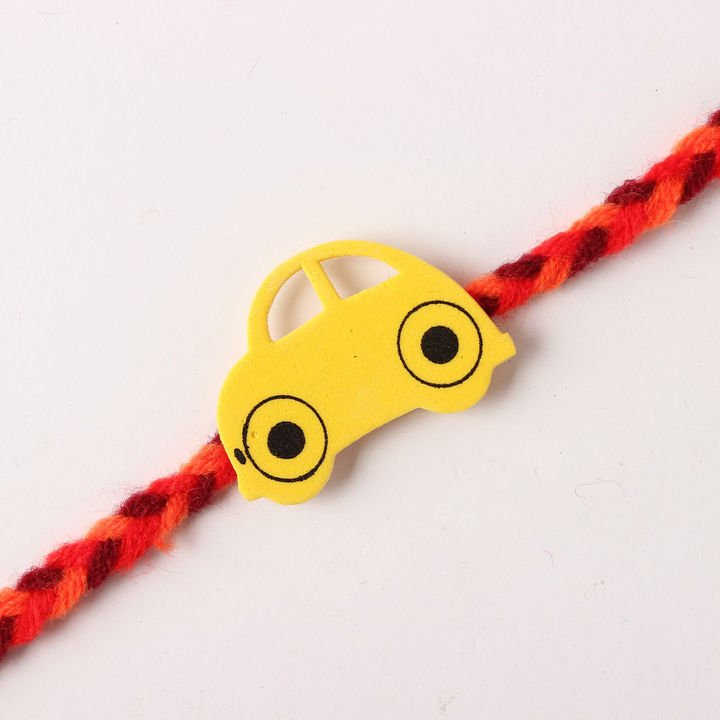 How to make
Material required
Coloured foam sheet

glue stick, scissors

satin ribbon, buttons/sketch pen.
Method
1. Draw an outline of the car shape your child fancies on a colored foam sheet.
2. Cut small car windows from a different colored foam sheet.
3. Glue the black buttons on as wheels along with the colored windows.
4. Glue on the shine buttons on top of the black buttons or just draw using a sketch pen.
5. Draw an outline of the car and the windows with a gel pen. Finally, glue on the ribbon.
3. Zari motif rakhi
If you are an ardent lover of all things traditional then this option is the best possible choice. Zari motifs which mainly go on fabrics and different kinds of clothing. You can easily source them from a tailoring supply shop. The best thing about zari motifs is that they have a fabric backing, which means it is easy to stitch or stick them onto a gold thread or lace to make a rakhi.
To purchase, call Team Anouk: 9820038873, 9810603117
A paper quilling fan is what you see in you or your child? Well then don't hold back that art! Put it to great use and design your own paper quilled rakhis! You would need colorful craft paper (for the quilling), ribbon, scissors, and glue to make this type of rakhi.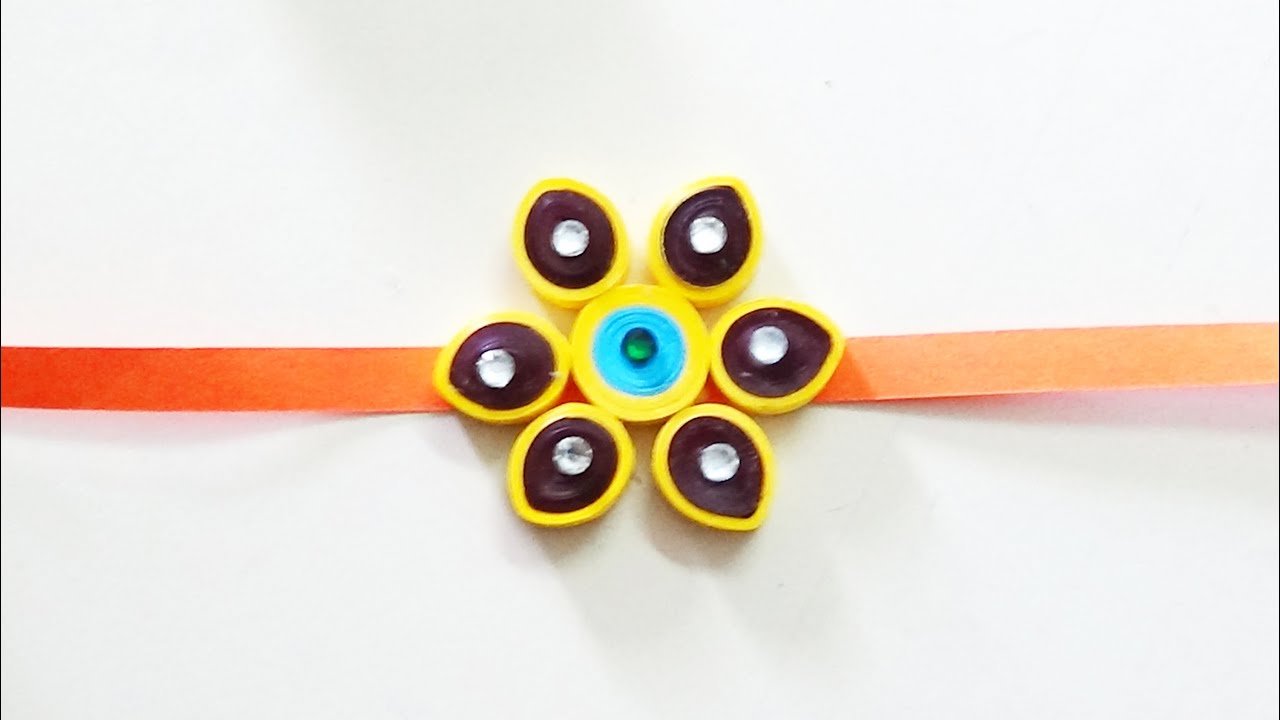 If you love art and craft and also know sewing and stitching then a felt and button rakhi is another option. Involve your child in cutting and pasting part, while you stitch the two ends of rakhi to seal the rakhi in place. Felt is a beautiful option as it comes in varied colors and can add just the right pop of colors to a rakhi.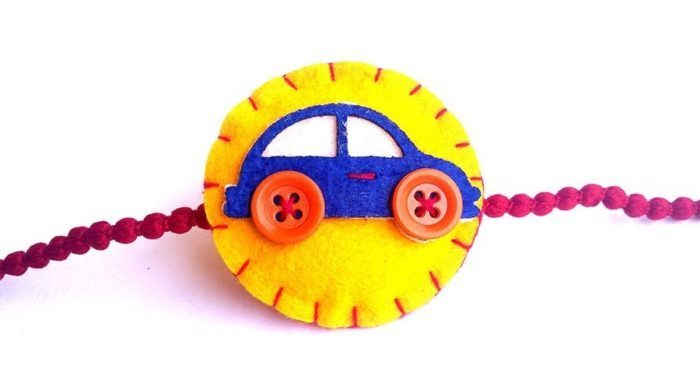 Material required
Coloured felt sheet

G

lue stick, scissors, satin ribbon, buttons.
For sewing and stitching, adult supervision is needed. Repeat the same steps as mentioned in point 2, except don't use foam. Rather replace it with felt.
How to make rakhi at home step-by-step:
Two additional (stylish) DIY Rakhi designs to make at home.
Sequins rakhi
Who doesn't love a thing with bejeweled sequins on it? Sequins and glitter are easily available at your local stationery shop, thus sourcing it would not be a problem at all.
1. For making a sequin rakhi, you would need colorful sequins, Fevicol, tweezers, and a hardbound paper (for the base of the rakhi), and a satin ribbon.
2. Cut a round shape from the hardbound paper and stick it in the center of a decent length ribbon.
3. Use a tweezer to pick and paste the sequins on this centerpiece of Rakhi. Voila, your sequin rakhi is ready!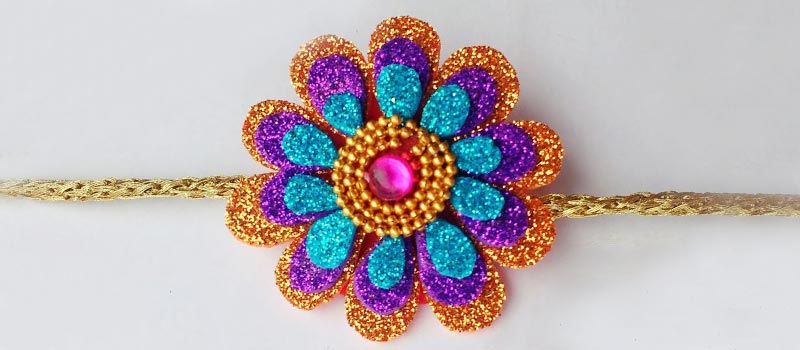 Knit crochet rakhi
Wool yarns are commonly found at our homes! If not then ask your granny for that.
1. Simple wool knit, crochet or even a ribbon knit a rakhi is a great option too.
2. For someone who is not great in art and craft, a simple knit rakhi is a beautiful choice of design for this festive season.
3. Just take three decent ties and twist it like you would do when making a hair plait.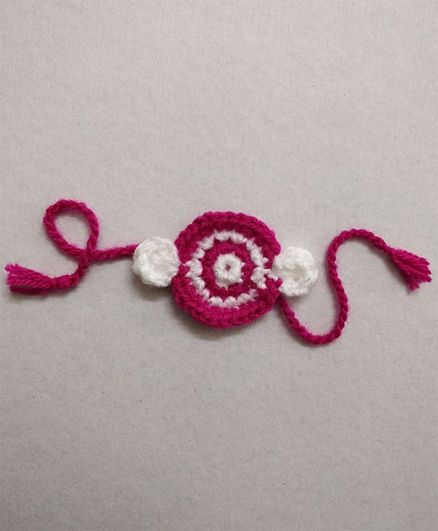 Now you don't have to ask around as to how to make Rakhi at home. You already know the answer. So, what are you waiting for? Get going and start making adorable Rakhi for your brother.