Come December and the season of craft begins. Yes! Christmas is here and your children are having a vacation. Why don't you spend some quality time with your children and make the best of the memories this Christmas? Making memories doesn't mean you will have to go out of your house or splurge a lot of money. With Christmas around the corner, let's involve our kids to make some lovely decorations for the Christmas tree. I am sure it would be an everlasting memory for both you as a parent and your child. Check out these eight Christmas-inspired awesome DIY craft ideas for kids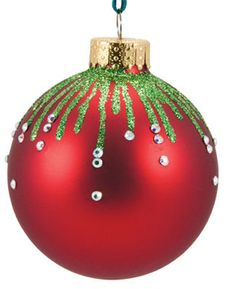 Who doesn't like handmade gifts and decoration products? Who doesn't like to decorate their Christmas tree with personalized ornaments and give an extra special touch to the yearly eve? Make this Christmas merrier and striking with these bright and sparkling DIY craft ideas for kids.
1. Decorated ball ornaments:
Hanging on colorful balls on the Christmas tree or anywhere from the ceiling is a splendid decorating idea.
Materials required
Old Ball, Sparkles, Glue, Paint, Ribbon, and Hook.
Procedure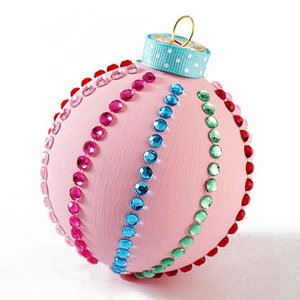 Take an old ball and give two coats of paint of your favorite color. Allow it to dry. Once dried, stick some sparklers in a uniform pattern using the glue. Once dried, attach a ribbon along with a hook at the top, from where you can hang this colorful ball.
2. Snowman:
A Christmas without a snowman is like Diwali without lights. Get your hands dirty with your kids and make the cutest snowman of your life.
Materials required
White fondant, Black fondant, Orange fondant, Gel-paste food coloring, Toothpick, Chocolate sprinkles, and icing sugar.
Procedure
Dust the surface with some flour and roll the white fondant into balls of three different sizes. Icing sugar can be used to stick the balls together. Straighten the orange fondant to a thin strip with carving a small amount of tint at the end and place it around the neck as a scarf. Using the toothpick make holes for the nose, eyes, and buttons (Black fondant) for the snowman. Make a ball of the black fondant and stick it in a hat. With these DIY craft ideas for kids, your cutest snowman is ready within minutes.
3. Gingerbread wreath:
Have you tried edible DIY craft ideas for kids? Gingerbread is an indispensable part of Christmas. Let's make some gingerbread wreaths that can be used as a wall hanging.
Materials required
Clay, White Paper Plate, Scissors, Glue, Cookie cutters, Hole puncher, Ribbon, and Glitter.
Procedure
Roll out the clay with a cookie cutter (star shape) along with drawing the gingerbread design. Spread some glue and sprinkle the glitter over them. Fold the paper plate and cut out the center part of the same. Stick the cookies and gingerbread alternatively. Punch two holes and add a ribbon to hang the wreath. You can use them on the Christmas tree or anywhere in the house.
4. Mason jars small christmas trees:
This is probably one of the most popular DIY craft ideas for kids. Small little handmade Christmas trees hanging placed in the entire house beside the big Christmas tree always add the color touch to the decorations.
Materials required
Mason or transparent jars, red and green color paint, painter's tape, Christmas tree stencil, scissors, brush, candles or LED lights, white thermocol balls, bakers twine.
Procedure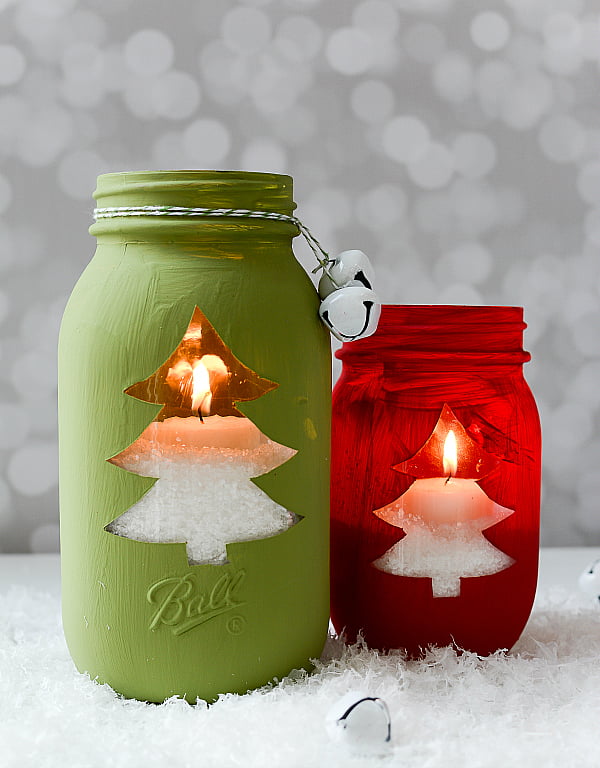 Cut the painter's tape into three long pieces and stick to each other. Then, using a Christmas stencil or by already drawn Christmas tree on white paper, trace out the shape on the painter's tape. Cut out the traced shape of the painter's tape and stick it to one side of the Mason jar. Now paint the jars with your choice of color and allow it to dry. Once dried, remove the tape. You can fill the jar with thermocol balls and use LED lights or candles to light up the jars. Attach the baker's twine at the top of the lid.
5. Paper garlands:
Garlands or also called streamers are a great decorative idea that can be easily made at home with your kids.
Materials required
Color papers (little thick material), paper glue, punching machine, twine, ribbon or yarn, lights, and pencil.
Procedure
Take the color paper and draw the design which you would like to cut into using a pencil. You need to cut out lots of pieces, depending on the length of the garland. You can make it in any shape of your choice. Once done, punch the papers using a punching machine. You can pass the twine or ribbon through these holes and make them into one string. You can also add the serial lights into these holes and make them look vibrant.
6. Yarn Balls:
Just like using sparkles, you can also yarns to create small hanging balls for your Christmas tree. This is one of the easiest DIY craft ideas for kids?
Materials required
Foam balls, yarns, or thick threads, craft glue, needle, and scissors.
Procedure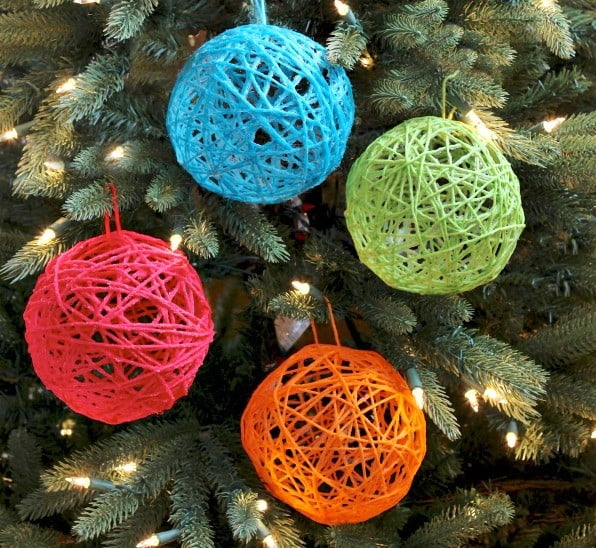 Choose your favorite colored yarn. Foam balls are usually white in color. Apply some glue in the middle of the foam ball and stick the end of the yarn to the same. Now, wrap the foam ball completely with the yarn in all directions and several times. As you do this, you will get a ball effect. Once you have done this, place a little glue and close the edge of the yarn to secure the yarn in place. Cut yarn, leaving a long tail for weaving in the end. Using a needle and thread wrap the different sections of yarn and then trim yarn ends close to the ball. Your yarn balls are ready to hang.
7. Seeds Handcrafts:
For all the bird lovers, this one is for you. This is one of the DIY craft ideas for kids that could bring them close to nature.
Materials required
Aluminum foil, bird shape cookie cutter, coconut oil, seeds and nuts, twine.
Procedure
Use the bird-shaped cookie cutter, cut the aluminum foil in the shape of the bird, and grease it with oil. Slightly heat the coconut oil and add the nuts and seeds as per the size of the bird. Let it cool to thicken. It must be in a pourable consistency. Place the long string of twine on the foil. Now slowly pour the oil and seed mixture onto the cutter. Allow it to harden at room temperature. Once toughen, remove the cutter and hang the bird on your Christmas tree.
8. Glittery Candles:
Christmas is all about sparkling and shining objects around the house spreading joy in our lives. Candles are an amazing way of depicting hope in the family.
Materials required
Plain white candles, red glitters, crafting brush, mod podge, sealer spray, and painting tape.
Required
You can pick white candles of different sizes. Paint them to equal distance in all candles, it would look pleasing to the eyes. Use painter's tape to mark the area to have glittered. Using a crafting brush, cover the area to be filled with glitters, with Mod Podge. Sprinkle the red glitters thoroughly in the area of Mod Podge. You can allow the candles to dry overnight and later give a slight touch of sealer spray, so that glitter doesn't get off the candles. Your beautiful candles are ready. Isn't this one of the most elegant DIY craft ideas for kids?
So are you geared up to make some simple, easy, quick, and kid-friendly crafts with our DIY craft ideas for kids – the decorations with a surprise? Let this Christmas fill your lives with wonderful memories with your children. Share your wonderful ideas and experience which you had with your bundle of joy in the comments section.
Image source: 01, 02, 03, 04, 05, 06, 07, 08, 09, 10, 11, 12, 13, 14, 15
by Ila Asthana