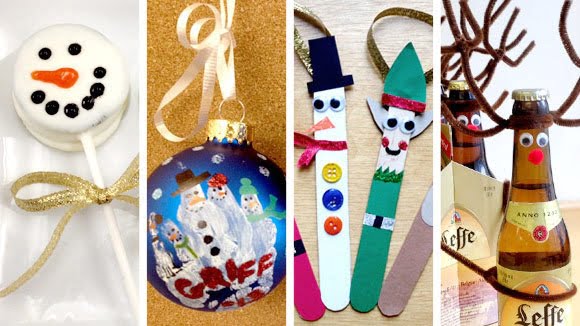 What do you think of when you think Christmas? Santa? The Christmas tree? Candy canes? Of course! But for me, it is the childhood memories of how when we couldn't go out to play because of the cold. My mom and I would sit down to make some Christmas goodies to share with friends. I have tried to pass the vibe to my son as well. And the best way to get him all excited for Christmas is to start making Christmas crafts! Get in the holiday spirit with these easy Christmas crafts for kids and other fun cold-weather kids activity ideas.
10 Easy-to-make Christmas crafts for kids:
Creating these DIY projects not only teaches kids important skills (patience, creativity, thoughtfulness), but also provides a time-out for the whole family to get together and bond. You'll only need a handful of supplies to complete these projects, which means they're budget-friendly too. Decorate your home with these fun and easy Christmas crafts for kids. Your kids will love adorning the tree with handmade ornaments, dressing up your front door with a creative wreath, and giving cute DIY gifts to loved ones. Check out 10 amazing and east-to-do Christmas crafts for kids.
1. Easy star ornament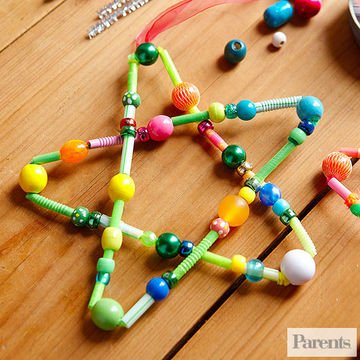 Cut straws into 1/4″ and 1/2″ segments. Thread beads and straw segments onto one chenille stem, leaving about 3/4″ on either side. When complete, twist one end to the end of another stem and continue beading. Repeat with a third stem. Draw a 6″ star on a piece of paper and use as a guide to bend the now long chenille stem into a star. Twist the last two ends together and attach a ribbon to hang.
2. Cardboard reindeer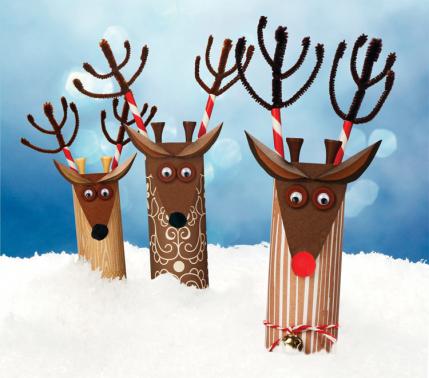 Cover a cardboard tube with patterned paper. Cut a triangle head and two large and two small oval ears out of paper. Glue the smaller ears inside the larger ones and fold them in half. Glue to the top of the triangle. Cut circles for eyes. Glue googly eyes to felt. Add pom-pom nose. Glue the triangle to the top center of the tube. Use straws and pipe cleaners to make antlers. Isn't this one of the coolest Christmas crafts for kids.
3. Conifer cone Christmas tree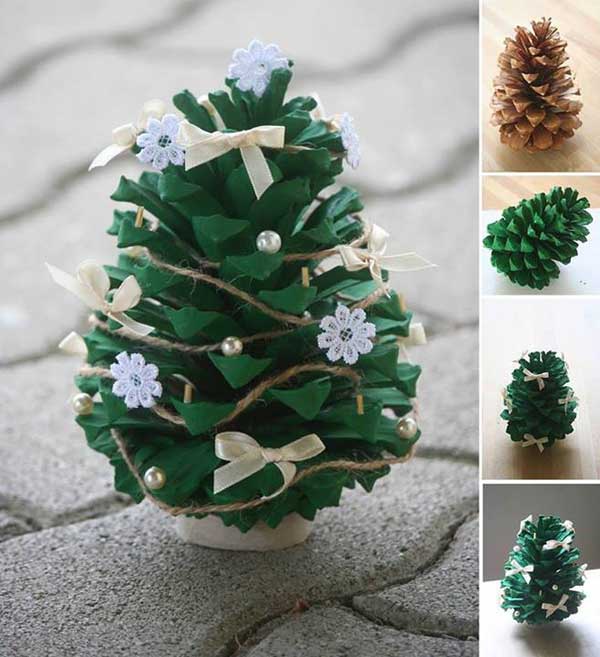 If you have collected conifer cones from your trip to the mountains, you can turn them into dainty Christmas trees by following the pictorial instructions.
4. Easy paper wreath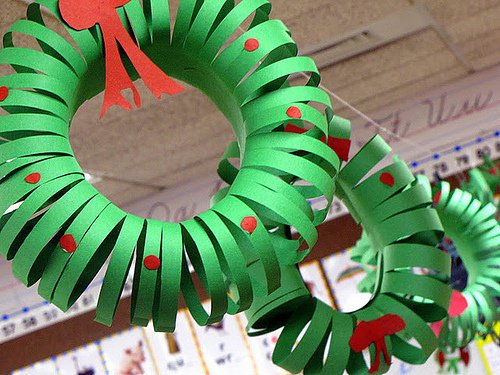 A pair of scissors, green chart paper and some glue is all you will need for making this paper wreath. Follow the instructions here – http://andrewrachelashmore.blogspot.in/2011/11/construction-paper-wreath-tutorial.html
5. Embroidery hoop wreaths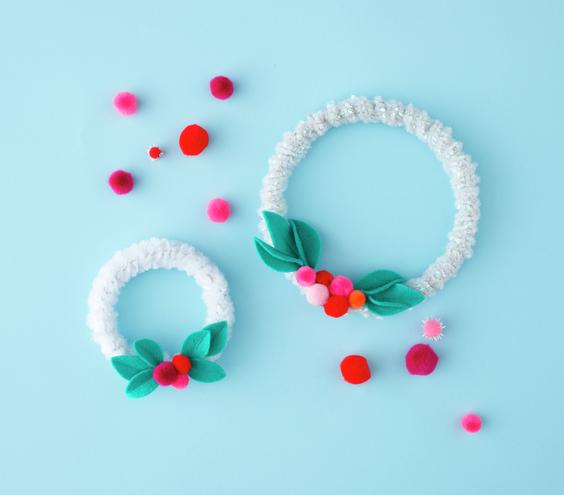 Wrap pipe cleaners, white lace, cotton, or even tissue paper around an embroidery hoop and let the kids embellish with pom-poms and felt leaves.
6. A peaceful dove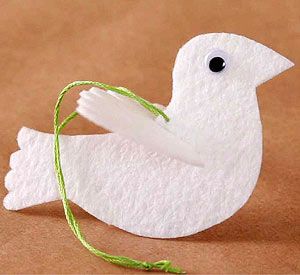 An easy hanging charm for the tree, your car, or a window – create this pristine white dove in under ten minutes. Watch the tutorial of this Christmas craft.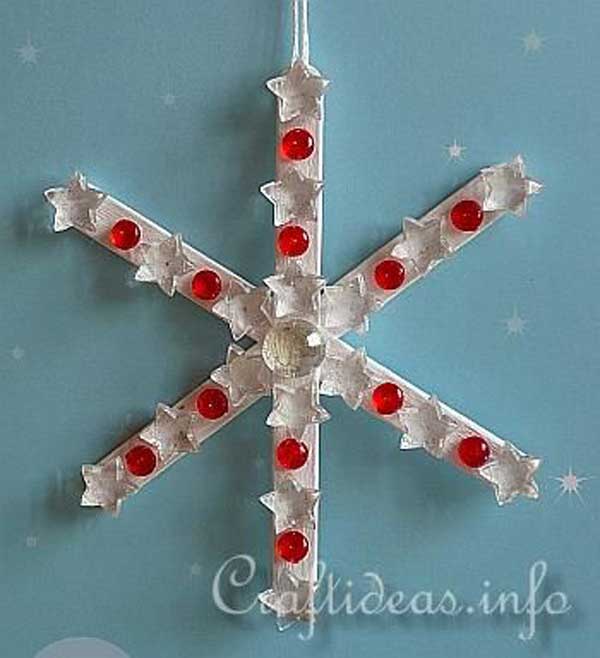 Collect a few ice cream sticks and paint them white or silver. Then fix them one on top of the other in a snowflake shape. Decorate with buttons, sequins or glitter.
8. Light bulb snowman: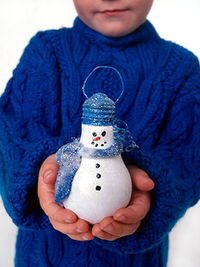 This is one of the Christmas crafts for kids that are for older ones since you are dealing with a glass bulb here…Balance a light bulb on a toilet-paper tube, and paint the glass part white. Paint the metal a solid color for the snowman's hat, and add eyes, nose, mouth, and buttons with markers. Wrap a small piece of fabric around the lightbulb neck for the snowman's scarf. Finish it off with some spray adhesive and a sprinkle of clear glitter. To hang, take a bit of wire and twist it around the hat.
9. Handprint Christmas tree: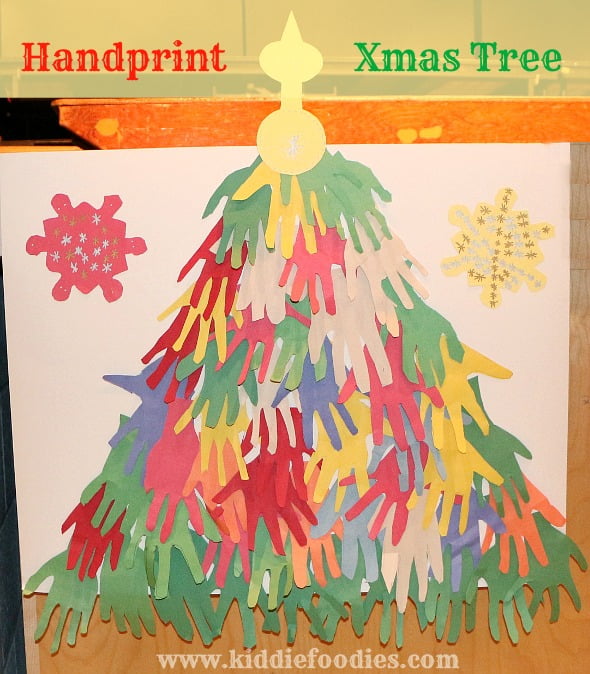 A handprint Christmas tree is just so cute! And you can actually have handprints of all family members to make this one. Simply trace the handprints, cut out several of them, and glue them together in the shape of a tree. Add a star on top and let your child decorate with stickers, glitter glue, or even fingerprint ornaments and you have a beautiful Christmas craft that everyone will enjoy. You can even cut the handprints out of felt to make a fun Christmas tree scene your child can build over and over. Appliqué the hands onto fabric for a more polished family handprint Christmas tree wall hanging.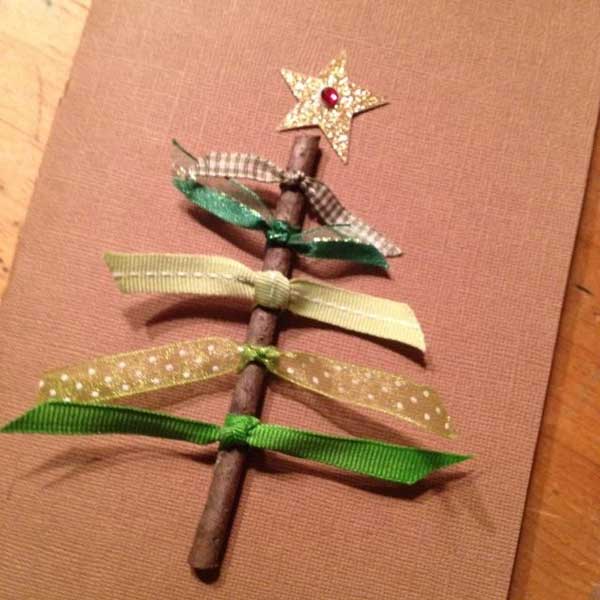 Use dry twigs and some pieces of leftover ribbon on a thick sheet of paper to make this rustic and unusual Christmas card.
So folks! This Christmas- which of these crafts are being created by you your children? Try these Christmas crafts for kids at home and send us the images to be featured.
Image source: 01, 02, 03, 04, 05, 06, 07, 08, 09, 10, 11
by Aarti Kapur Singh