As a part of the initiative to support Indian and homegrown brands, in The Champa Tree's Vocal for Local series, we speak to Bhavna, the brain behind Scift, a social gifting website.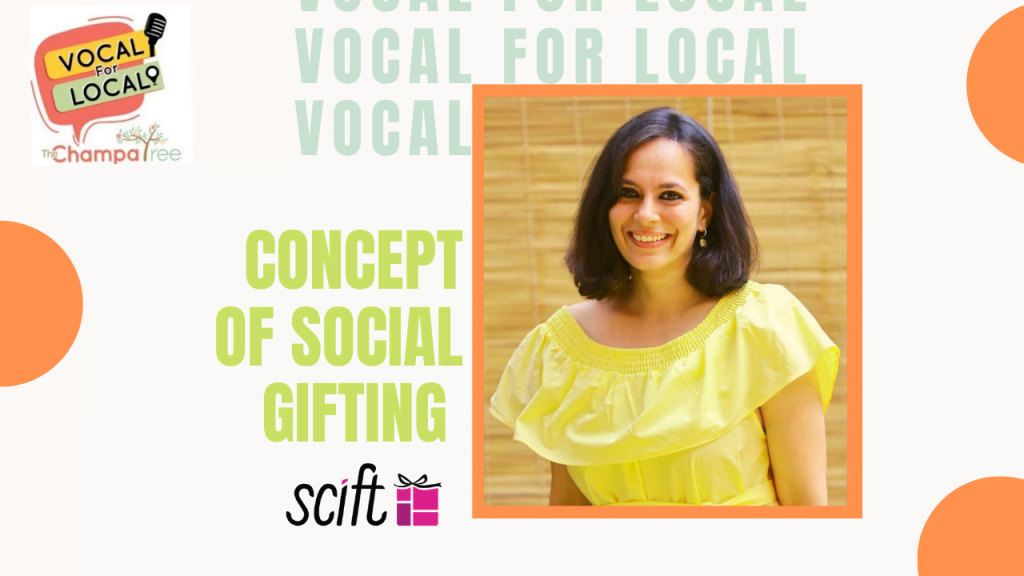 Vocal for Local – Scift way of gifting:
Having done a Master's in English Literature and studied Interior Design, Bhavna Kanoria started working in the field of interior design but realized soon enough that she didn't see a future for herself in this stream. Her passion lay in solving real problems faced by people around her. Thus, a Gift Registry website for weddings, baby showers, and other occasions was born.
Eventually, over a few years, the gift registry organically modified to Scift, a social gifting company, keeping in mind the culture, thought process, and mindset of Indians when it came to gifting. Scift aims to encourage donations instead of giving and receiving material gifts.
Bhavna shares with TCT readers how and what the COVID-19 pandemic has taught her on the professional and personal front.
A little bit about your inspiration behind starting the business/venture?
Scift is a social enterprise spearheading the concept of social gifting in India. When my daughter was born, I realized how many gifts friends and family gave her but how little of those were used. The amount of wastage of gifts and the space required to store them bothered me a lot. Realizing that this is a larger problem in the country I wanted to try and do something about it.
Through Scift, I aim to encourage donations towards NGOs instead of exchanging physical gifts on special occasions. So at weddings, birthdays, festivals, etc, the host can choose to have guests donate towards an NGO of his choice. It helps the community twofold.

This makes it easier for people to reduce any wastefulness in gifting while assisting NGOs to do what they do best. The money that we spend on gifting could go towards those less fortunate and we can be a part of improving their future. Let's help make the world a better and kinder place.
How has COVID-19 affected your business and what do you think lies for your brand in the future?
Covid-19, while suddenly bringing the world to a crashing halt, has in many ways brought out the best of humanity. People are being more kind, generous, and helpful than ever before. Everyone is trying to help another with whatever little they have. Slowly people are starting to see the value of helping someone less fortunate than themselves with the money that might have otherwise been used for something for themselves.
This change in mindset I think will be the start of a new era of social gifting in the country. The future will definitely see a lot more people chose to donate towards an NGO at their or their loved ones' special occasions instead of exchanging material gifts.
What's one advice you would give to budding local businesses?
My one advice for small local startups would be to connect with people around them – whether its customers, mentors or just people interested in the concept. The more you connect with people, the more help starts to pour out of unexpected places and the more you learn and grow.
What can be better than THIS creative gift idea for your loved ones?