"I aim to make reading a lifestyle," Apurva Dalapati's venture Bibliophiles is a one-stop shop for children's books. Mothers sharing their snippets of experiences with to-be-mothers has been a practice that has grown over the centuries. The moment those two pink lines scream the arrival of a new life, suggestions pour in from unexpected corners. And then comes along a flood of overwhelming tips on what to do and what not to do, at every single stage of her life. While most of us were living in this predictable pattern, there is this mum out there who, without diving deep into the state of paranoia, embraced what she knew and loved the most. A bibliophile with a world of books to wade through her pregnancy.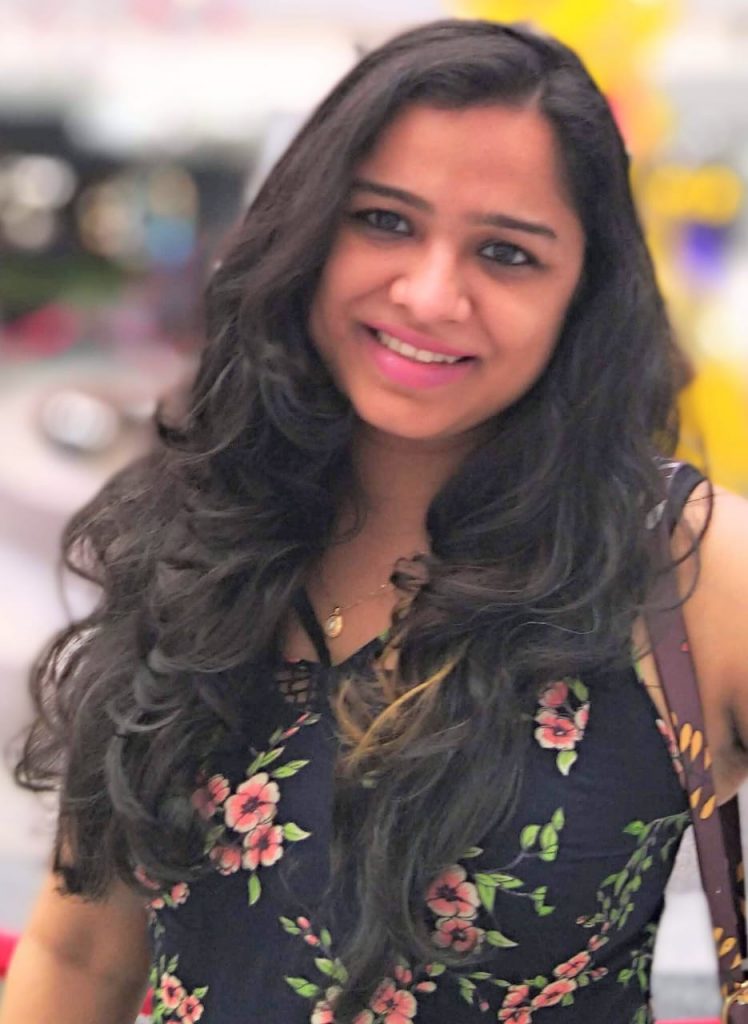 Apurva told stories to her little one who in the safe waters of her womb enjoyed this as much. Apurva read and read – Yes she is indeed a complete bibliophile. She recommended a few books to fellow mommies and became the soul of book discussions. Eventually, she started to provide reading guidance and making books available to all the fellow bibliophiles.
That's how Bibliophiles was born!
Apurva Dalpati, the founder of Bibliophiles, is with The Champa Tree today, with her captivating voyage from a marketing manager to a homemaker and finally to an entrepreneur.
Reading came naturally to me:
Being a single child of working parents, I was conditioned to be friends with myself. Though my parents ensured that I don't miss out on family time, I mostly entertained myself during their working hours. Thus, before I can remember clearly, I shook hands with books and built an unspeakable bond with words. After my mother's demise, these books consoled me into growing above the pain. In the years to come, the books replaced the role of my mother, friend and guide.
Marrying a complete teetotaler when it comes to reading, did not deplete my connection with books. It went on right through my pregnancy till I upgraded my passion into a profession.
Birth of Bibliophiles: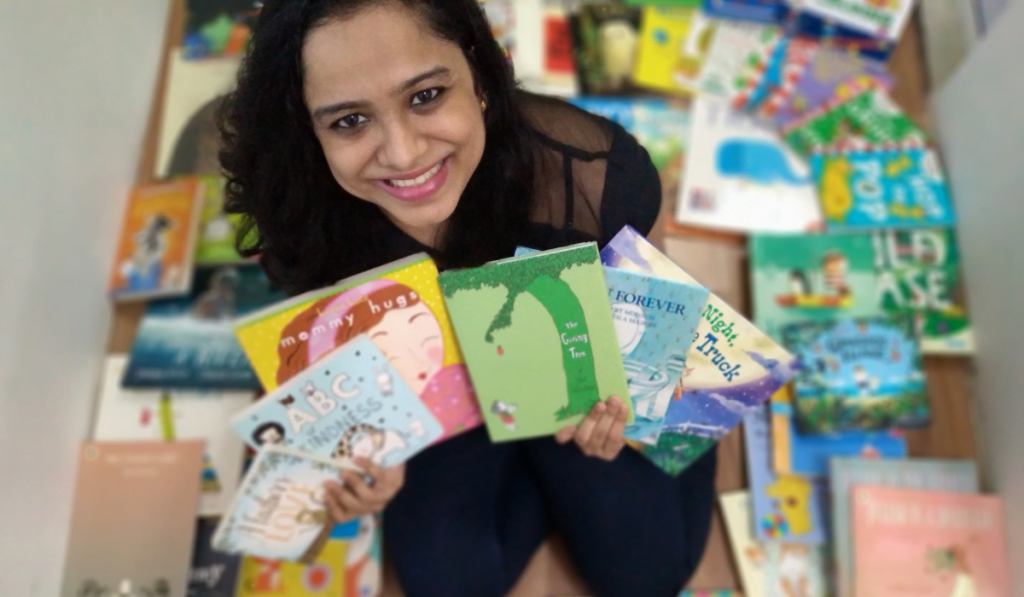 When I gave birth to my daughter, it was a moment of pride – beaming in the light of motherhood. While I was tending to my new baby's needs, around the same time, another child was in the incubation stage. This baby was named "Bibliophiles".
My lovely kids in their initial months needed tender care and uninterrupted dedication. Gradually, they grew under my shade and my husband's support.
One lesson I learned through Bibliophiles – When work overwhelms you, don't take it upon yourself. That's when a passionate venture of a bibliophile, grew into a team of bookworms.
"The motto of Bibliophiles is to make reading a lifestyle."
Bibliophiles – One stop shop for your child's happiness.
As I identified the need to highlight the importance of reading, I also realised the need to get hold of the right set of books. Mothers come searching for various genres of books. There are board books, cloth, and quiet books, puppet books, learning books, storybooks – You name it and we send it to your doorsteps.
We have a plethora of choices when it comes to children's books. There are mothers who don't like their children reading a wimpy kid and dork diary but on the other hand, there are mothers who approach me, asking for the whole set of dork diaries. We identify the needs and give you the right ones. I believe in reading as a lifestyle and to attain this feat, I strongly believe that we should read books to our kids right from the prenatal stage. We read every book and add them to the store only after we are convinced that there is a takeaway from the book. In short, the recommendation by Bibliophiles is an assurance. We have an exclusive WhatsApp, space where we share recommendations and let you grab the new book in the store.
Make reading interesting:
To make the choice easier, we share the review of new books and in addition, our blog posts provide valuable information like tummy time and books, reading books at the prenatal stage etc. To sum it up, once you visit Bibliophiles, you will go back as a bibliophile and will not turn back without a book for your little one.
"Talk about what you just read, planning activities around the book or reading a book on the subject before planning an activity like a cooking session or a vacation. Also, use activity books like sticker books or books that come with some activities to do in general. There are some book and toy sets available for younger children of age 1-5yrs. Hugging the soft toy of the character from the book while you read his story makes them more fun."

Apurva's tips to make reading interesting
5 Ways to cultivate reading habits in kids that stays with them forever:
1. Surround them with books on various topics
Children are curious by nature and if there are books around them, they will go and explore them on their own and find something they will like. So keep books on a wide range of topics so they can decide which topic interests them if you want them to be a bibliophile.
2. Practice what you preach
Children emulate their parents, so either parent should themselves read for pleasure or at least read regularly with the child. Unduly forcing them to read themselves when you don't will not yield results
3. Talk about what you read
Talk about the book you just read together. Discuss the story, the characters, the animals, and their habitat, how did the book make them feel? Happy, angry, or sad? Why do they suppose they feel that way? Were there any actions in the book?
4. Understand their likes and build on that
Understand the general topics a child is interested in and give books based on that. Whether a child likes unicorns, cars, science, dinosaurs, space, Peppa pig, flowers, there are books on every perceivable topic available. Extending a child's existing interests into books will have a higher chance of success in bringing the child towards books and retain their interest.
5. Make reading a lifestyle
Bibliophiles' philosophy is to create a reading lifestyle for children and inculcate reading as a daily habit. Allot a time of the day most convenient to you, when the child is at their most receptive and happy, well-fed and rested. Include books in a child's lifestyle by reading every day at an assigned time, gift books on birthdays, show a books catalogue and ask them to pick them out themselves ( gives them a sense of independence). Referring back to a book you read during a conversation like saying we are going to a hill station for vacation, just like you read in the Ruskin Bond book, having a designated space for books makes them feel like books are also an important part of your reading lifestyle. Be a bibliophile for your child to learn from.
Dear aspiring woman entrepreneur,
You know you are talented but you have your wings clipped. Why? Because you left the reins of your dreams with someone else. Be your master and take that first step which is the heaviest. When I started Bibliophiles, I didn't know how to grow it. While I bought as many books to last for a lifetime as my daughter, I was forced into an unplanned guilt trip of not earning as much as I spend. The spark of this thought ignited the fire of my passion which became my profession. So, stop hesitating and start embracing your passion. Bibliophiles was born because I am a bibliophile myself.