In your arms is where your baby feels the most comfortable. Carry them as much as they or you want. However, there are times when parents prefer taking a break from holding yet wish to stay close to the baby. Besides, I figured the best way to cope with the toddler tantrums is to comfortably put the little one in the best possible stroller in the world. A happy baby means a happy parent. Even the fittest dads and the super-active moms can get tired after a long day or sleepless night. A walk in the park or a visit to the mall can be cheerful on such days. That's where stroller/ pram for babies is a smart choice.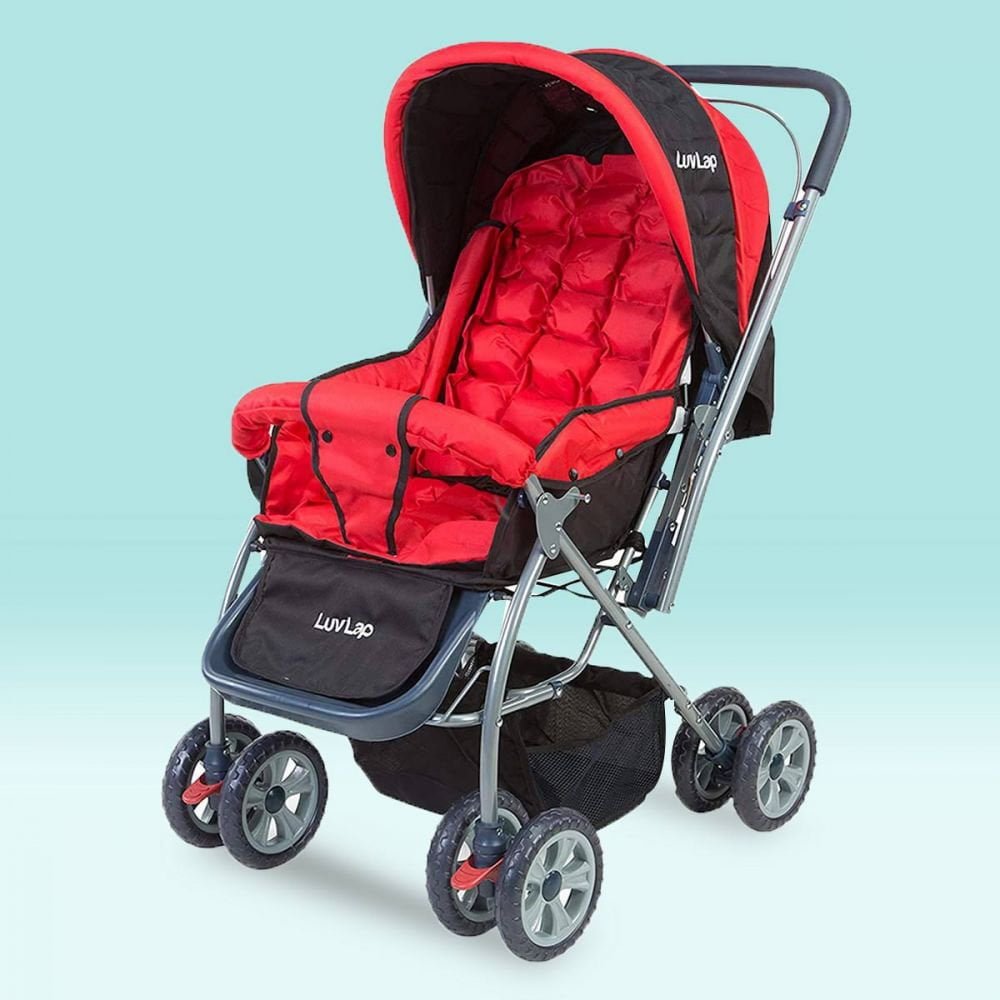 Certainly, buying a stroller/pram for babies is a huge investment and requires thorough research. That is to say, investing in the right baby strollers can make all the difference. Here are a few questions to ask yourself before adding a stroller to your newborn baby products list.
1. Is it worth investing in a stroller/pram for babies in India?
Do you wish to make life easier for caregivers as well as the baby? Then, certainly, stroller/pram for babies in India is a wise investment. A baby stroller will be beneficial for you in the following scenarios:
If there are places nearby to take an evening stroll or you frequently visit malls
I would say a stroller/pram for babies and toddlers is a lifesaver if you are a family who travels a lot like ours.
In cases where you or your baby have physical discomforts or disabilities, baby strollers can be beneficial. Baby strollers helped me a lot at times of post-delivery back pain.
Likewise, It's best for moms during their post-cesarean recovery. Stroller/Pram for babies encourages moms to go out, take gentle walks, and run errands without compromising healthy recovery. Gentle walks can lower the risk of blood clots and ensure a fitter and healthier lifestyle.
2. One-time investment – Opt for the best stroller/pram for babies?
Stroller/Pram for babies and toddlers was among the top priority newborn baby products that we decided in investing for the following reasons:
Newborns sleep a lot, and baby strollers provide a comfortable sleeping position for babies. Besides, it helps with the posture and keeping their head steady.
Best baby strollers have exceptional safety standards. Therefore, the chances of unexpected accidents reduce. However less the possibilities are, it is always safe to take precautions.
The best stroller/pram for babies comes with spacious storage baskets and pockets to keep baby essentials. I love how it helps to run errands independently while taking care of my kid along the way. Grocery shopping seems like a cakewalk with a baby stroller with a spacious basket.
Baby strollers help to make summers more comfortable for babies. For instance, the hot and humid summer was overwhelming for my son when we moved from the US to India. A walk in the baby stroller in the evening always made him feel better.
For families with more than one kid, a baby stroller helps to make life a lot simpler.
3. When to start using stroller/pram for babies and toddlers?
Now, if you have decided to go ahead and buy a baby stroller, make sure to add it to your newborn baby products list. Initially, you may prefer holding the baby or using a baby carrier. However, if you plan to introduce a baby stroller when your kid is older, he/she may refuse to sit in it. We all know toddlers prefer racing around over locked up in a seat. If not accustomed to it, you will probably end up pushing around the stroller with one hand while running behind your toddler.
4. What to look for while buying baby strollers?
Comfort for the baby/toddler
No matter how amazing the baby stroller looks, if it's not comfortable for the baby, is it really worth it? To ensure comfort, make sure the stroller has the following features:
Multiple reclining positions to adjust as per baby's needs.
Extendable canopy to beat heat and rain, or to help with peaceful sleep.
Spacious and comfortable seat with adjustable footrest.
Safety features of baby strollers
The stroller must be well-built meeting all the safety standards. Before buying the baby stroller, examine the following:
Look for the safety harness – The buckles on the harness must be easy to operate for you but difficult for small hands to unfasten. Some of the baby strollers come with 5-point harness systems which have two straps over the shoulders, two for the thighs, and a crotch strap.
Check the brakes – You shouldn't drive a baby stroller with bad brakes. Ensure that the rear and front-wheel brakes of the baby stroller are working properly.
It is good to have a baby stroller with swivel wheels over fixed ones. This will eliminate the need to lift the stroller to turn. Swivel wheels come with a lock, in case you want to change them into fixed ones. Ensure the lock is working perfectly during the purchase.
Examine all hinges and edges. Make sure there aren't any sharp edges that can hurt the baby or you.
Inspect the canopy and its extendibility
Try and ensure all the reclining positions are working properly.
Cost of the stroller/pram for babies
You can spend thousands and lakhs to obtain the best stroller/pram for babies. However, no stroller fits all the kids. The best stroller is the one that suits your child's needs and your budget. Many of the best baby strollers in India come within an affordable price range with all essential safety features. The Amazon bestseller Luvlap stroller is one of the top brands which comes in this category.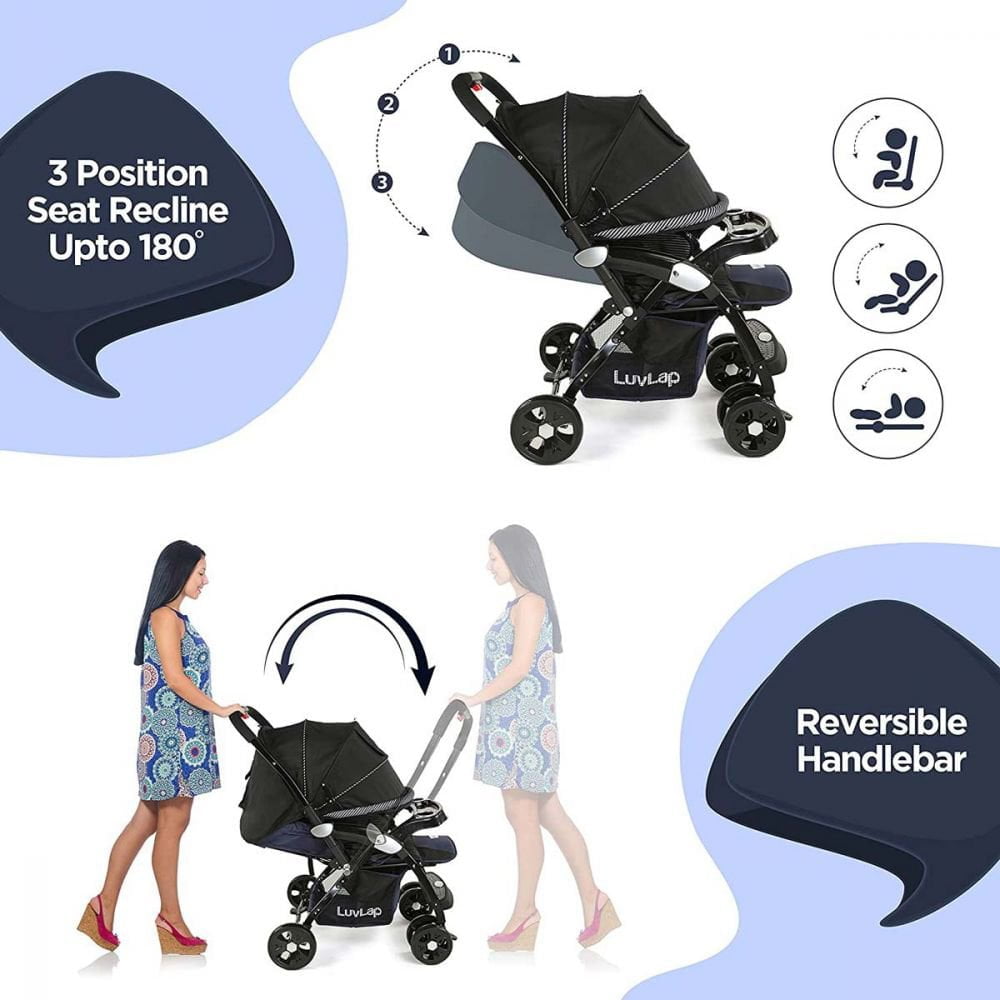 Ease of use and strolling
We were very particular about the following while choosing the baby stroller:
How easy is it to fold and unfold?
Will it fit in the car trunk?
How easy is it to keep it clean?
Is it suitable for all-weather?
Are the wheels capable of a relatively smooth ride on bumpy roads?
Does it have multiple reclining positions?
Is the handlebar reversible?
Can we have a constant view of the baby?
Is there enough storage for all the essentials?
Is it light enough to be carried around with one hand?
5. How to decide on the right baby stroller for your family?
With the assortment of the stroller/pram for babies available in the market, choosing the right one can be an overwhelming task. LuvLap, a leading name in the baby stroller market, is a company with exceptional strollers that suits the requirements of Indian parents. Moreover, recent researches prove that 99% of moms believe LuvLap strollers are highly safe and comfortable for their babies. Let's look at the range of best seller LuvLap strollers to help you decide the right one for you:
LuvLap Galaxy Stroller
LuvLap Galaxy stroller is the most recommended baby stroller in India. It includes all the necessary features required for the comfort and safety of your baby.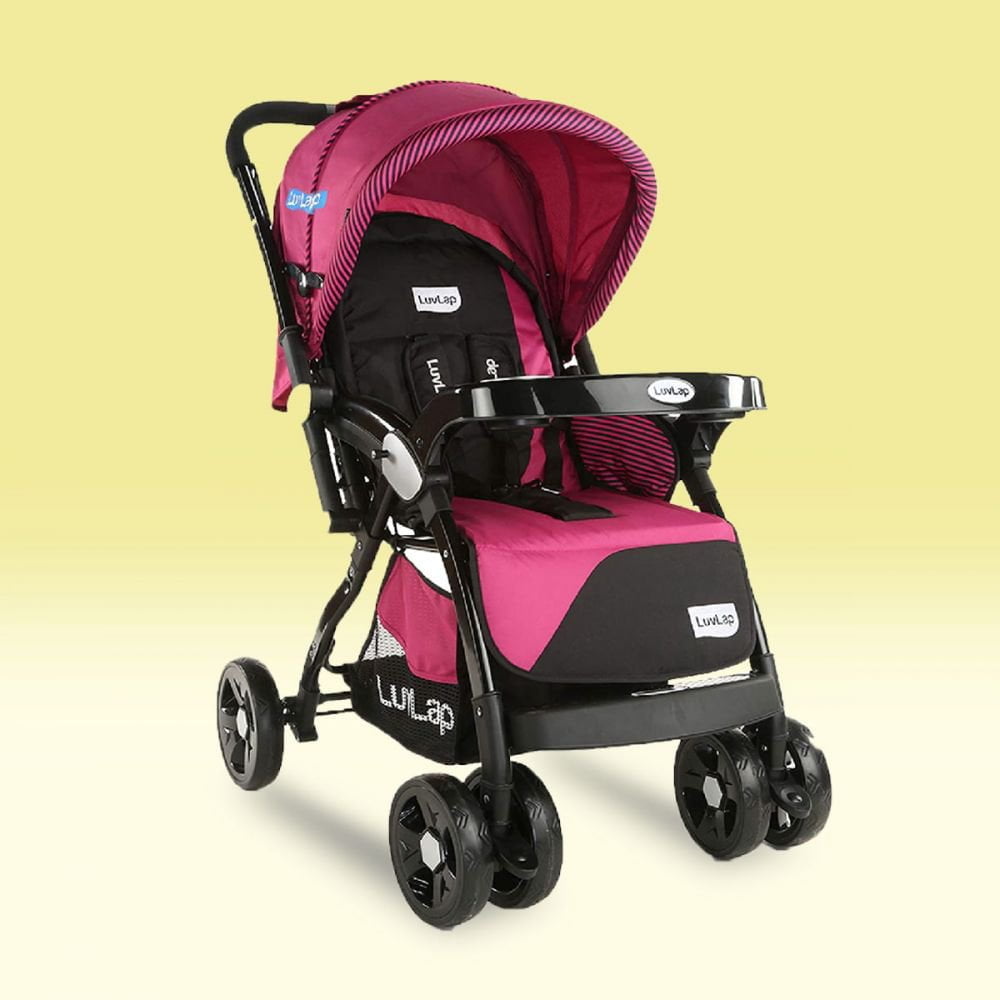 LuvLap Galaxy stroller is European Standard EN 1888 certified and meets all the safety standards, including the five-point safety harness, 360° front wheel rotation with swivel lock, and brakes in rear-wheel link brakes.
It is suitable for the age group 0-3 and can carry up to 15 kgs. Perfect for a newborn to a toddler and pre-schooler stage!
The extendable double layer canopy, spacious storage, and heavy-duty wheels make the LuvLap Galaxy stroller the best choice for outdoor use in India.
The three reclining positions allow the baby to sit, relax, and sleep comfortably in the baby stroller.
The reversible handlebar allows newborns to face their parents and moreover, stay calm while strolling.
LuvLap Galaxy strollers are so easy to use with their single-hand fold.
Besides, the looking window in the canopy, adjustable leg support with extra-wide footrest, and a detachable food tray are other convenient features.
With all those brilliant features, the LuvLap galaxy stroller is worth every money spent.
LuvLap Sunshine stroller
LuvLap Sunshine stroller is the highest-selling stroller in India. It has all the safety features as in the LuvLap Galaxy stroller. What makes it my personal favorite among the LuvLap strollers are the following features: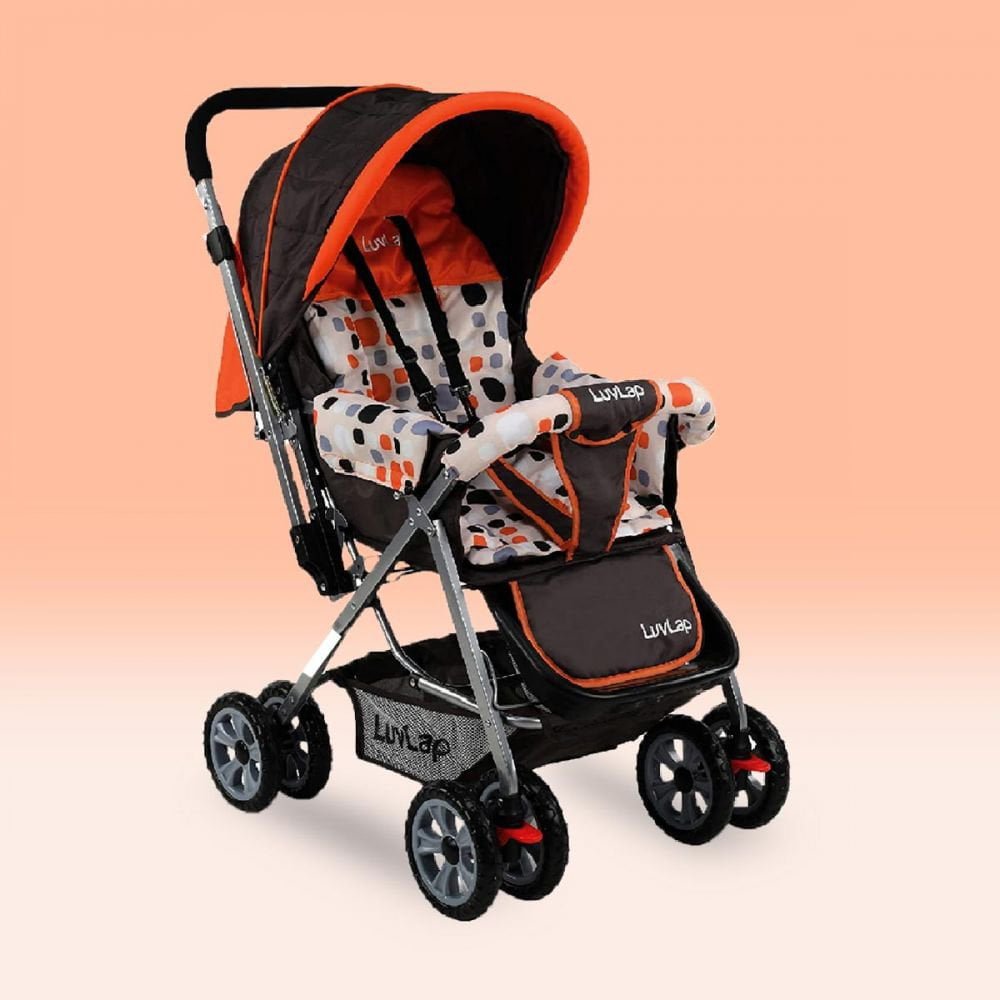 With a LuvLap Sunshine stroller, you can stroll in style. It has an attractive and vivid range of fabric designs to suit the fashionable new age moms.
The seat cushions are extra soft and luxuriously padded. They are detachable and washable which makes cleaning up an easy task.
LuvLap Sunshine stroller is compact in size, easy to fold, and carry
Merging elements of convenience and style, it is the most highly recommended LuvLap stroller in India.
Conclusion
Baby stroller selection is not an easy task, and the price is usually a significant concern. However, when it comes to our children's' safety, we cannot compromise on the quality and standard. It is all the more reason to take the proper time and research to choose the right product. Certainly, it doesn't hurt to spend a little extra on not just stroller/pram for babies but any newborn baby products, considering the benefits and comfort that your little one experiences from it. I hope I've helped make the decision a little less confusing.
Happy strolling!