Most of us are spending a lot more time in the kitchen. We are preparing all sorts of immunity-boosting drinks and foods, eating immunity-boosting fruits and whatnot. With the new lifestyle that includes junk foods that weaken the immune system, a continuous question in mind would be how to boost the immune system quickly. This interest in food to increase immunity piqued since the pandemic rang our doorbells. And while we are at it, here's what I did. I prepared a 5-minute recipe using organic jaggery (instead of sugar) and nut powder. This is a blend of almonds, cashews, pistachios, saffron, and turmeric. Yes! You guessed it right.
I mixed it all in a cup of milk. Golden turmeric (aka haldi in Hindi), Nut powder, and jaggery (aka gur in Hindi) Milk (aka Dooodh) or Haldi – Gur Doodh. This is one of the most active immunity booster drinks. This is the best food to increase immunity not just in kids but the elderly lot as well. It also happens to be the best immunity booster drink to keep away from illness and get a feel-good feeling. Turmeric and jaggery are among the best foods to increase immunity. When added to milk, their effects on our health are manifold.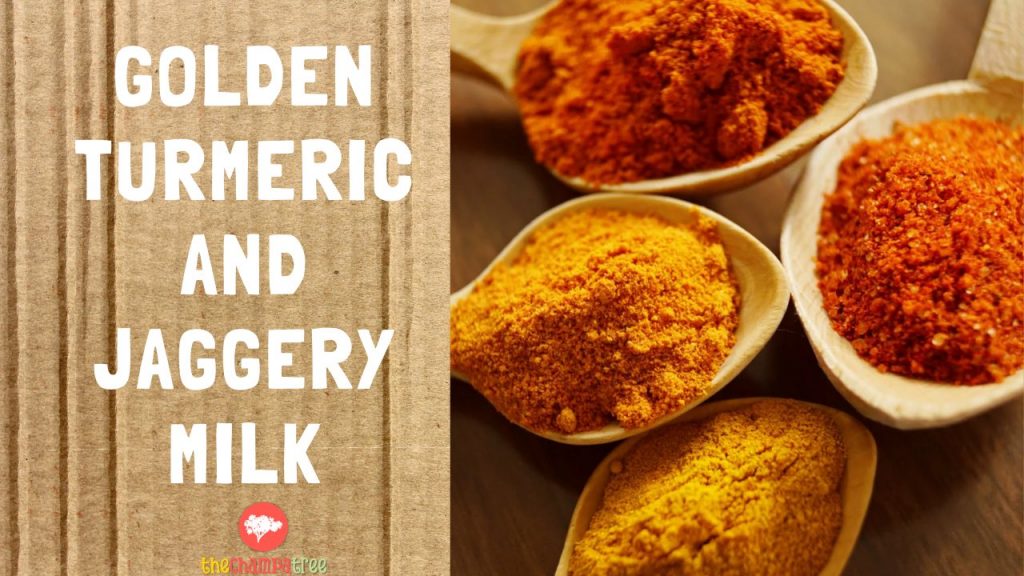 Video recipe of the best food to increase immunity – Golden turmeric and jaggery milk:
The highlight of this immunity-boosting drink recipe is the presence of milk, jaggery and turmeric. With the goodness of milk, which is a complete food in itself, this is a nutrient-rich drink. The iron-rich, blood purifier jaggery and antimicrobial turmeric make it a drink that could be analogous to the elixir. Loaded with free radicals, turmeric milk alone is considered a magic immunity-boosting drink. It is also counted as medicine for inflammation, joint pain, diabetes and even improving memory and brain function. Jaggery is the best sugar substitute mainly since it is brimful of nutrients and free radicals. What more one could ask for during these days of pandemic scare? Without much ado, let's check out the video. Learn how to boost the immune system quickly with this immunity-boosting drink.
Handpicked related content :-
Benefits of the immunity-boosting drink:
This immunity-boosting drink is one of the easiest food to increase immunity. Let us have a look at the immunity-boosting properties and nutrient values of the ingredients. It is imperative that we find an option for foods that weaken our immune system. For instance, white sugar is one of the five white poisons, which do more harm than good. Jaggery, with its anti-anaemic, and liver detoxifying traits ensure that our immune system is activated. The second ingredient in this immunity-boosting drink is nut powder with turmeric and saffron.
Turmeric is probably the answer to the never-ending dilemma of how to boost the immune system quickly. Due to its anti-microbial and anti-inflammatory properties, turmeric becomes an inevitable ingredient in Indian cuisines. In addition fibre, rich nut powders with anti-oxidants lower cholesterol help in controlling diabetes and also aids weight loss. The goodness of nut powder is enhanced with saffron to make a complete food to increase immunity.
The main ingredient in this immunity-boosting drink, milk is called the complete food because it contains nearly all nutirents needed for the human body. In short, calling this drink a elixir would not be an exaggeration. Our lifestyle has crumbled to a point that foods that weaken the immune system are consumed more than healthy food. This immunity-boosting drink balances not only the nutrient needs but also helps in keeping the lifestyle diseases in check.
We hope you would like the food to increase immunity video recipe of the immunity-booster drink. Share your feedback in the comment section. Do you wish to see any recipes on our channel or blog? Suggest them too.