In our real moms' series, give Niyati's story a gentle read. She will make you feel like you aren't alone in the journey called 'mommyhood'. She shares a piece of her 'mom-life' and is brutally honest about loneliness, self-worth, and everything that lies in-between. It can't get better than this
Niyati Sharma (aka @FaujiMom), born in Deolali where her father was posted and serving in the Army. Her childhood was about frequent transfers to unheard places around the country meant often changing schools. Her mother worked as a schoolteacher, Niyati's younger brother grew up to be an Army officer. Having worked as a corporate trainer in India and in the USA for a while before getting married to a Naval officer, Faujimom really deserves to be called one!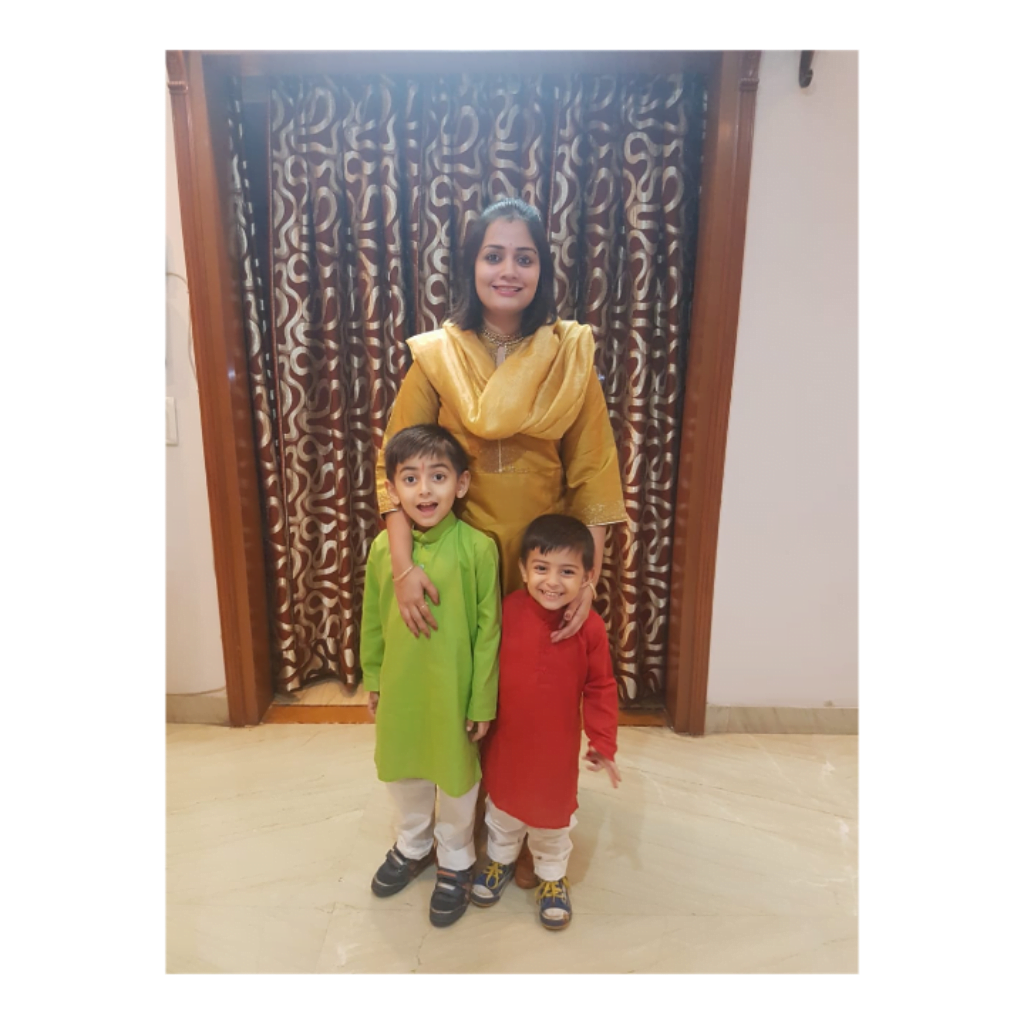 A mother to two boys aged 3 and 5, Niyati works from home and her usual day revolves around the boys, the kitchen, running errands, and creating comics in her 'Me Time'.
How does your day start? What time do you wake up and what is your early morning routine like?
Brace yourself for a very long and boring answer:
I wake up at 6:00 AM and freshen up. I wake my kids-up and head straight to the kitchen to prepare their milk, breakfast and pack school tiffins. My husband helps my kids with their 'bathroom chores', e,g, giving baths to them and getting them ready while I finish the kitchen work. The kids leave by 7:30 AM (phew!!) and then I grab a cuppa, my husband joins in. We have breakfast together…
… Fast-forward to 10:00 PM- when kids have been sent to bed, we watch something on Netflix, have dinner and that's when we call it a day!
What do you think about our Indian education system? If you were to introduce something or change something about it, what would that be?
I am very happy with my children's school. The Indian education system, in my opinion, is still focussed on the things which are super book-ish, it still is about 'how much did your child score?'
I do feel at times though that a lot of focus should be based on building skills and interests in senior classes. I feel like there is a lot of pressure to score high marks as the children grow older, almost ready for their board exams, nearly ready to be trained to grab 'good' corporate jobs. The corporates should also hire people from different backgrounds rather than hiring candidates based on how their resume looks.
What would you say is your key to juggling and creating a balance with your work and kids?
A tall glass of wine and Netflix! Jokes apart, the key is to stick to a routine so that I can make the most of the time I get.
What is the most challenging part of being a mother? Have you managed to overcome it? If so, how?
The challenging part (for me at a personal level) is to be able to deal with loneliness and self-worth. With kids' school routines and house errands, I don't get to meet friends or make friends. To catch up with someone for a cup of coffee involves a lot of planning. My in-laws stay in the same city so some weekends we visit them which leaves no room, no time for myself. Self-worth is not there! I am not just a mom or a homemaker (which, to my utter disappointment is what I have become- more and more or is being acknowledged as). I am trying to use my skillset and resources to become an illustrator. I want to be more and do more in life. Money is never the motivation. I want you to see me. I want to be visible.

How do you spend time with your kids on weekends?
Weekend with family involves mostly hitting the mall, watching a movie at home, going to the club, etc. We as a family look forward to our weekend getaways and road trips. We recently visited a resort in Manesar. Enjoyed the fact that it was an hour away and there were a lot of activities for kids plus pool time.
Do you manage to get some personal time for yourself? What do you like to do in this leisure time?
I am a movie and TV buff. I enjoy watching things that are inspiring, and happy (and entertaining). I also daydream a lot. I imagine and manifest a LOT!
What tips would you like to give to new moms/moms with teenagers at home/ moms with pre-schoolers at home?
My tips for all the new moms reading or feeling me right now- this phase shall pass, and you will get better. Don't let a small baby stop you from traveling or going out. Don't stress about weight, career and life plans. Take each day as it comes. Don't try and be the 'best' Mom. Be a 'happy' Mom. Don't do things to impress others. Choose to be THAT parent that you always wanted your own parents to be. Talk to people if you need help. Most importantly – you are and will always be more than 'just a Mom'. Being a mom is a mammoth task, btw!

Tips for Moms of pre-schoolers- Enjoy this phase. Don't stress about school competitions, academics, etc. This is the time to dance, sing, read and have fun with your kids who are constantly looking up to you.
What is your parenting style?
I am a pretty laid-back mom (and lazy too- now that's how brutally honest I am!!). But, my kids are well behaved, follow a routine, they are doing well, enjoying and making friends. That's all that matters to me. I am also not a perfect mom. I lose my patience very often and get angry but, well, who doesn't? I tell them often enough that I love them. That's all that matters to me!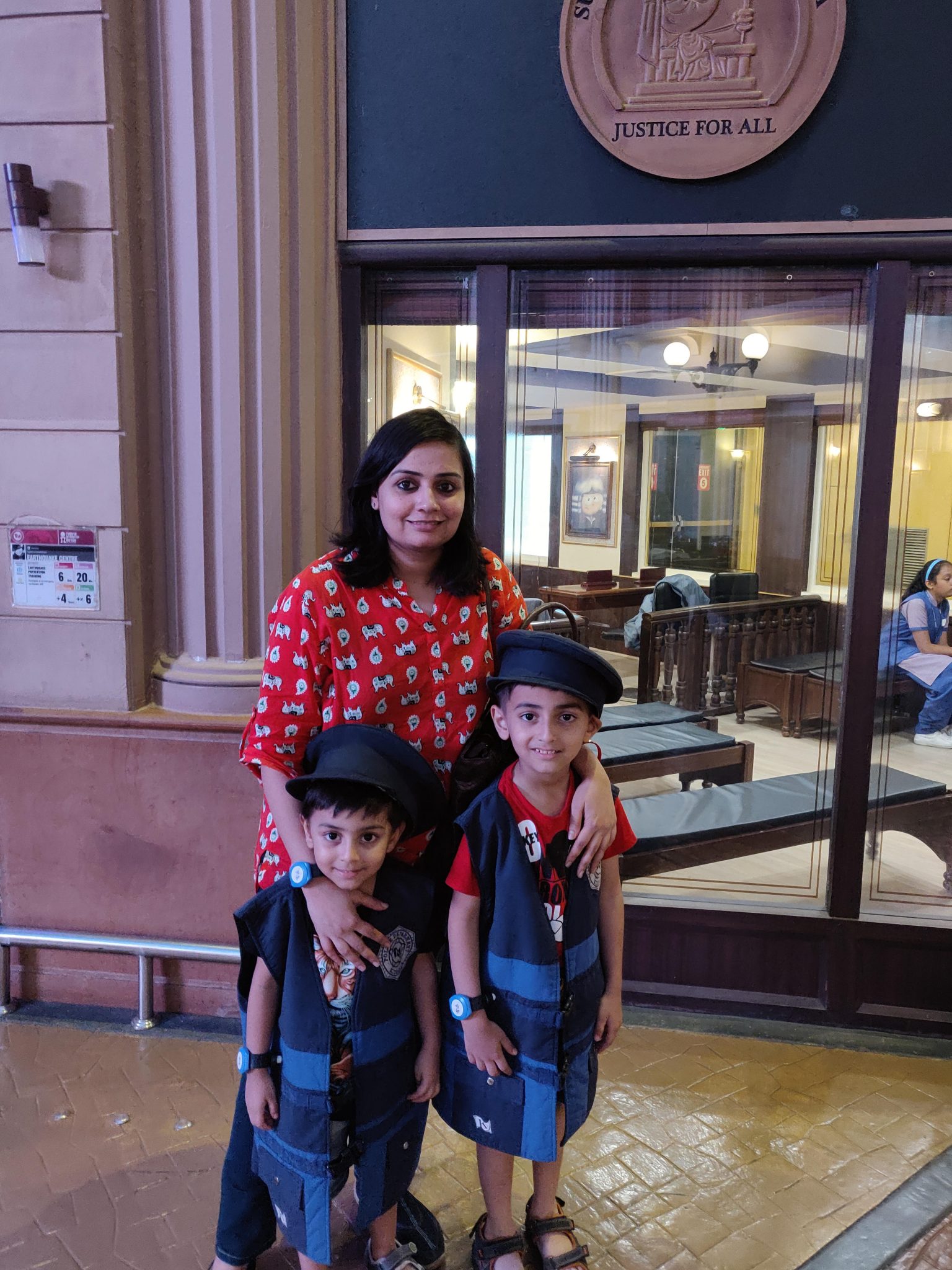 Any special parenting tips that have worked for you or those which were advised to you but didn't work?
One parenting tip that worked for me- Listen to everyone and do what suits you.

One parenting tip that did not work for me- sleep when the baby sleeps!
If there was any one thing you could change about you at this point in life, what would that be?
I have a long list of things to change about and around me. Being more focussed and less lazy with regards to my health and work would help a lot. I am working on that 🙂