This week, meet Arwa Turra, author of Heartstrings in our real moms real stories series.
I am 36, a mother to two, a daughter (age 7), and a son (age 5). I am an interior designer but for the last 4 years, I have been fully dedicating my time to exploring the field of arts. My husband's job takes us to a different country every 4 years and thus, I learn to soak up the cultures across the globe. After tasting the slice of life in Dubai and Jamaica, we are currently living in Egypt. I was born and brought up in Udaipur, a beautiful city in India. I studied in Udaipur and Mumbai and worked in Mumbai and Dubai as an interior designer. After giving birth to my daughter I gave up on the full-time option of designing and picked up arts. Ever since I have been working full time as an artist.
I believe Arts is my calling that came a little later in life. But, so what? Life is about that!
Tell us a Bit About the Real Story Behind this "Real Mom"?
I have a small home studio and I work from home. I participate in exhibitions and sell my work online. I manage to do all this when my children go to their respective schools. Once they are home, I spend time with them thus maintaining the balance between my personal and professional life.
I won't lie, sometimes I do fail to maintain harmony. On certain days, I am a more devoted mom and less devoted professionally. On other days I am a mom full of guilt and a proud professional.
Nevertheless, life goes on and I am proud of my children and myself. This is the story of every 'Real' mom. We try and we try our best and we succeed, and we fail.
What it's like to be you?
I am a deep thinker and I love reading, writing, and painting a lot. I have my dreams and I am working to fulfill them. I love traveling and exploring cultures and places. I like to be in my own space most of the time. I need to get into my deep-thinking mode, which helps me generate strong concepts for my arts and poetry. However, I also like the outdoors and adventures.

What are the Challenges of Being a SAHM or Working Mom?
The biggest challenge lies in convincing people in the family that working from home needs as much discipline as it is needed in an office outside the home. Often friends and family assume that the work which is done from home is generally a hobby and not a necessity or isn't professional. My work is art and writing and it is easily labeled as just a hobby and not 'real work'. I must keep reminding, in both my upfront and subtle voices, my children/husband/parents that I too demand no disturbance and discipline when I am working.
What's difficult to tackle is that when kids have holidays and I have to work from home – they seek my attention. For every small thing they need, they will easily barge into my studio and pull me out whereas when Daddy has to work from home they wouldn't even go close to him. The problem is that it is into the subconscious of our family that a mother's work is not that important as a father's work, just because she is not going out of the home to work every-day. Also, it is somehow considered that if a mother is around in the house then her primary duty is to take care of the household chores and her work should be considered secondary.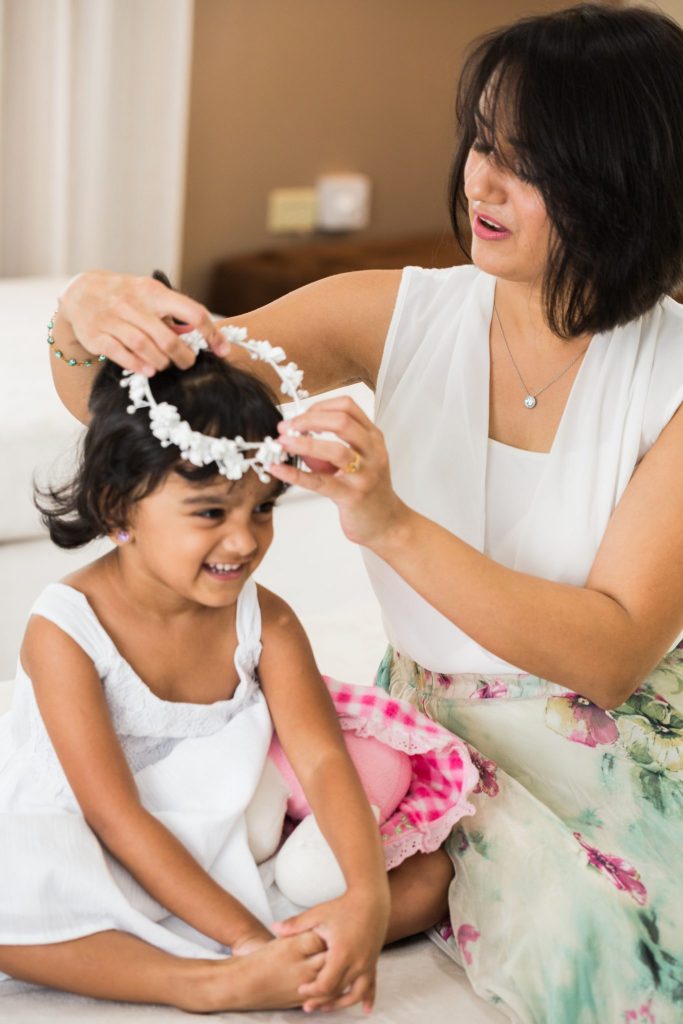 About Dividing Time…
I gain that 'Me time' in small pockets by allowing kids to be on their own every few hours. I am always of the opinion that kids need to spend some time on their own and should not always be guided and monitored as far as they are in safe areas and acceptable limits. This makes them independent and at the same time gives some breathing space to parents. So, I try to follow this pattern and balance it in order that not too little or too much time with kids is observed by me.
I think it is really about dividing your time between the family and yourself. It is really about spending unapologetically some time on your own self. I believe if I will not keep myself happy then my irritation will ultimately come out in front of my own kids and husband and a grumpy mother can't raise happy children.
The only key is dividing time, setting priorities, and lots of self-love and care. Remember that as an individual you are as much a woman as much as you are a mother or wife to somebody. You need time for yourself as much as you want to devote to others.
From Homeworks to Netflix…
I help kids in their home-works, read books with them, listen to their activities at school, make artwork with them. Sometimes we dance. I cook for them and sometimes they assist me in special cooking like baking etc. On weekends we go out to the movies or just eat out. 
With my partner, we watch Netflix or movies together most of the nights after the kids' sleep. On weekends we spend time with kids at home or outdoors.
Your Support System?
My husband is busy during the week so he spends time with kids on weekends. My in-laws don't live with us regularly but they stay for about 3 months a year with us. During that time they spend time with kids by playing with them in the garden or reading to them. Every year kids visit grandparents during the summer vacation and they are completely taken care of by them. So I would say I do get support from all of them as much as they can when they can.
*Do you manage to get some personal time for yourself? What do you like to do in this leisure time?
Yes, I go on solo travel for a week every year. I am an art enthusiast and I go for a trip to visit art museums when kids are taken care of by my husband during that time. I am a member of an art club and once a week I go there, leaving kids under the supervision of a babysitter and husband. My work is my 'Me time' and I thoroughly enjoy it.
Your Advice to the Readers…
Manage your time and set priorities.
Prioritize the work and accept the fact that everything cannot be achieved and fulfilled by a single human, mother. Invest sometime in yourself. Stop looking for perfection.
Stop doubting your capabilities to run your family and be a good mother to your kids all the time. We all feel guilty for things we are not able to manage and cope up with but deep in the heart, we know we love our kids and we do our best to our capacity.
What does Motherhood Mean to you?
To me, motherhood is my self-evolution. With motherhood, I just didn't birth my children, but I birthed a new me; a more confident, sorted, focussed, and wiser woman. Children also teach many things we never knew or noticed as much as we teach them the things we have always known. With children, we get new perspectives of life and they have a way to keep us happy
*One piece of advice that you'd like to give to parents; grandparents and those who are expecting
Once a mother is always a mother so please don't give birth to children if you think you are not ready. There is absolutely no going back. Children are the most important responsibility and truth be told it is not always a smooth journey. Having said that it is the most beautiful journey in a woman's life. Children are a very lovely blessing. Another thing I would like to mention is that every mother knows the best for her children. What is right for you might be wrong for another mother and what is wrong for you might be working best for her. So, we should never judge a mother's ways with her children.
According to me, parenting is not about imposing your choices on your children. It is also, not always, about forcing your decisions on them. I believe in explaining the pros and cons of a situation to my kids and thus help them make the right decision on their own.
When they insist on doing something, which I feel will not be good/healthy for them then instead of saying a blatant 'NO', I prefer explaining to them the consequences of their actions and then asking them to decide if they still want to go ahead. They do go ahead at times and face the bad results. That is the learning for them for the future. Of course, they are very young and I would not use this thumb rule in a situation where I should not take any chance. But I try to raise my kids in a way that they learn to take the right decision and also take responsibility for their own decisions.
Know more about her project. Click here!