Every piece of K's Kids toy is designed for the healthy development of a child. To help parents understand the benefits of these toys to your child, K's Kids have developed a "Learning Triangle" which summarizes what a child needs in his physical, cognitive, and social developments.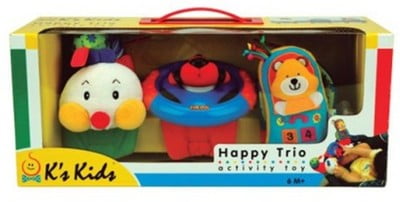 The Learning Triangle provides parents an easily understandable guideline of what kind of developmental skills a child can get from playing with such a toy. The 9 icons, which represent more detailed developmental areas, will explain to parents the details of each of the developmental benefits. There are toys with single-minded functions, some for multi-developmental functions. It depends on the need for different stages.
K's Kids toys which are exclusively available at Hamleys India stores are extremely popular with kids and parents alike.
According to Garima Singh from Delhi,"I had bought the K's Kids 'Doodle Studio' from Hamleys in Delhi. My child who is a year old totally loves it. Though the product is made for children who are 2 or 2 + he really enjoys playing with it, it's a great bonding activity for both us as we at times play with it together and he absolutely enjoys the colors and its super safe!"

Neha Jolly, another Delhi-based mother who swears by K's Kids says, "My son is a little more than a year old and I bought him the K's Kids 'My First Activity Book' from Hamleys Delhi. He loves it as they have really interesting characters which makes it really attractive for kids. Importantly it's very safe and I can leave my child with it and be sure it won't hurt him. Infact I visit Hamleys often and want to buy more products from the K's Kids range available there exclusively".
4 Brain-boosting Hamley toys that are not just toys, but beyond:
Doodle Studio reinvents the classic magnet doodle with a huge drawing surface and a bundle of activity cards. Your baby can learn to draw different shapes, do matching, learn to draw different animals and objects, and learn to tell time! The child can carry out 24 learning activities from 12 learning cards & can learn to draw 72 objects from the 12 shapes cards. Also equipped with a 20-page drawing book & a Patrick stylus that is tailored for a baby's grip, Doodle Studio will become the best pal for your baby's burgeoning creativity!
Available at Hamleys for Rs. 1999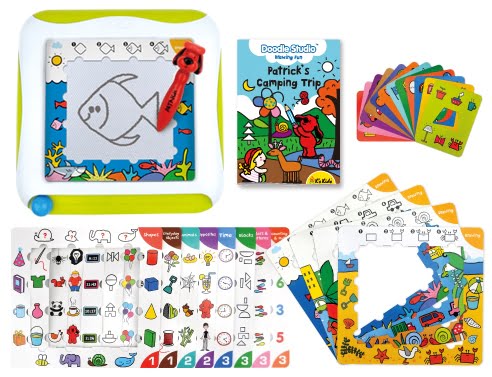 Click here to explore and buy this product
A long-term smart-play toy, which paves the way for the discovery, intelligence development of kids! Total 12 cubes and 5 triangles for stacking. "Number" faces, "Peek-a-boo" & a variety of pictures on the cubes to enable kids to learn consequence, counting & matching. A puzzle provides good practice in eye-hand coordination & logical thinking.
Available at Hamleys for Rs. 1999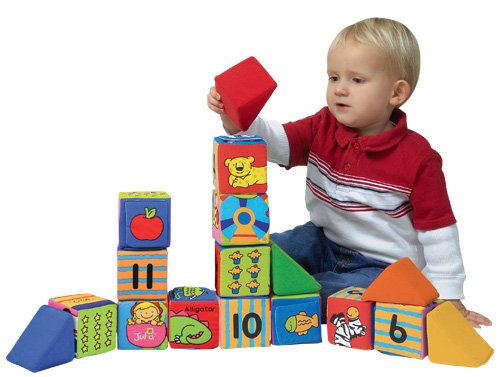 Click here to explore and buy this product
3. NE K's Kids Happy Trio
This is an ideal toy for infants and toddlers. Happy Trio comprises of (i) Shaking Worm (ii) Patrick Steering Wheel and (iii) Bobby Soft Phone. Folks! I must admit that this one has been a huge hit in our house. Happy Trio is growing on my son. Happy Trio has been done up in attractive colors, and has unique/interactive features (Shaking inchworm ACTUALLY shakes when the tail is pulled outwards; the steering wheel can turn around, on getting pressed it also goes beep beep). Besides, it is a typical stroller accessory, which can also be attached to the diaper bag, baby-cot, and car seat belt. In our case, it is being happily flaunted around the wrist, all thanks to the weight (each toy in the pack weighs less than 300 grams).
Available at Hamleys for Rs. 4999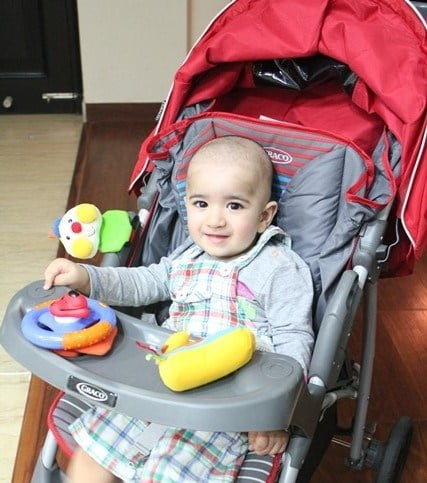 Boss, the blue dinosaur with 60 plastic balls in his tummy, is waiting for your baby to give him a big hug! Sit your baby inside Boss' soft tummy, your baby will have hours of fun in this colorful ball pool. Zip it up, there are other activities for the kid to discover. With lots of play value, the Boss is designed for a wide age bracket which is suitable for babies from 6 months to 3 years plus.
Available at Hamleys for Rs. 4999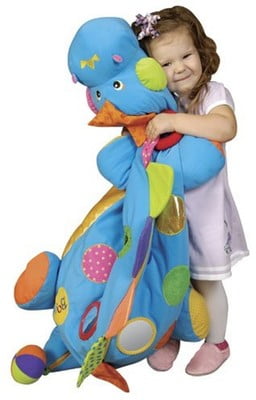 Click here to explore and buy this product
If you prefer shopping online, then here is some good news for you. The store also retails this range of toys online via Flipkart. The links to explore and shop through the online portal have been mentioned against each product picture.
Image source: Provided by Hamleys India and self-clicked