Infant skin is not only delicate but also sensitive, therefore, a baby's skin can get affected by anything that is applied to it. Picking a skincare product for your baby is one of the most stressful tasks. It needs thorough research. It might have been still easier if the choices were straight forward, but brands like Johnsons and Johnsons, Momsco, Chicco, Mee Mee, and others have filled shelves with a wide variety, where you just keep on going on and on with 'inki-pinki-ponki'! In the world of baby soaps, today we are going to talk about a product by Curatio Healthcare India by the name Tedibar Soap.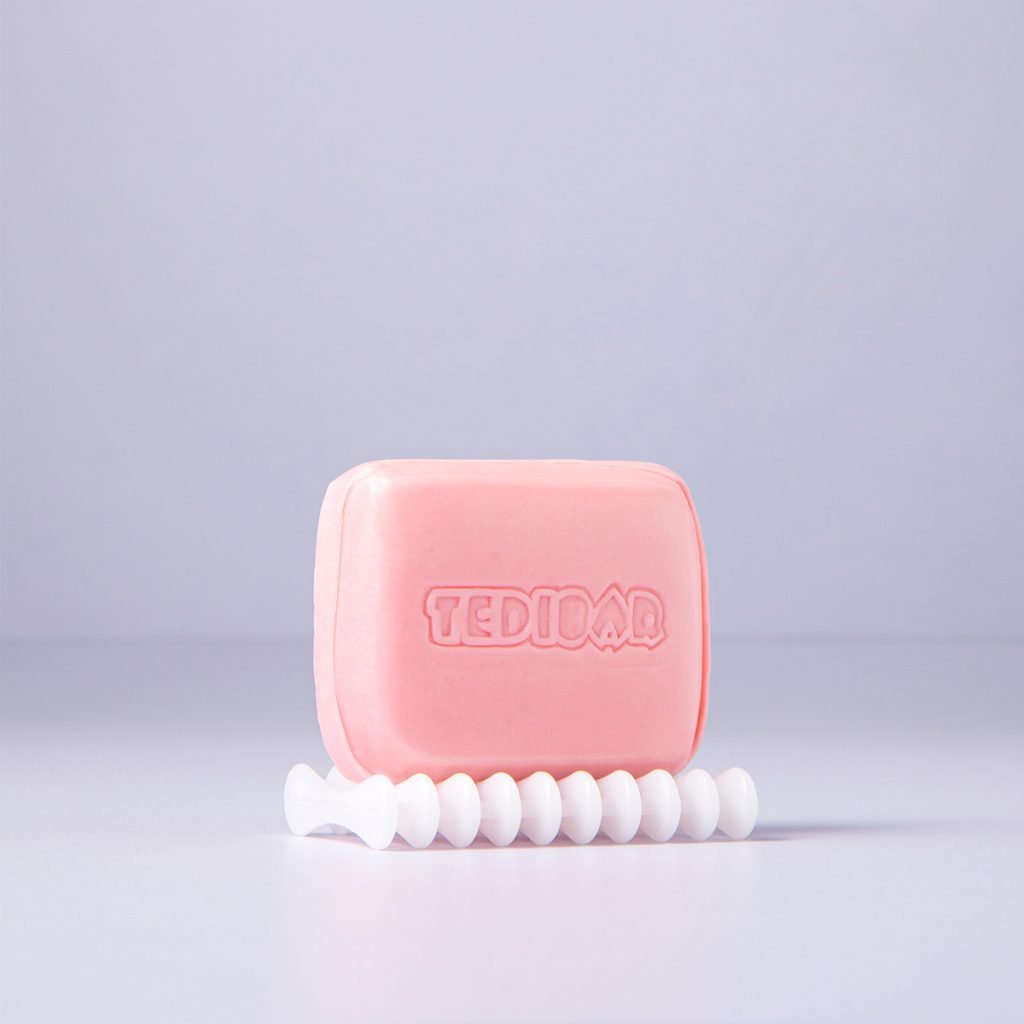 The product – 'Tedibar Soap'
Tedibar soap or the teddy bear (as it's fondly called) soap is beautiful pink coloured soap, formulated with a skin-friendly pH of 5.5, weighing up to 75 gms, is priced at Rs. 140 plus delivery on Amazon. The soap uses a Syndet base, perfume, and CI 26100 as the base formulation. The soap comes with a plastic tray, designed to keep the bar dry.
1. Who is behind this product innovation?
Curatio, the company that makes TediBar has been manufacturing skin care products since 2005. In Latin, the company's name means 'Healing'. The company started its journey in 2005 from Chennai, and now it sells products in India, Nepal, Sri Lanka, and the Philippines. Apart from TediBar, Curatio manufactures a wide range of other baby care products. From Nappi Cream to Baby Lotion, and Shampoo to Nappi wipes, the company manufactures products for body, face, hair and scalp, and children.
2. TediBar soap benefits
The Teddy Bear Soap is completely soap-free and does not have any harmful alkali; it does not cause dryness and is very cost-effective. It gently cleanses the baby's skin and keeps it healthy without causing any irritation. The packaging and the colour of the soap are equally attractive. Pink coloured, the soap comes with a drain tray, mild floral fragrance, and keeps the baby skin moisturized. It helps in stabilizing the biological protective mantle of the skin and keeps it soft, supple, and healthy.
TediBar is dermatologists tested, making one of the baby soaps prescribed by dermatologists. Curatio teddy bear soap prevents the baby's skin from getting dry. Thus, it is skin-friendly baby soap. Some other factors that categorize a baby's skin product as good are free of harsh chemicals, hypoallergenic, and organic and TediBar has all of these traits.
The product claims, it is suitable from birth.
3. Tedibar soap side effects
The only negative feature is that the skin must be washed well with water more than a couple of times as it leaves a slippery feel if not washed well. The teddy bear soap is not that soft on the eyes, unlike the 'No Tears' body washes. Compared to other baby soaps in the market it is a little overpriced, making it a side-effect for your budget. On a serious note, the teddy bear soap actually has only one side effect, it does irritate the eye.
The conclusion:
When you have a little one home, try this soap to understand the real difference from other marketed products. Although the pricing is slightly high but, the effects on a baby's skin and the mental peace associated with a product matters more than anything when it comes to your baby. Even with 'No Tear' soaps, it is advisable to avoid getting the lather in the child's eye. So, if that is what was keeping this soap away from your grocery list, it would be for the wrong reason.
Mothers who have used it will inform you how their baby's skin started glowing after regular use and the rashes or redness that was there previously simply vanished. TediBar soap is suitable for all seasons. Conditioned to provide good skincare to your kid throughout the year, Teddy Bear soap saves you from picking a different product for winters and summers. It also has a leaflet inside that gives detailed information on the product and usage tips. Teddy Bear soap gives tough competition to many well-known brands of baby soaps and is doctor recommended.