Check out my mini sewing project that changed my outlook towards modern mom's life!
One day, my husband returned from work complaining of how buttons popped out from his shirt's cuffs right in the middle of a presentation. It was embarrassing. He'd noticed how they went from getting loose to nearly clinging on to nearly hanging on a single thread. I must have ignored it while doing the laundry. But, to be honest, I am sure I would have noticed it. Just that when it comes to sewing button, I am pretty hopeless. Well! A modern mom of today is so busy taking charge of her house, trying to maintain a work-life balance and managing kids that she barely gets any time off. And sewing is definitely not the thing she wishes to get back to or learn. Of course, baking classes or hitting the gym tops her priority list.
But, how much can you bake (and eat)? So, last week I happened to try my hands on a friend's sewing machine. Mind you – it wasn't an ordinary, old fashioned sewing machine! I am certainly not talking about the 'Rex Vijay Tailor Model Manual Sewing Machine' that our grannies owned and were so proud of. What I noticed, keeping with the times and consumers need, even sewing machines have gone one step up and have become smarter. Believe you me, they have got a chic makeover, pretty much computerized and after using one, I am convinced that sewing can be beautifully used to showcase creativity and self-expression.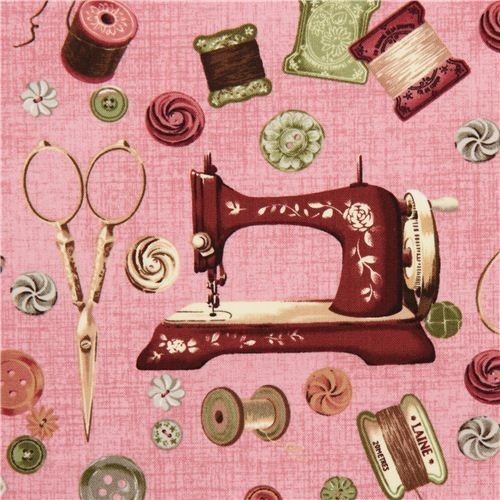 – I am now convinced that sewing can be fun too! –
And, if you think you don't have the sewing skill in you, then, here are a few reasons why you should think otherwise:
1. Sewing doesn't mean that you have to stitch like a fashion designer: We are no fashion designers here. We are also not sewing an outfit for a Miss India who is contesting for a Miss Universe pageant. So, why sweat? You just need to be inspired. It could be a simple leaf or a flower. Simple motifs can be sketched in your notebook first.
2. Sewing doesn't mean that you can perfect the art within a few months or a year: No! It can take years and years to be able to able to make something as simple as a flower. But, that's perfectly fine! Who wants to rush anyway?
3. Sewing doesn't mean that you need to take classes: I know of people who are self taught. There were plenty of trials and errors, they also asked for help from their grandmas and mother-in-laws!
4. Sewing doesn't mean that you can't have trial and error moments: Do you experience sneeze fail? How often? Well! That's exactly what I mean.

5. Sewing doesn't mean that you need to own your own machine: You can borrow it from friends/relatives at the initial stage. Once you have had the basics in place, go get one of your's. When we can buy mobiles on EMIs then why not a sewing machine? And, they are not THAT expensive at all.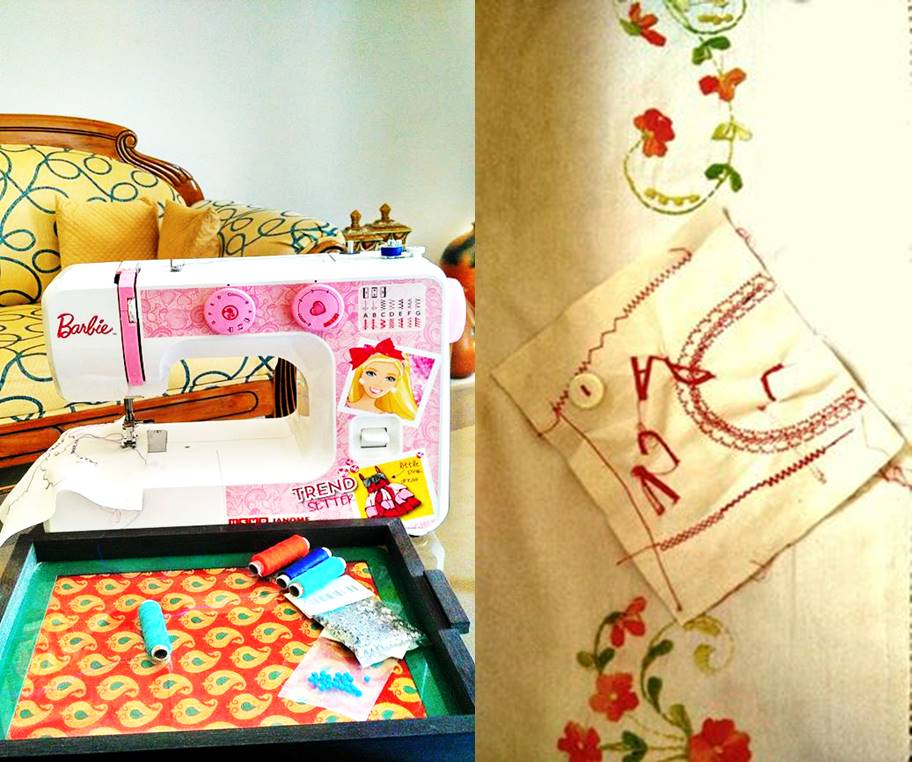 Don't believe me? Checkout my own mini sewing project. I took some help from my mother-in-law (who is quite a pro). She guided me.. This is just so you know that I did't cheat and a woman like me can do this too 🙂
Within a week of practice, I could crack a solid H-A-R-S-H-A-L. Looks neat, isn't it?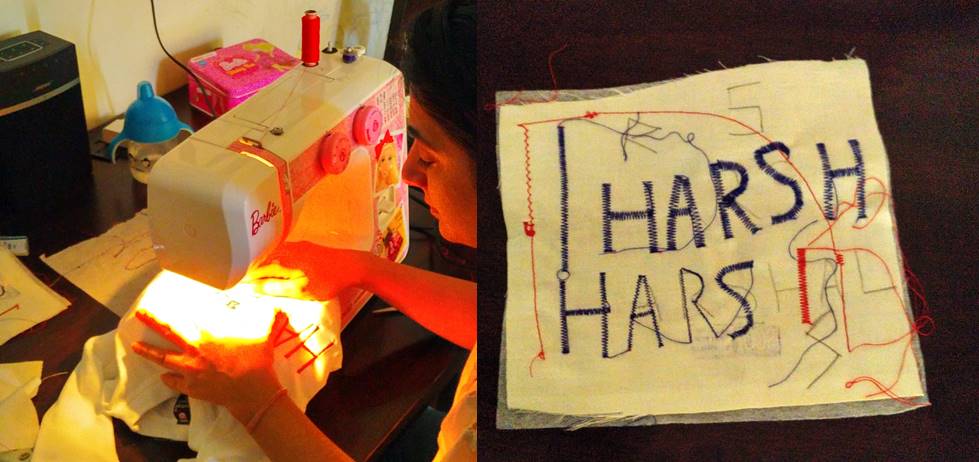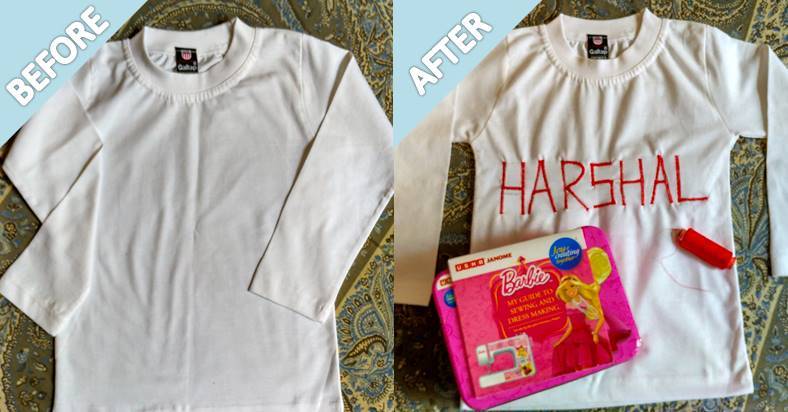 Sharing samples of creative sewing that can be tried at your end. If you have kids who are good with art and craft, rope them in too. In fact, this summer holiday, encourage them to try out simple patterns and designs on a plain cloth. They are going to love it! By far, one of the best activities to do with kids.
TCT Recommends:
Usha is a category leader. It has undertaken some interesting initiatives to re-energizes the industry. One of the initiatives being USHA My Fab Barbie sewing machine range, which the brand has recently launched specially for people like you and me (who don't know how to sew a button) as well as young kids. The objective is to introduce sewing as a creative skill option.
I don't want to bore you with all the technical specifications and features of this model. So, click here to view them now.
Image source: 01, 02, 03, 04, 05, 06 (self created), 07, 08, 09, 10, 11
Subscribe to Blog via Email
You might also like: [display-posts tag="do-it-yourself-ideas" image_size="thumbnail" posts_per_page="5″ wrapper="div"]