As parents, we have evolved to thrive in the hyper-digital world that is a tad bit different from the simpler times we grew up in. Technology greets our little ones as soon as they arrive and grows to become their "close friend". Often distancing them from the joys of nature and screen-less outdoor and indoor games. We, at Kaadoo Games, are nature-enthusiasts, creators, and parents. We're on a mission to bring back the fondest memories of our childhood to your kids wrapped in board games.
The journey started on a safari:
Our mission started on a safari trip at Bandipur, where Diinesh Kumble, Kaadoo Games' lead designer, and Director. Also, India's renowned wildlife photographer, challenged his team to conceptualize a board game that replicated the thrill as well as the adventure of a real safari. In order to introduce kids to wildlife in an entertaining, educational, and a non-threatening way. While building these indoor games, our aim was to stay authentic by deriving ideas from real experiences. By using original images, handcrafting the elements, and involving kids and parents to enhance the game with their feedback.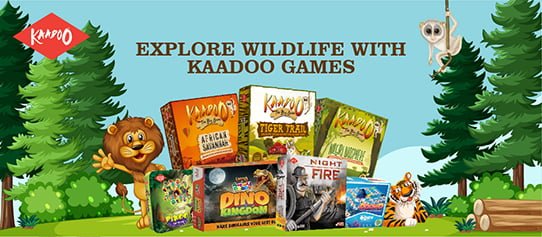 The vision came to be in 2015 and was named Kaadoo Games. A spin on the word Kaadu, which means forest and/or jungle in South Indian languages such as Kannada, Tamil, and Malayalam. We chose Slendor Loris as our mascot, named Kaadoo Papa, which is Kannada for "Baby of the forest". These are the least studied of all primates in India and are endangered. Our intention here was to spread awareness about this animal, among many others, endangered or not. If we are to narrate the story of our friends in the wild to the young minds of our country. We believe we must bring awareness towards protecting what nature has to offer.
The thrilling adventure reaches you in a box:
From the time we designed our first indoor board games – The African Savannah and the Nilgiri Biosphere. We imagined you and your young ones setting out on fun safaris in your colorful mini-jeeps, deep into the dense forest of the world's most captivating biospheres, eager to sight the rarest animals and birds, learn about their habitat, and compete with each other to win the game!
Re-creating this invigorating adventure combined with twists, turns, and adrenaline rush that a jungle offers into Kaadoo Games, has been the most rewarding experience. Our meticulous design, original images, fascinating facts, and testing rules do more than engage you for hours. Parents among our designers understand how learning is enhanced when children are engaged. Hence, Kaadoo Games offers an opportunity to hone a skill and learn about the behavior of these animals and birds. Along with understanding nuances such as how seasons or time of the day can impact our experience in the jungle.
While keeping the curious minds of kids engaged in a non-digital activity for long is hard, Amardeep recently shared the experience of her toddler with our Animal Buddy series – a set of indoor board games, "We love the fact that they don't have dice and the rules are simple enough for toddlers to follow. The board game is sturdy (withstanding the weight of my toddler several times!), the photographs on the cards are very attractive, and the fact that the movement on the board is linked to animal characteristics really helps cement the learning." This is what we hoped for as we accepted the challenge after the safari in Bandipur, about 6 years ago.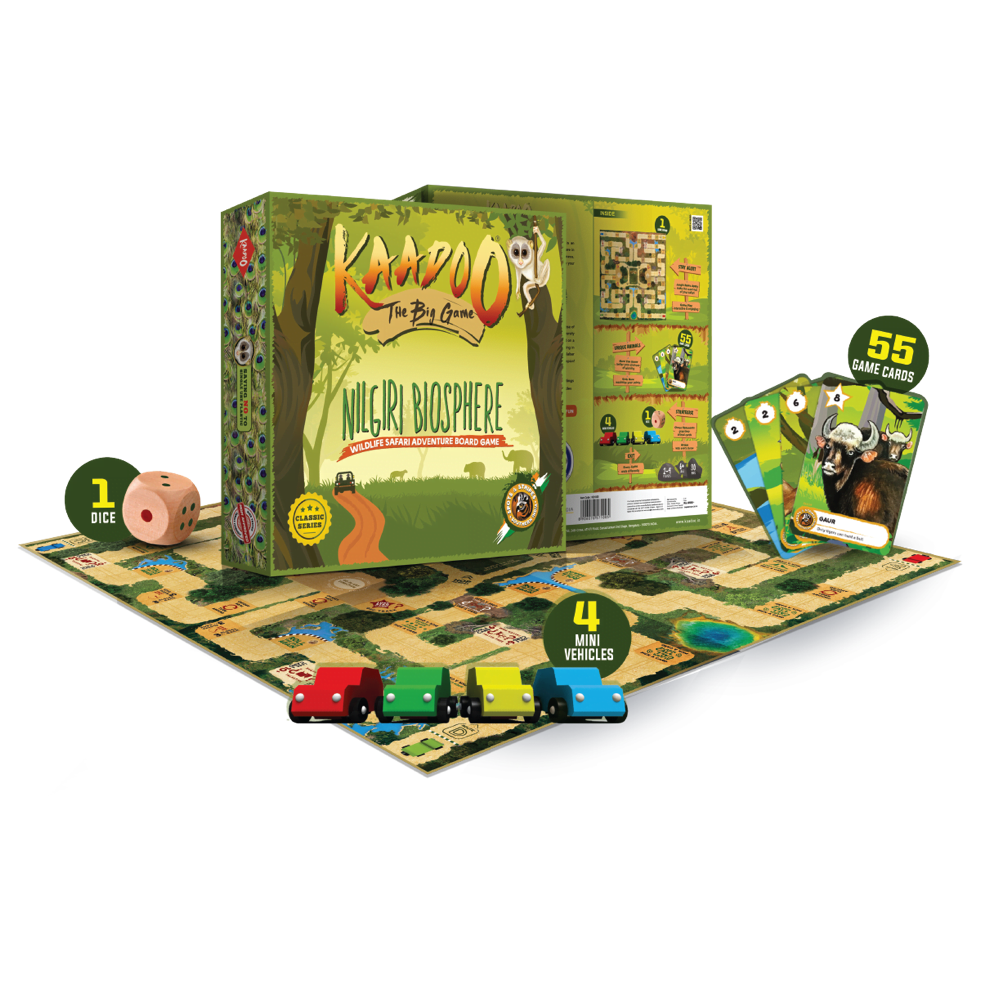 Inspired from forests across the world:
We have created over 50 indoor games in the past years. While taking inspiration from the Grand Tundra region to the Gir Forest to the Arctic Region to the lost kingdom of dinosaurs to the fictional water kingdom of Disney's Nemo. Kaadoo Games family is a mix of indoor board games, puzzles, and card games, designed for kids as young as 3 years to children in their late teens. We would be lying if we say that adults don't enjoy our board games, especially the ones we recently launched.
Six of our board games have won the prestigious Parents' Choice – Recommended Award in 2016 in the USA, underscoring the core values built into Kaadoo Games. Our games fall under 6 categories: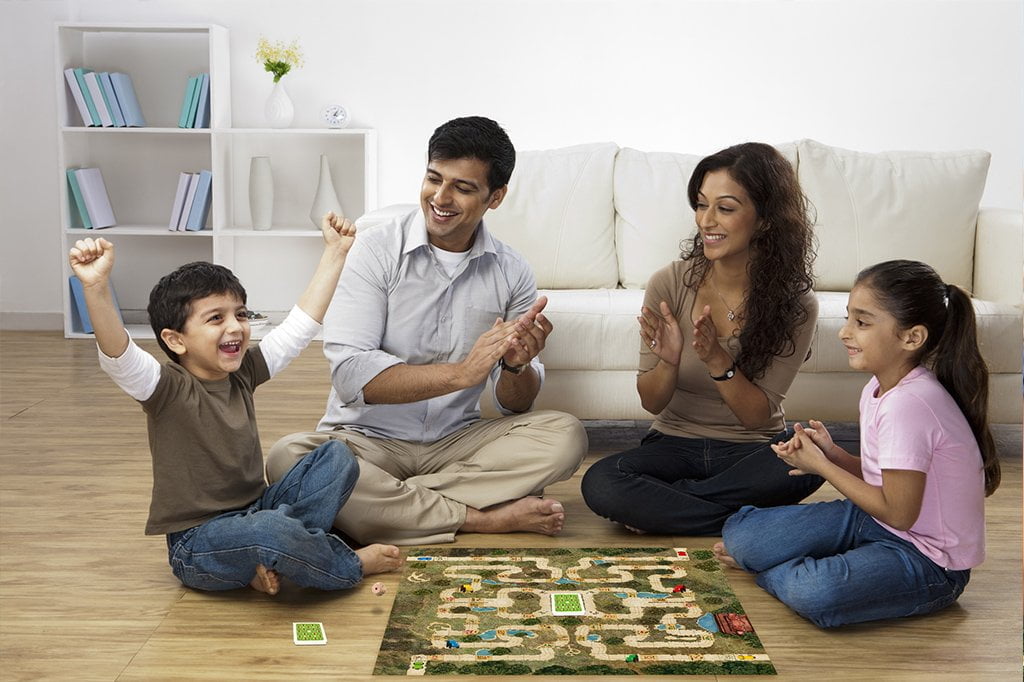 1. The Big Game Series
These big board games cover different biospheres such as the Nilgiris, Himalayas, Arctic, African Savannah, Rann of Kutch, and Grand Tundra, etc. At the roll of a dice and revelations from different cards, you get to explore the brimming wildlife in regions as extreme as the icy Tundra and learn about animals and birds we hardly know about, such as the Lion-tailed Macaque, Pangolins, Moose, and Caracal. Dice controls the luck but how you play your cards will keep you at the edge of your seat.
2. Animal buddy series
We designed these educational board games for kids as an easier to follow version of our Big Games, specifically for children as young as 4. These take them to the depths of Indian Jungles, Bhutan Forest, the Arctic World, and the Kingdom of Dinosaurs. The focus here is more on discovering what all nature has to offer through cards and clues (without a dice). And making buddies with animals, who then help you win and leave the forest unharmed!
3. Forest-inspired card games and puzzles
We have packaged our adventure in the forests and the many beautiful pictures we captured as exciting card games (Koogu, Doch, and Yippy) and puzzles (Jodo). We consider these indoor games a perfect 15-minute time-out during a long day of study or work.
4. Disney-inspired games
We have designed card games, unique puzzles, and board games for kids. Inspired by the famous Disney movies such as Finding Nemo, Finding Dory, Zootopia, Lion King, and Jungle Book, under the license of Disney. There is no denying that nothing is quite as magical as the Disney experience.
5. Cricket-inspired games
At Kaadoo Games, Besides being nature lovers, we are ardent cricket fans. In an attempt, to celebrate a common passion shared with fellow Indians. We have a range of card games, dart game, puzzles, and board games for kids and adults, under the license of CSK and KKR. We know this is poles apart from wildlife, but hey, cricket is a common passion that never fails to bring families together.
6. Strategic games
Recently, we launched a few indoor games that have welcomed adults to join our club too! The favorite among these is Night Fire board game that pits a mischief-maker 'Kirik Veera' who is plotting to set fire to the forest against 'Kutty' and his team of forest rangers. This Kaadoo Game is a tribute to the brave people who guard and protect our forests. In this game, you need to think 10-steps ahead to win, no luck can help!

Our games are our pride, for they are made in India, inspired by nature, and are designed to bring joy to your children and your families, always. As we continue to create and better our indoor games, we would love for you to visit our website to explore games that excite you the most. We would love to hear your experience and recommendations to make the childhood of your kids even better, one Kaadoo game at a time.