"Those Little Feet, Won't Be Little Forever." – Ashlee Edens
In a child's growing years, as a mom, I've thoroughly enjoyed joyous moments such as seeing my baby kicking his tiny feet, graduating to rolling and crawling and finally walking on those tiny sets. When the little ones learn something new and take a step towards achieving a new milestone, towards a brighter future, those are truly the moments to live for.
As a parent, we try to assist them as much and as far as possible. Our mission is to ensure their learning experience is made easy (It's definitely a tough one for them though). When Harshal was taking a big leap towards getting to his one-year mark of beginning to walk, I purchased a sturdy walker that could make his wobbly first few steps a somewhat undemanding event for us both.
It is not surprising to read that baby walkers offer immense benefits to little munchkins. For instance, it encourages babies to walk while providing them with the support needed before they walk on their own. Furthermore, when the child is busy enjoying their ride in the walker, parents get free time to go after their interests.
So, if you are a new parent searching for the best baby walker, here are some suggestions from R for Rabbit's wide range of baby walkers that can make your parenting life easier.
Budget-friendly baby walkers offered by R for Rabbit:
As a baby product company, R for Rabbit makes their walkers durable and comfortable. BIS certification ensures that this walker is made using high-quality material. The walker comes with an attached toy bar so your baby remains entertained while walking.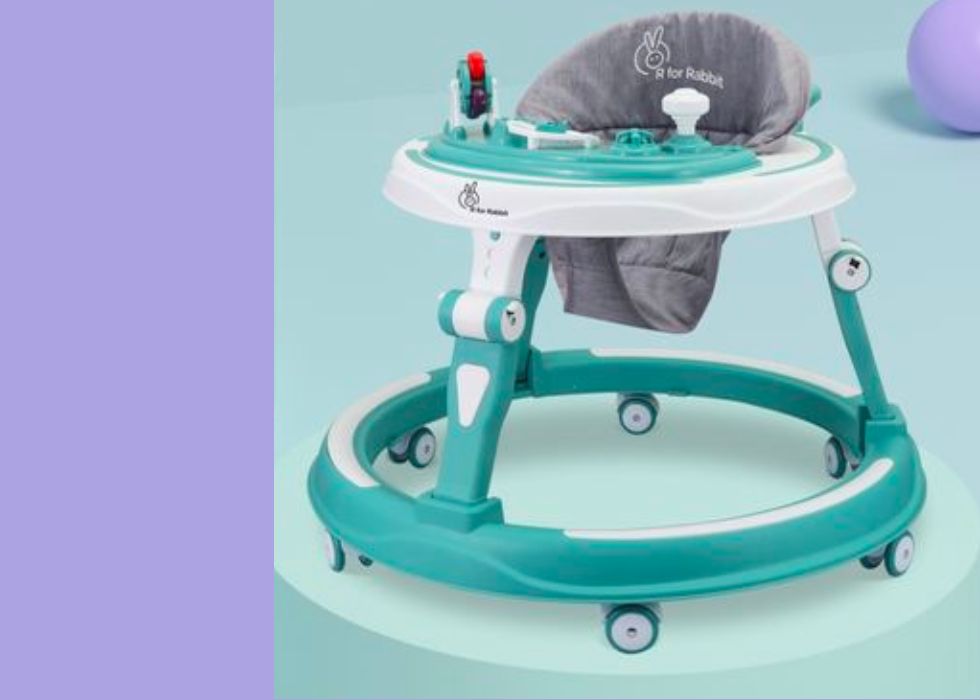 Furthermore, you can easily convert the toy bar into a meal tray if your baby feels hungry after a cute little walking session. What makes this even more impressive is the ease of storing the walker anywhere at home.
Little Feet Ace baby walker is suitable for children aged 6 to 18 months and can carry a maximum weight of 15 kgs. You can conveniently carry the walker with you anywhere as the overall weight of the entire product is approximately 3.2 kgs only. Durable materials such as PP, steel frames and linen fabric are used to make the product. Last but not least, the product is available in three elegant colors: blue, green and purple.
Features that make this baby walker unique
1. Enhanced safety: As a parent, the first thing you want to ensure is that your baby remains safe while using the walker. R for Rabbit understands your concern and has designed this baby walker by following all the safety standards.
2: Height adjustment: To make your baby's walking experience comfortable, you can adjust the height of the baby walker. There are three height levels, and you can do adjustments according to your baby's age, height and comfort.
3. Comfortable seating: The material used in constructing the seat is extremely comforting, and you can even adjust the depth of the seat in the walker up to 6 levels.
4. It comes with a meal tray-cum-toy bar: The brand also ensured that your baby doesn't feel bored while walking. For this purpose, they have attached a toy bar to the walker. The music in the toy bar entertains the little munchkin and keeps them hooked for long. Moreover, the toy bar can be removed and converted into a meal tray whenever your child is hungry.
5. Convenient storage: When it comes to storage, you can store it anywhere without any convenience in your house as the product is easily foldable.
Make your baby's steps comfortable and secure with this ISI-certified little feet convertible baby walker. The presence of anti-brake pads prevents your baby from falling while sitting in the walker. You can even adjust the seat and height to make the overall experience comfortable.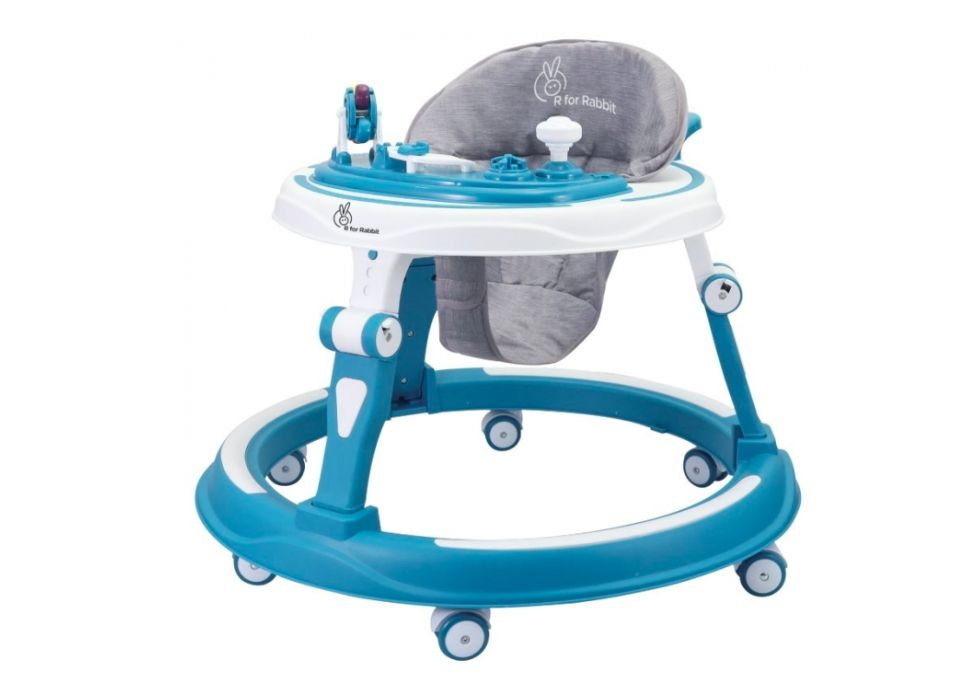 You can convert this foot walker into a push walker by pressing a button. Your baby will always enjoy it because of the toy tray and its light and sounds.
This baby product is ideal for kids in the age group of 6-18 months and who weigh below 15 kgs. The entire product weighs roughly 3.6 kgs; with packaging the product weighs 4.5 kgs. You can purchase the product at a pocket-friendly price of 3591 INR. Choose from red, green, and blue and surprise them on any occasion to capture their reaction.
Features that make this baby walker unique
1. Safe and secure: R for Rabbit guarantees your baby's walking experience will be completely safe and sound. This baby walker is ISI certified and has an anti-fall brake pad feature to ensure that the walker doesn't topple.
2. 2-in-1 Feature: This dual walker cum push walker feature is the unique part of this walker. You can use this walker in multiple ways. Your baby can sit in the walker to learn how to walk or push it independently to understand how to walk and balance on their own.
3. Multi-lhere is a huge lack of evidence on the possible effect of baby walker on child developmentevel adjustment: The walker offers 2-level height adjustment along with four modes of seat rearrangement as per your baby's convenience.
4. It comes in with a meal tray cum toy bar: An attached toy tray with cool and funny toys makes this walker unique for your child. During their playtime, your child can also listen to some incredible music and enjoy the lights buzzing out of the toy bar. If your little one is feeling hungry, you don't have to take them out as you can easily convert the walker's toy tray into a meal tray.
5. Easy storage: You can fold the walker easily to store it anywhere in your home. This easy-to-fold feature also allows you to carry it almost anywhere and everywhere.
Conclusion:
Your baby wants to crawl and walk. Buy either of the two walkers and make your baby's walking experience full of comfort and safety. The products designed by R for Rabbit come equipped with unique features while keeping in mind kids' safety now and then.