Every adult perceives their child's learning process to be defined in terms of academic achievement but it can be so much more than that! With limited opportunities provided by schools and within your city, online workshops are the best solution to bring a world of knowledge to your Kids. One of the fastest emerging platforms is Ufaber's Real School which is reviewed as India's best online workshop platform for kids and helps in your child's personality development.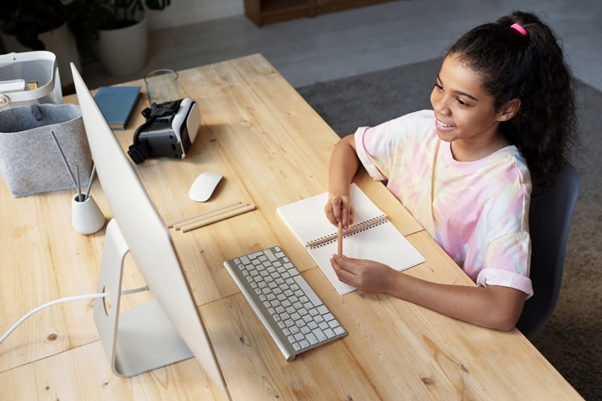 With its new offering, Real School Klub, it brings a wide variety of workshops that kids would love to explore. "The idea behind Klub is to provide enough exposure to kids so that they can identify what they like and utilize learning from one field to apply in another.
Having a wide exposure is the key to developing a well-rounded personality" says Niraj Taksande, an IIM Graduate and Product Head of Real School Klub.
"Moreover, we go beyond mainstream school subjects and teach kids to solve real-world problems using a project-driven approach in robotics, artificial intelligence, storytelling, game development, sustainable development, visual communication, product designing, designing, animation, and filmmaking, etc. in a simplified way," adds Maathangi, Workshop Head at Real school. Maathangi is a successful HR professional who has taken to focus on transforming kids using EQ, communication, and self-esteem.
Every workshop that Real School unlocks creativity, curiosity, and imagination which helps in rampant child's personality development.
Here's why online summer camps are important for a child's personality development.
1. It goes according to their own pace and convenience
Travelling to offline workshops and coming back home feeling tired is the last thing that kids would want during vacations. Here's where online workshops come to the rescue and offer the same or rather, more benefits to kids who can take up workshops according to their own pace and convenience. Whether your kid is a morning person or a night owl, he can take up these workshops at whatever time suits him the best.   
2. An array of topics to choose
As a parent, you might have your hopes and aspiration for your kids; and as kids, they might have a vague idea of what they really want to be when they grow up. Online workshops, especially at Real School offer an array of topics to choose from. Want your kid to be future-ready by teaching him about robotics and artificial intelligence? Or want to give impetus to his creativity by teaching him filmmaking or storytelling?
Well, online workshops at Real School have a plethora of options to choose from. Some of them are game development, sustainable development, visual communication, product designing, and fashion designing among others. You never know, your kid might find his next hobby or rather, explore his aim in life. 
3. Comfortable learning environment
 Being a parent it is very natural that you'll feel insecure or scared to send your kid elsewhere for workshops. However, external exposure is also important. Such an unending dilemma right? Online workshops serve a great purpose in bringing together the best of both worlds. Your kid will be learning about everything in the comfort and convenience of his home. As a parent, even you can keep track of what he's learning and all those midnight discussions can revolve around what new things he learned or explored.  
Even if it is online, the kid gets hands-on experience with the topics he would choose to discover according to his learning style. 
4. Greater interaction between teachers and peers
Whoever said that the online world increases the distance between people just did not know how to use it efficiently. Online workshops make your kid tech-savvy at an early age and increase his interaction between his online mentors and peers. At Real School, the student will have a personalized mentor who will be teaching him at his own convenience. If there are certain tools that are going to be used for the teaching purpose, then the mentor first teaches that software to the kid in an easy way.
There are different types of learners. Some are visual and other kids prefer the naturalistic type of learning. Online workshops majorly include kinesthetic or tactile learning wherein more emphasis is given on students carrying out physical activities than just merely listening or following demonstrations. Personalized mentors are empathetic and understand the kid and adapt to the kid's style of learning. What more could one ask for, right?
5. Helps in mental stimulation
Whether it is during regular school or during vacations, it is always necessary that your kid should always be wearing that curious hat. With several activities and discussions with the mentors and peers, the kid will always stay interested in learning new concepts that help him in his mental stimulation.
Mental stimulation goes a long way in the kids' brain development and improves his cognitive and social skills. In several feedbacks parents have observed in their review that Real School's workshops with mentors have helped them to understand their kid's mental stimulation better.
6. Teaches them to be independent
Online learning gives the perfect opportunity for your kid to get out of his comfort zone. They come across various online learning resources and opportunities which will ensure that their learning phase will literally never get over.
7. Fun and entertaining
Compared to regular school activities and online summer camp activities, the latter is definitely more fun and entertaining. Your kid will always look forward to the next activities and projects. And when it comes to interesting activities related to robotics and artificial intelligence, he is totally going to love the experiments related to it.
8. Builds confidence
Online camps are indeed a structured opportunity for kids to improve in their extracurricular activities. As students always attend school and have the same peers around them, online camps give them the perfect opportunity to broaden their horizons.
Online workshops are a smart, cost-effective way of giving impetus to your kid's learning experience.
Today, there are more than 10000 happy and satisfied parents who trust Real School for shaping their Child's well-rounded personality. In reviews of Real School, parents have stated that children found these online workshops as a perfect way to unwind after the routine of school and learn something new. 
Parents have particularly reviewed and were also all praises for the STEM subjects that are offered by Real School to make studies interesting and easy to grasp. The STEM subjects have the highest number of ratings as well.
In other parents' reviews, they have stated how their kids are having a ball of a time, tinkering around with circuits and motors. Others are intrigued by how their kids are inciting on their journey and thinking like entrepreneurs.   
Real School's online immersive workshops are developed by experts and designed to improve the quality in every facet of a child's personality development. If you are looking for providing your kid a world-class exposure then Real School is the best choice you can make.