When I was a new mother, that forever-tired, always-under-slept feeling was a constant. So was the fact that I was always spinning to get things done – either with the house or my baby – but never myself. But over time I became that much wiser. Sometimes it was because I learned short cuts and mom hacks or even multi-tasking, and at other times it was because I gave the impression that I had it all sorted (even if I was really doing a cover-up job to keep up appearances!).
There is absolutely nothing wrong with 'tricking' people into thinking that you're better at this parenting/being a grown-up gig than you really are.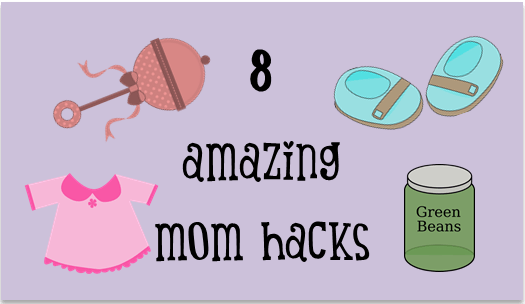 And now, as my inner goddess basks in her imaginary chaise lounge, sipping a Mojito, I always wonder, "Why didn't I think of that before?!" moment. From cheap and easy DIY projects that look like they cost a bundle to easy, everyday fixes, here are some easy quick fixes that will make Mama's life just a little easier.
8 Mom hacks you got to try now:
1. Use a drying rack to keep coloring books organized
With a baby or a toddler or child in the house, you might as well forget the idea of spic-n-span. But this is a trick I used to train myself and baby into at least putting things where they belong so that constantly tidying up is a thing of the past. A drying rack is just the right size for coloring books, and its caddy can hold markers, crayons, and more. These can be wall-mounted as well.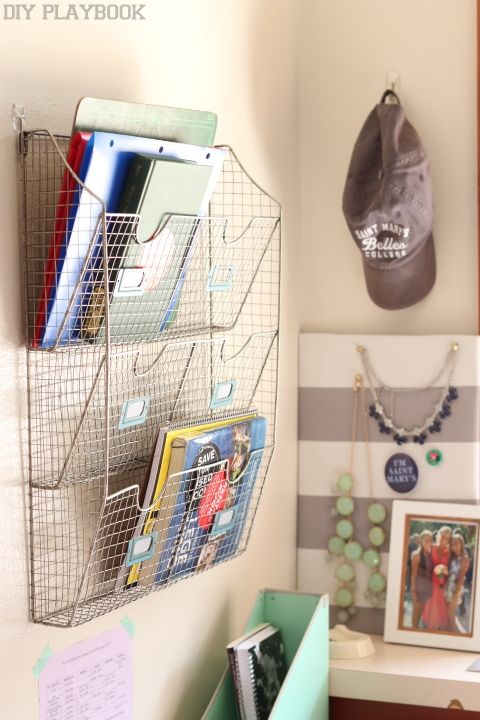 2. Use a pegboard for bathroom storage
Pegboards are common in classrooms, so why not use them at home? Using them in the bathroom to keep toys and towels off the floor. Attach wire baskets, pegs, and hooks to the board to store bath toys (it will help them dry between baths too), hang towels, and even keep a toothbrush from falling in the sink.
3. Make kids' slippers slip-proof
With winters just a few months away, it is exasperating to keep throwing away socks that wear off at the soles only because your little one does not wear shoes. Increase the life of the footies as well as prevent slips at home using either generous blotches of puffy fabric paint on the soles OR a silicone sealant (easily available at hardware stores).
4. Pre-make the ingredients for meals
On a Sunday, you can actually prepare food purees and freeze them for a maximum of two days. I sometimes use food-grade plastic containers or even ice trays to do this. Overripe fruits can also be pureed and frozen in ice-trays and added to milkshakes so you don't badger the kids to finish the milk. For older children, these purees can be used as pasta sauces for sudden gastronomic cravings mid-week. The puree may also be used to stir up nutritious soups. So a spinach puree can be used to make chicken, or pasta sauce or soup, and even green chapattis (knead the dough with that).
5. Container storage
Make container storage a habit. This is just so essential when you don't have time to actually tidy up and can simply dunk everything into a box so there appears to be ordered in your life! Even if your playroom is supposed to be organized into a system involving smaller, more specific containers, make sure you have at least one bin big enough to hold EVERYTHING. Cleaning up for guests is a lot quicker if you can just hurl everything into one place, and then you'll have a Supermom's playroom.
6. Use a kiddie pool to organize indoor life
This is possible mostly if you have the luxury of space. You can extend the life of an inflatable kiddie pool well past summer by using it as an indoor playpen. Toss a bunch of your baby's toys in there, and buy yourself 10 minutes to vacuum, fold laundry, or make a quick phone call.
7. DIY, frugal toys to keep kids busy
And I DO NOT MEAN IN FRONT OF THE TV! Maria Montessori had once said, "Hands are the instruments of man's intelligence." There are SO many incredible options to make cheap toys to keep your kids busy. And if you are a crafty mom, your kid will have a new toy every other day to keep her occupied and you won't even burn a hole in your pocket. Right from lacing jennies (use a foam sheet cut in shapes with holes punched around them and a long shoelace to practice threading to bobblehead dolls), to sensory activity boards and dollhouses – the sky is the limit here. You can even take help from an older kid (yet another way to keep them busy) or your husband for these projects. Even if you don't have a collection of old mechanisms in your garage, scour the craft room. Buttons, beads, almost anything that can be made to move or make noise could work. Try your friends, see what your local plumbing supply, hardware store, and electrician might want to purge. Add a screen door latch, a compass, a magnifying glass. You could get really carried away with a project like this.
8. Optimally use a washing machine
Toys need to be washed on a daily basis. I would spend hours washing each individual toy. Till I discovered I could put a few in a mesh bag with some liquid detergent and dunk it in with the laundry. Take care not to pack them tightly. Soft toys can be placed in a zippered pillowcase to help prevent any damage during the wash or spin cycle. Easy peasy!!
Like these ideas? Tell us some more ways you make life easy for yourself!
by Aarti Kapur Singh
Image source: 01, 02, 03, 04, 05, 06, 07, 08, 09, 10, 11, 12, 13, 14, 15, 16, 17, 18, 19, 20