I was just mulling over the sundry decisions we often make from an array of options thrown back at us. What prompts us? When we look back in time (with delight or regret), do we even remember those possibilities that were before us? For instance, if I were to anyways end up with my husband- Ace, then why at all did I have to wander so much and make puerile relationship decisions before we got married! Strangely, he was right here in this town. If I knew that we were on converging routes, I could have at least said hello to him.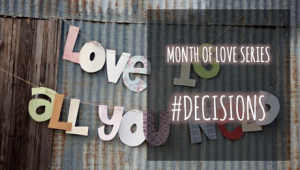 Month of love series – #1 Relationship Decisions
TCT brings to you its first post from the Month of Love Series, "Relationship Decisions". This one is about infinite possibilities, ultimate moments, love and the togetherness of a couple and their relationship goals.
Why did I wander?
If I were to anyways end up with you, then why did we buy more time, dated a couple more 'suitable' options? Was it because you did let me go in the first place to know myself? – Just so I could come back to you? Just so I could continue to adore the idea of waking you up in the morning and letting you put me to sleep in the night. Or just so we could discover the infinite possibilities of the ultimate moments in our lives together?
If I knew I was to come back to you, then why did I even be a globetrotter? Perhaps, it was so I could learn to travel and explore all by myself. These could have been hidden away if I would have said hello to you right then when we'd bumped into each other on our route. You would have smiled at me and we could have said yes to each other right then. But, then, we were meant to take more time before accepting each other's presence to build those ultimate moments in a phenomenon called life.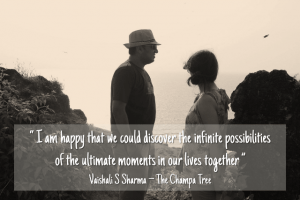 The path to togetherness
Perhaps, the relationship decisions we made before help us delve deeper into the blissful TOGETHERNESS. We follow it for a long while. Or if we might stop there, take an alternate path and decide to make things better. Whatever it may be, I am happy to be back with you. Happy that we are enjoying our parenthood moments together. Rather happy that we did cross each other's path. We also did not make a hasty decision and took the time instead. I am all the more happy that we both came back to each other, as destiny would have it
My happiness knows no bounds that we could discover the infinite possibilities of the ultimate moments in our lives together. Since these possibilities are infinite there are quite a few left to be discovered before we say goodbye to a bizarre phenomenon called life.
I thought I should let you know now that I love you and I am glad that you are my son's father.
Will you be my Valentine Ace?
This is me mulling over my past wondering how the relationship decisions which I took then laid the foundation of the strongest and the most valuable relationship in my life. Could you relate to me? Tell us in the comments below.