by Vaishali Sudan Sharma updated on May 12, 2015
Anamika, founder of The Bespectacled Mother recently nominated The Champa Tree for –'Very Inspiring Blogger Award'. Take a look at our nominations!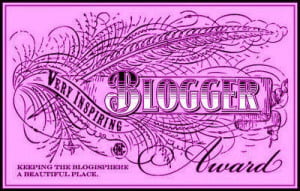 I am a big fan for her blog. Anamika's overall outlook towards motherhood is stunning. It is full of positivity. Besides, I think she is a pretty sensible mother. A lovely person with an amazing boy (Dhruv). I can relate to her, her life, the lifestyle! So, dear readers, do pay a visit to her blog. You are going to love it.
The Very Inspiring Blogger Award (VIB) is an award given to bloggers from fellow bloggers which recognizes bloggers "who work hard to keep the blogosphere a beautiful place"
Here are the Award Guidelines:
Thank the person who nominated you and add a link to their blog.

Display the award in a blog entry.

List the award guidelines so your nominees will know what to do.

State 7 hidden facts about yourself.

Nominate other blogger friends for the award.
So, here are some hidden facts that I would like to share with you all 😉
1. I love watching horror movies.. There isn't possibly any one scary movie that I haven't watched. Oh! And I look forward to your recommendations too!
2. I love to cook authentic Italian food. All thanks to my love for Italy 😉
3. I am a big fan of Indian authors. From Arundhati Roy to Jhumpa Lahiri to Manil Suri. I can read their work time and again.
4. I am a PR professional. Infact, I have done my Masters in  International Public Relations from Cardiff University, Wales, UK. I quit my job early last year to take care of the baby growing inside me. Brat H is a year old now, so, these days, I have been working as a freelance PR professional from home.
5. Dressing up for me means getting into an ethnic cotton tunic and wearing silver earrings! Putting on some kajal and a nude shade lip balm. That's it..This defines my style 🙂
6. My husband (I call him Ace) – an IT Professional is my biggest support system. I haven't ever told him how much I respect him. The way he supports me on the professional front..Well, it is commendable. The world thinks that we aren't good for each other 😉 but, the truth is that I know how much we complement each other. So, Akhil-  Thankyou!
7. I like to splurge on spa treatments 😉 But, that's the only luxury I like to indulge in..
And here are my nominations:
1. Faye from Kaboodlemum
2. Rudey from Rudeysroom
3. G-uno and g2 from Idioglossiablog
4. Meg from Dear Crazy Kids
5. Kim from Invited by Grace
6. Claire from Be a Good Mama
7. Marla from A Pendulum World
All the best!