Are you looking to hop back into the job market after a short break? Does the job search seem difficult or are you getting calls without any conversions? Or you do not get any calls? Most of us face a job loss or a career break and almost every time it gets equally difficult to get back into action. Women mostly face these situations after marriage or after childbirth. These women must navigate back into career zones but find it hard to get into the corporate world. To get back into the harsh job world you'd need to update your resume. So what do you mention on your CV? We thought to share a sample resume after a career break and tips on how to up your game in the job market.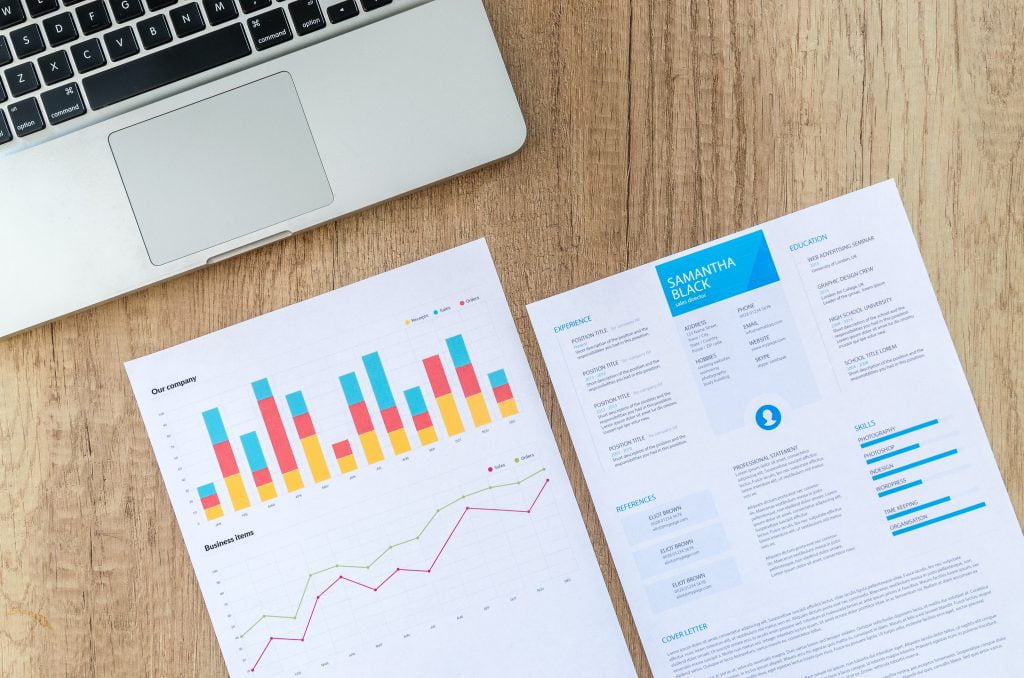 While a job is not a guarantee but let us start with few things and set them right. Your resume is the identity that gets circulated across various HR tables and let that talk about you in the most perfect sense. A career gap is no curse so let's not let that get into our systems in a way that would demoralize us.
A few tips that structure and resonate your resume after a career break with the job profiles in the market:
1. Define an objective
While most companies may not be so open to working with people with a career gap, don't let that impact how you look at the job market. Let your resume define an object that you are chasing and let that objective be coherent with your thoughts and ideas on work/corporate life. Example:
HR specialist with over 8 years of experience, looking to work with growing businesses in the manufacturing industry where my experience with employee communication and welfare programs is employed optimally.
2. Highlight certifications and awards
It is best to let your resume cover the awards and achievement section, highlighting pointers such as:
"Best Service Manager 2009 – Retail category with XYZ company" or SAP/workday certified HR specialist with the experience of leading the team.
You may also like to mention some technical certifications such as Six Sigma, Agile, PMS, Adobe Photoshop or HTML certification, etc.
3. Focus on achievements
When you mention your work experience and its key deliverables during your tenure with the company add another pointer of "Achievements". These achievements would mention any big milestone you cracked or your team building and development strategy. It can also include how you perform when faced with a challenge. Example:
Launching and relaying salesforce across the North zone in a week. A successful transition and troubleshooting support provided to field teams etc.
4. Mention career programs
In case you have a career gap and you are reluctant to mention. Start by saying:
Upskilling and learning initiative. In this section mention all the programs where you enrolled during your break/sabbatical. This could be a program on Workforce planning or WFM that now empowers you to be better at your field say HR or HR Analytics.
You can take cues from Deloitte's program on return to work and try incorporating such an experience in your resume. Deloitte is just one example of an organisation that runs this kind of scheme. Their return to work program lasts for 20 weeks and is aimed at men and women who have taken a career break. Whether the break has been for family or other reasons, the scheme provides tailored support and experience to help you readjust to being back at work.
5. Seek references and be unapologetic about your gap
Your gap is no handicap so do not feel shy to mention it in your resume or cover letter. Let your resume or cover letter mention at least 2 references. These need to be relatable references either of your previous reporting manager or stakeholder you worked along.
6. Here is a small performa of the resume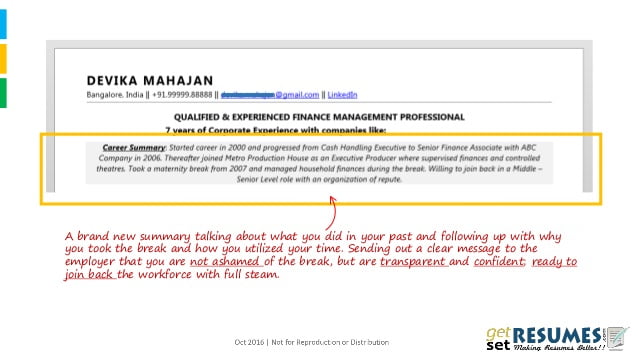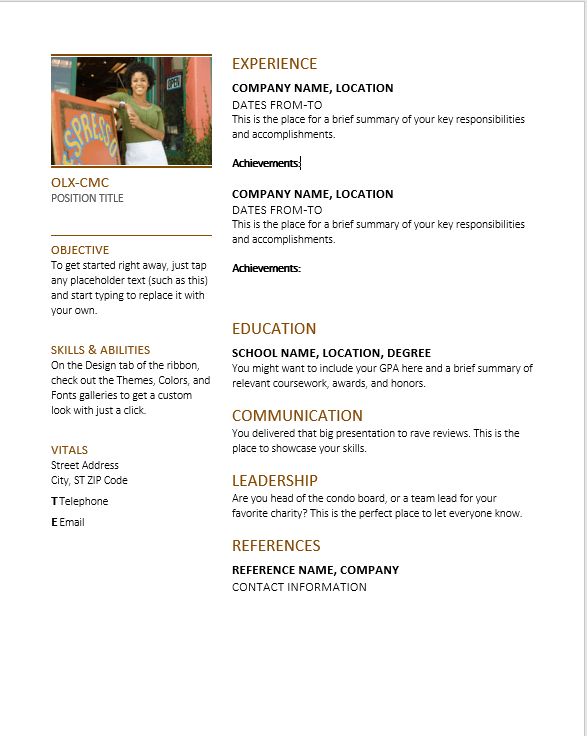 Did you know facts about how to make your resume search friendly:
1. Use keywords strategically
2. Use language from the job description
3. Keep it clean
4. Highlight your skills and achievements
5. Format your resume logically
6. Customize every resume
Let us know if you'd like to hear back on more details. Our career expert can take in your queries and respond accordingly.
Also, don't forget – Social media
Staying connected is one thing but staying connected with the right audience matters the most. India now does not see a job gap as a bane instead there are special websites for people looking to get back to work. A few of the most amongst those are Flexibees, Equivjobs, Sheroesindia, Herseccondinnings. Technical or non-technical, most of the jobs that are listed here are to encourage women to get back into action guilt free. The services and jobs offered range from Johnson & Johnson, Deloitte, JP Morgan, IBM, Facebook, and the likes.
Thus when companies don't shy from such gaps why should women have restrictions in their minds about it.
Roy Cohen, career coach, and author, The Wall Street Professional's Survival Guide says, "To demonstrate that you remain connected professionally, include links to your LinkedIn profile and other career-related social networking sites. Make sure to show that you're comfortable with and actively use technology." Go free, get all out, and check out these options for yourself to believe in the changing world.