by Aarti Kapur Singh
Check out 5 top tips on how traveling with kids can be made easy!
If you are an active parent ready to share your travel adventures with your kids, trust me, you are thinking wise. There is nothing that will influence your child's mind more than the learning and experiences of travel. Parenting should never mean giving up what you like to do, especially if you love something that only broadens your horizons – mentally and physically.
But it is important to remember that travelling for a child means moving out of their comfort zone. So that they are more accepting of changes and new experiences also means you allow some comforts to them. With a bit of pre-planning and positive attitude, you can keep your holiday disaster-free. If you do this correctly, you can also instill in your child a lifelong love of holidaying and teach him a thing or two about travelling well.
Here are 5 tips that we strongly endorse:
1. Start packing far in advance:
Start jotting down lists and piling necessities onto a large cardboard box or in a spare room – at least a month in advance if you are going on a long duration trip. Of course as the departure date grows closer, you will weed out some things and added others. Starting early increases the likelihood that you'll have what you need and reduces your stress. Always make a list so last minute stresses won't mean you forget essentials. In fact, I always have a bag of spare toiletries ready for my son – so even if it is a weekend getaway, packing is easier and quicker!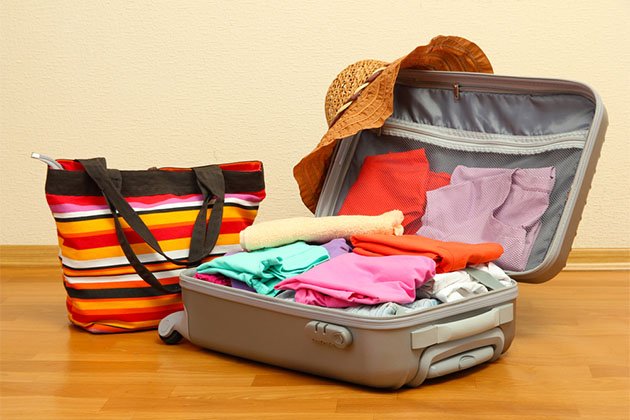 Yes, there is something called airport chic, but it is not for children – who want to run around, walk, sit cross-legged and generally not be bothered about only looking good. If you want to be comfortable, your kids need to be comfortable too. Clothes are the last reason there should be for being grumpy or cranky. Cotton or jersey track pants (in darker colors so the smudges or stains don't show) with t-shirts and loafers (that can be taken off in case they want to put their feet up in the plain or car) are ideal. The clothes should be loose enough to allow freedom of movement. Encourage kids to choose and pack their own clothes to minimize complaints and to teach travel skills. Roll clothes and stuff socks and underwear inside shoes. Wear your heaviest clothes on the flight. Select versatile and comfortable clothes and color-coordinated separates so if something gets dirty you only have to change part of the outfit. And pack bags with what is needed first on the top — a change of clothes for dinner, pajamas, or what is needed during the day including a change of clothes in case of accidents. Yes, this last bit is very important. Always keep a change of clothes handy – in case something is spilled on the clothes or the clothes soiled.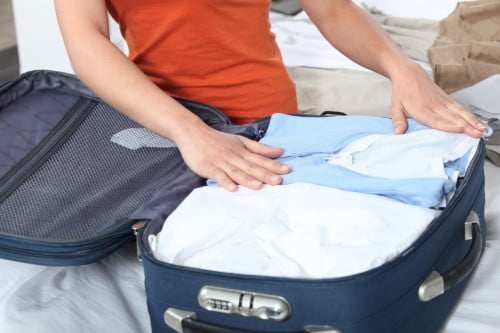 In any case I am not a fan of ipads. Well maybe for 15 minutes if you have got your child hooked onto technology. But I always make my own activity sheets before travel (some are easy to download too). Also, if your child spends hours playing with one particular toy (Let me guess? The iPad?!), try to limit the time you allow her to play with this toy (or completely eliminate it) for at least 3 days before your flight so it's fresh and new. And if you have older kids, you can use this as a bartering tool when you're struggling through the hell that is airport security ("Come on, kids! The sooner we get on the plane, the sooner you can watch Kung Fu Panda on your DVD player!").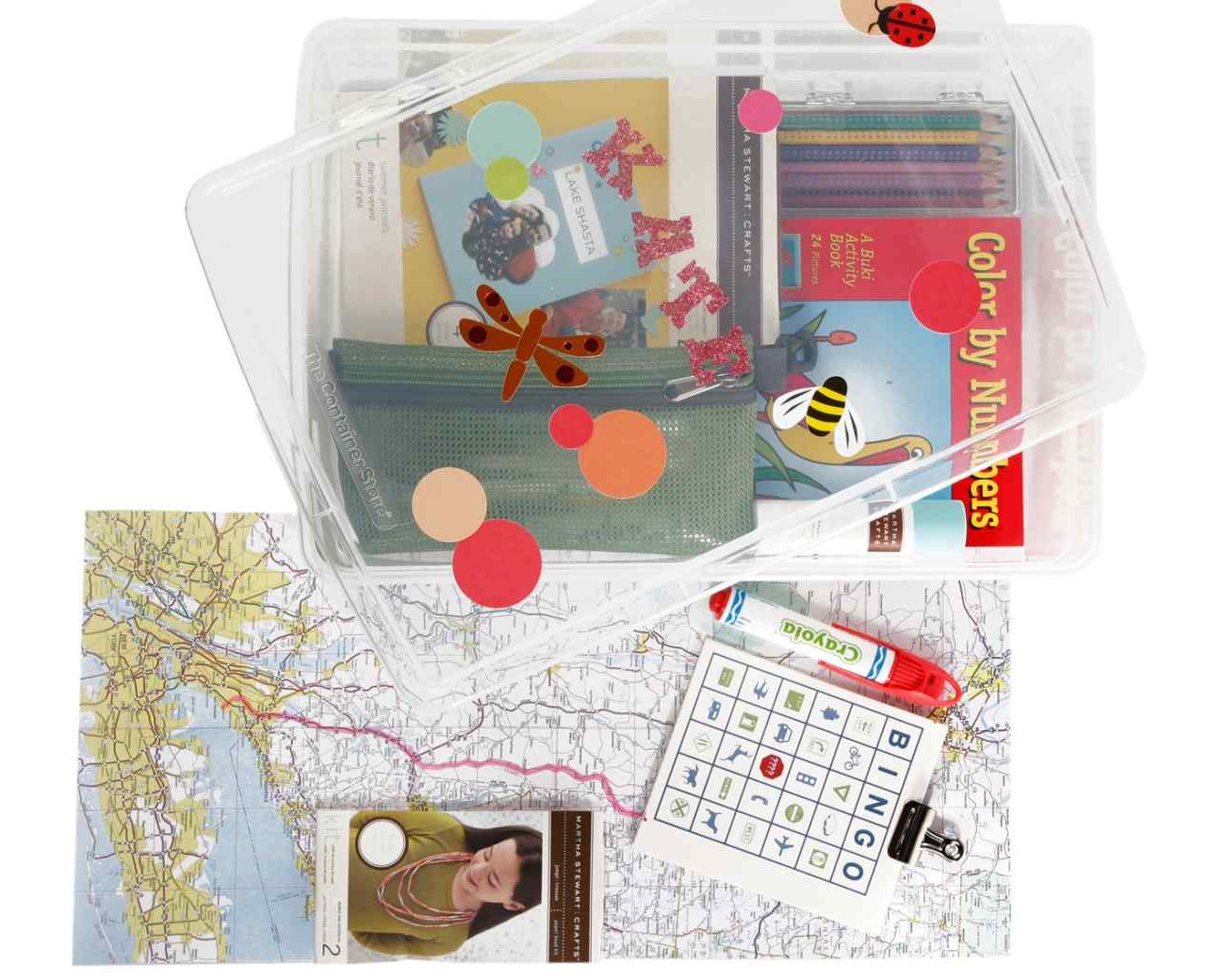 Also kids aged 3 and up get a backpack and all bags must roll.  Any child over 5 can push or pull a rolling carry on, and it's a great way to get them involved in the trip. I'll never forget my son insisting on pulling along his little roller bag  around the airport when he was only a little older than 3 – and he was so responsible about it throughout. The positive side to this is that the child will pitch in more, complain less, and appreciate what you're doing as well.
4. Pack emergency food and medicines:
I really can't emphasize this enough. If you have a child with a medical history, it is obvious you will travel with her medication. But even otherwise, pack basic medicines – lotions for surface injuries, flu medicines, pills for upset tummies and so on. Packing in biscuits and tetra-packs for juices is also a great idea.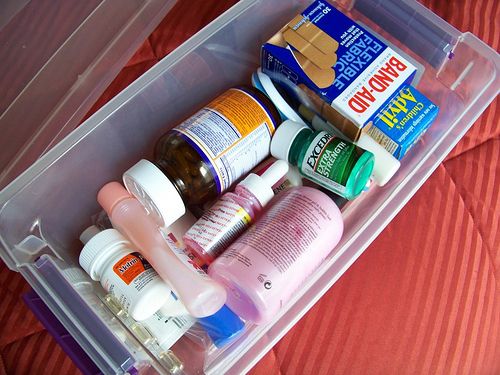 5. Slow down:
Plan for a slower pace than you might usually attempt if solo or as a couple. Be realistic about what you can see and do with kids in tow. Don't try to cram too much into your itinerary. The less you feel you have to see, the more enjoyable and stress-free for everyone. For the most part, the pace of the trip should be set to what your youngest child can handle. Build into your agenda time for stops along the way for bathroom breaks, snack breaks, and nap time. If you can avoid cranky children it will make for a much more pleasant experience.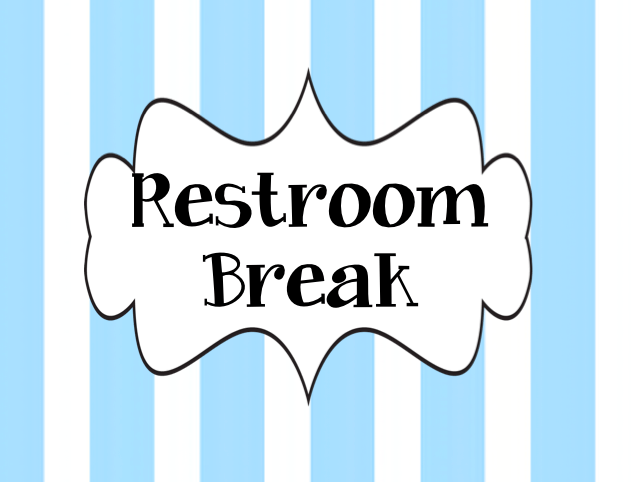 Top Tip: Make a surprise travel bag:
Once you've gathered a bunch of activities for your child to play with on the plane, stash it away in a special backpack he's not allowed to peek into until you're on your flight. I've been doing this with my son since she was about 2, and it's a lot of fun for both of us. Oh, and I throw in a few gift-wrapped cheap things – a candy bar, a tiny action figurine you get inside cereal boxes or chips packets. Sometimes there is a surprise brand new story book too!
Image source: 07, 08, 09, 10, 11
Subscribe to Blog via Email