Ever wondered how your mother and grandmother looked absolutely gorgeous in their wedding photos, even without makeup? The secret behind their flawless complexion and stunning glow was probably a healthy diet, combined with ayurvedic skincare using a few inexpensive kitchen ingredients, in the form of a homemade Ubtan.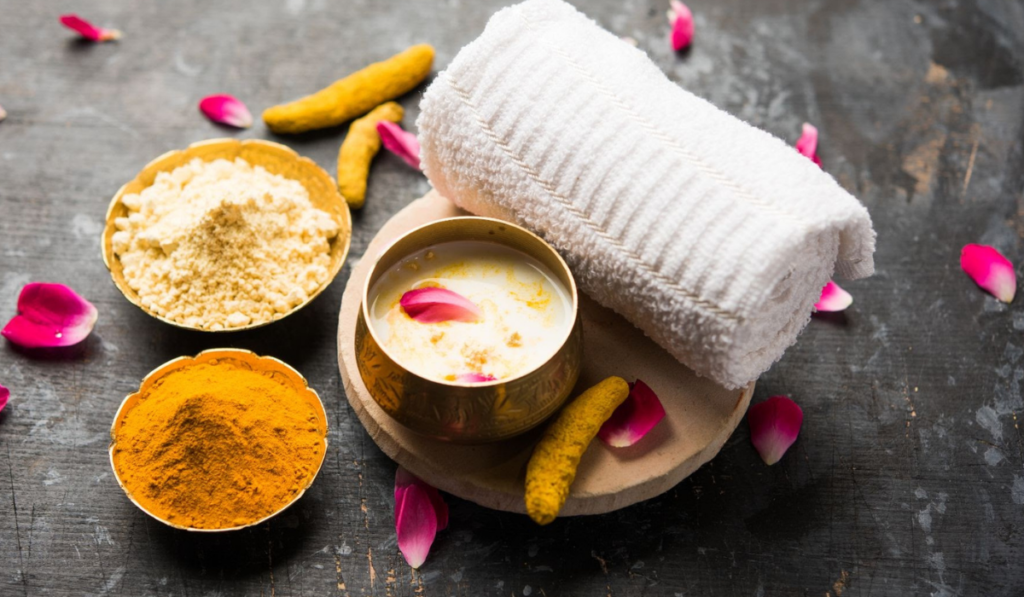 Ubtan – an integral part of your skincare routine:
Ubtan has been around for centuries, helping treat beauty and skincare woes. It's a paste made with a mix of dried and powdered herbs like Brahmi leaf and Tulsi, spices like turmeric and saffron, and also other everyday ingredients like gram flour, yogurt, rose water, and more.
Natural ingredients in Ubtans work together to brighten the skin, visibly lighten dark spots, correct hyperpigmentation, and address acne. They also help exfoliate the skin, leaving it soft and supple. Prominent beauty entrepreneur Shahnaz Husain believes that ubtan can be beneficial for brightening the skin, removing dark spots, and correcting discolored skin patches.
The best part of ubtan packs is that they can easily be made at home. The combination of ingredients to make an ubtan largely depends on the skin type and concern. Short on time? Brands like Mamaearth offer ready-to-use ubtan products made with natural and nourishing ingredients to ensure effective ayurvedic skincare for you.
The best way to use an ubtan:
Ubtan is best used as an exfoliating face pack. Hence brands like Forest Essentials, Kama Ayurveda, and Mamaearth have a variety of tan removal ubtans face masks for specific skin concerns. These products are usually in the form of a dry powder that has to be mixed with wet ingredients like water, milk, or yogurt to make a paste. Here are the several ways you can make a potent mix: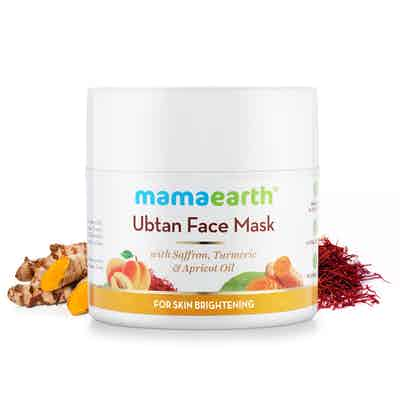 1. Mix it with rosewater or milk or yogurt
If you are battling dry skin, then mixing ubtans with cream or milk helps add extra moisture, soothing your dry and parched skin. On the other hand, if you have oily skin, then mixing it with a cup of yogurt, rose water, or lime juice will help remove excess oil, making your skin feel light.
2. Cleansing oil is a great option
Mixing Ubtan products with a cleansing oil offers deep exfoliation and removes dirt. The cleansing oil gives a lovely emollient base, works as a cleanser, and of course, acts as a scrub too. This leaves the skin fresh, clean and glowing.
How to use ubtan?
It's recommended that you use an Ubtan at least once a week to help add a healthy glow to your skin.
Apply freshly mixed ubtan generously to the face. This helps your skin extract the benefits of nourishing ingredients to amplify results.
Once the ubtan starts drying, gently massage it to help exfoliate the skin, getting rid of impurities, excess oil and dead skin.
5 Reasons to add an ubtan to your skincare routine:
If you're still unsure of using ubtan packs, here's some food for thought. You're probably familiar with the auspicious Haldi ceremony as a part of Indian weddings but do you know the significance. The bright yellow paste used is actually an Ubtan, a classic Ayurvedic skincare preparation to detox the skin and body. It gives the bride and grooms an instant glow. Additionally, here are some more benefits of ubtan:
1. Reduce signs of aging
Ubtan helps slow down the aging process. Most ubtan packs contain anti-aging and antibacterial ingredients like Chandan, turmeric, and aloe vera that help boost collagen production and also skin rejuvenation. This significantly reduces the natural aging process. In addition, ubtan helps counter free radicals damage. This reduces the chances of inflammation and cell damage that cause under-eye bags and dark circles. Thus, regular use of ubtan makes the skin appear youthful, adding a youthful glow. 
2. Suitable for oily skin
When it comes to choosing face packs for oily skin, most people choose alcohol-based products that dry out the skin to such an extent that the glands begin to overproduce oil to compensate. Hence it's always best to choose products made from natural ingredients, which don't strip the skin of its natural goodness.
3. Removes facial hair
Ubtan is a tried and time-tested secret for unwanted body and facial hair. Apply the ubtan paste on the skin, let it set, and then gently rub it against the direction of hair growth. While ubtans can't remove hair instantly, they can reduce growth with regular use.
4. Makes you look younger
Turmeric or Haldi, known for its healing properties, is the main ingredient in many ubtans and also other ayurvedic skincare products. The anti-inflammatory, anti-aging, and anti-oxidative properties make the skin appear young and glowy. The regular use of Haldi-based Ubtan products results in radiant skin.
5. Gives you clear, toned skin
Ingredients like Haldi and Chandan have antibacterial and antifungal properties, helping clarify your skin, minimizing acne breakouts. Also, sandalwood tightens your pores and gives your skin a firm and youthful look.
6. Helps remove tan
Ubtan is also effective for tan removal. The combination of ingredients in ubtan helps cleanse, exfoliate and reduce tan.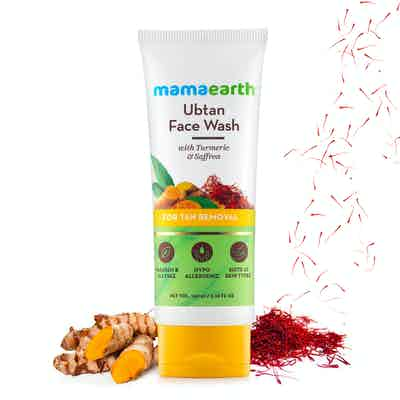 Product recommendation:
Considering the benefits of ubtan, it's time to include ubtan products in your Ayurvedic skincare regime. You don't have to mix all ingredients at home, thanks to the trusted brands out there who have introduced a wide range of ubtan products. We recommend you try the Mamaearth Ubtan products. The popular Ubtan Tan Removal Face Wash and also Face Mask with Saffron and Turmeric for Skin Brightening is crafted with the goodness of natural ingredients like sandalwood, turmeric, saffron, walnut beads, carrot oil, and apricot oil. These products help exfoliate, cleanse, and hydrate your skin from within, giving you naturally radiant skin. The best part is Mamaearth products are free of harmful chemicals like SLS and parabens. They are also cruelty-free, meaning they have not been tested on animals.