Onam is a Hindu festival that marks the start of a new year in the Hindu calendar and calls for a harvesting season. It is celebrated with much fervor in the state of Kerala. The festival of Onam lasts for a span period of ten days in which people feast, sing, dance, and celebrate with the entire community. We have curated the best Onam rangoli designs for you.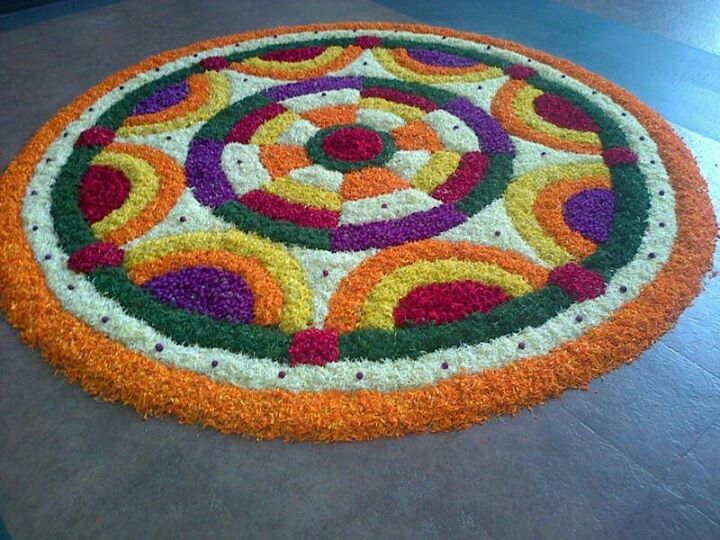 Women of the house also decorate their houses with different Rangoli patterns. And since Rangoli involves colors, designs, and patterns- what better way to get our little ones engaged?
Presenting 10 easy Onam rangoli designs:
1. Flower Rangoli: Making Rangoli with flowers is one of the easiest techniques, and when there are kids involved you would certainly want to make things easier and more hassle-free. Just draw the outline with the help of chalk and ask your kids to fill in with flower petals.
2. Chalk Rangoli: Kids aren't new to chalk and blackboard. Here the chalk is there and the floor becomes your good old canvas. You can help them in making an easy pattern, and they can then fill these with patterns with different colored chalks.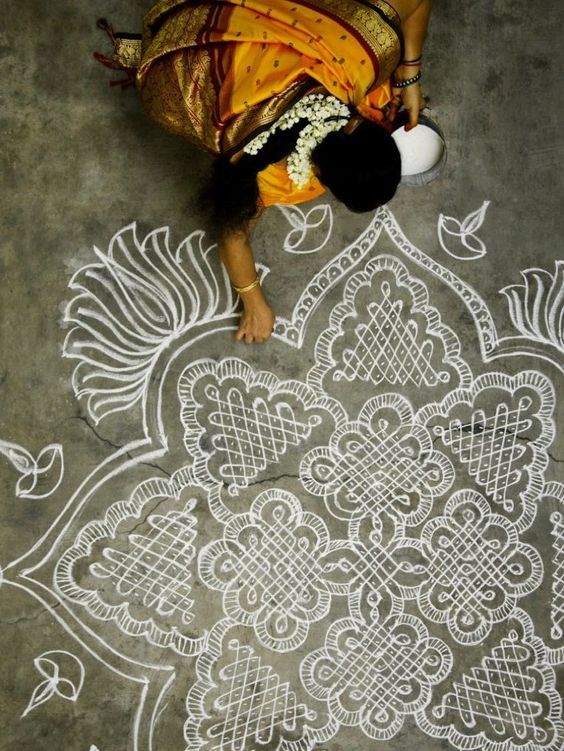 3. Colored rice Rangoli: This one is really interesting and involves a 2-step procedure. Take the rice and put it in a zip lock bag. Now add vinegar and food-grade colors to it. Shake the zip lock bag well and see the rice getting all colored. Now take the rice out and let it dry in the sun. Now make patterns on the floor with chalk and then fill them with colored rice.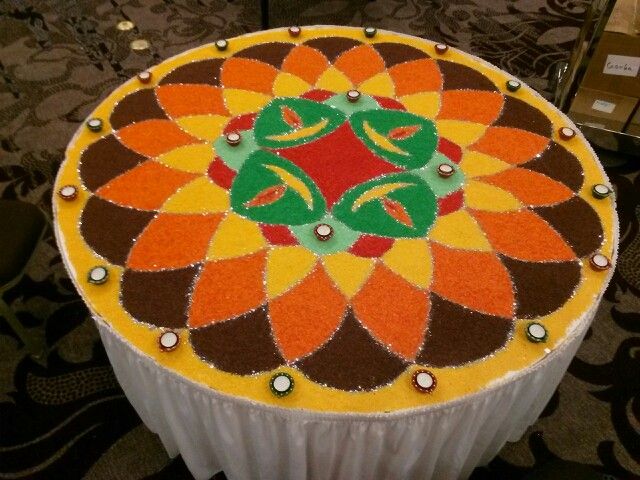 4. Pulse/lentil Rangoli: Pulses are a kid's favorite as far as art and craft are concerned. So why leave the Rangoli behind? The different shades of pulses will surely make a beautiful Rangoli.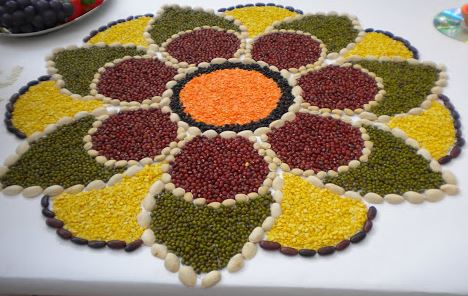 5. Rice flour Rangoli: This is one of the traditional methods of making Rangoli and is majorly used by the women of Kerala. They usually make simple patterns with flour only.  Ground a decent quantity of rice in the food processor. Help your kids in making this kind, as it requires a bit of time and some detailing to get the end result.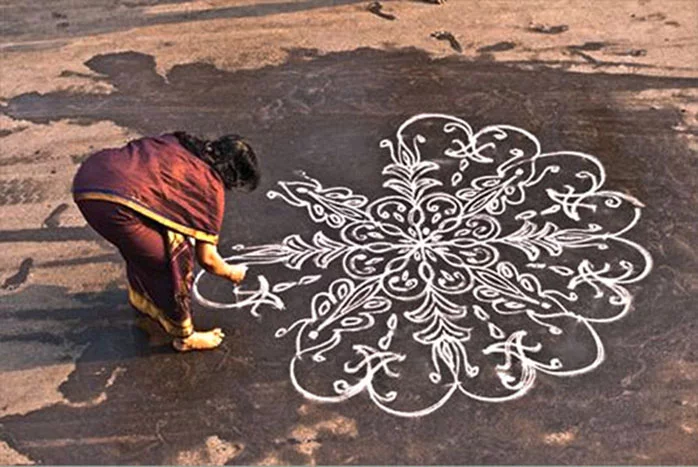 6. Clay dough Rangoli: Indeed clay dough is messy, but there is a lot of learning associated with it. Clay helps with fine motor development and boosts imagination and creativity. Help your kids make some beautiful designs with different colored dough.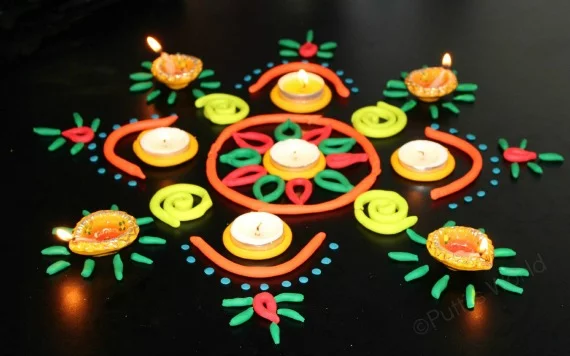 7. Rangoli stickers: Well, if you really want to make things easier and not get messy, sticker Rangolis is your best bet and hardly requires any time. These readymade stickers are easily available in the market at minimal prices.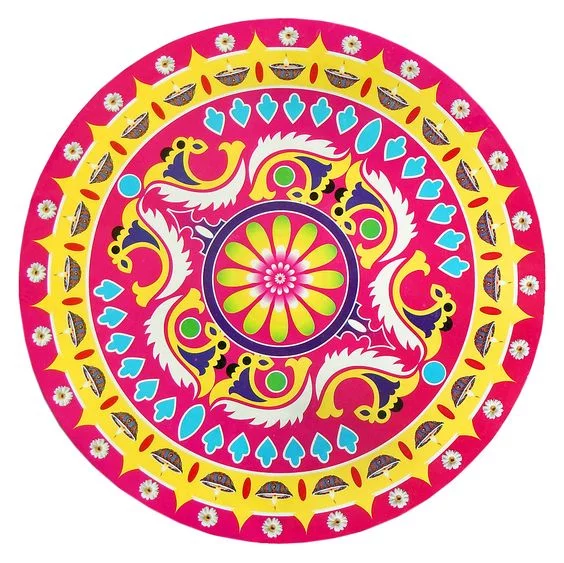 8. Wet rice flour Rangoli: This one is also the traditional Rangoli and is made on auspicious occasions. Soak rice in water and wet ground it. Transfer the contents to a bowl. Now take a small piece of cloth. Dip this into the paste and then draw the Rangoli pattern using the cloth.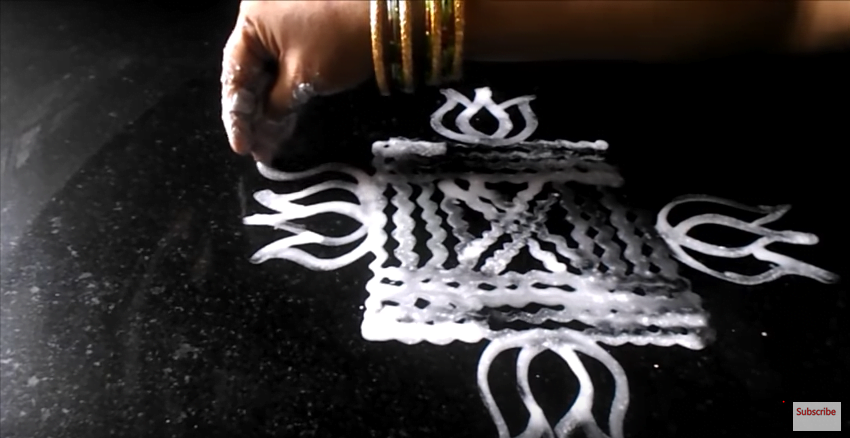 9. Stencil Rangoli: These days there are Rangoli stencils easily available in the market. You just require some fine Rangoli sand which will pass through this stencil. Just keep this stencil on the desired corner where you want the Rangoli. The colors fall through the hollow dots of the stencil and take the shape of the stencil.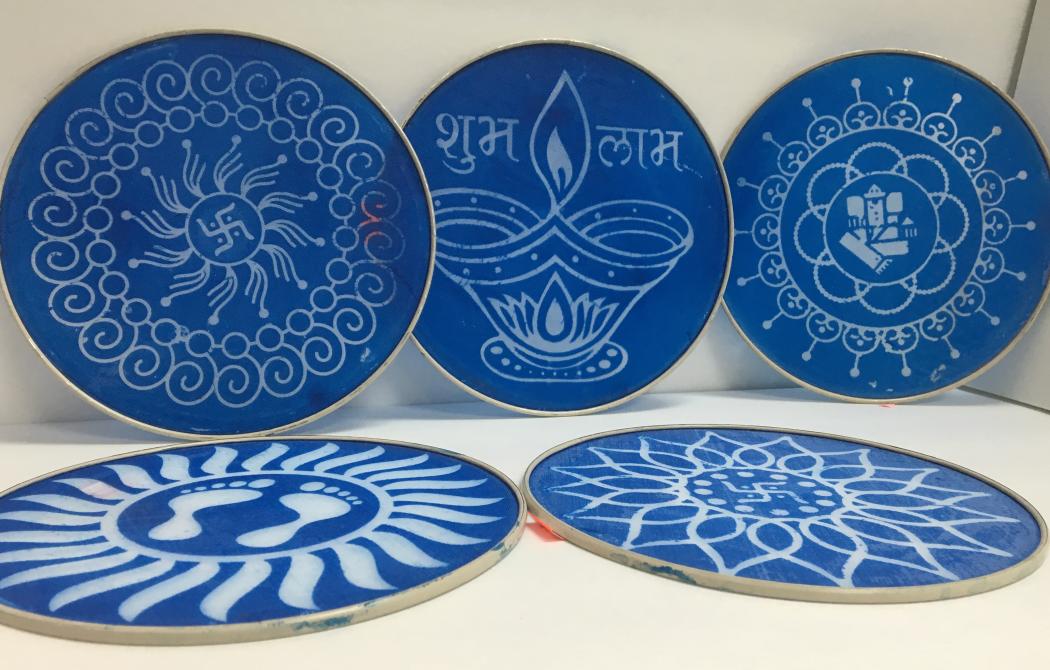 10. Colored stone Rangoli: You need not have exquisite stones for this. Even some colored stones and pebbles would do. Look for your discarded jewelry for such stuff. Draw the required pattern on the floor and with the help of glue ask your kids to stick these colorful pebbles and stones.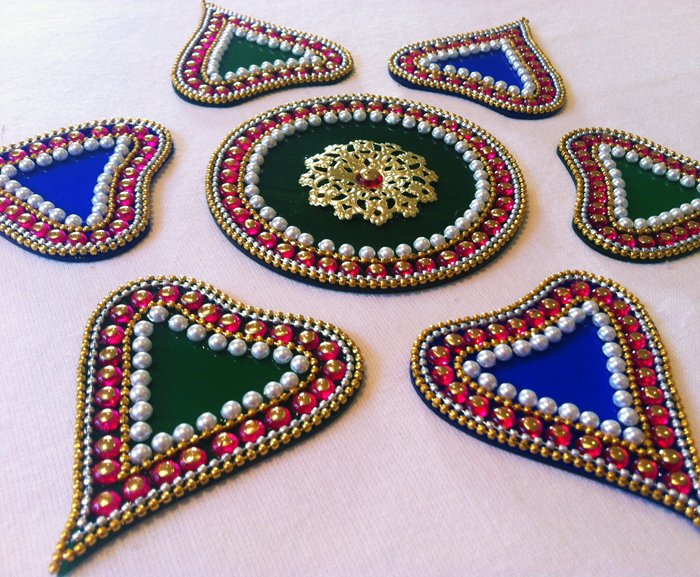 I hope you like the Onam rangoli designs. Let us know via comments which design you like the most.
Subscribe to Blog via Email
Image source: 01, 02, 03, 04, 05, 06, 07, 08, 09, 10
by Udita Saklani