Hygiene and cleanliness have always been integral to good living. I've never compromised on the quality of the cleaning process, all day, everyday and especially around this time of the year when it's all about feasting on oily food, making mithais at home, entertaining guests. I would say that this is the time (pre and post-Diwali), when my house has needed much more attention like a baby (pre and post-natal care). With myself being on a repeat mode of cooking-serving-entertaining mode, the house decor is also not left behind.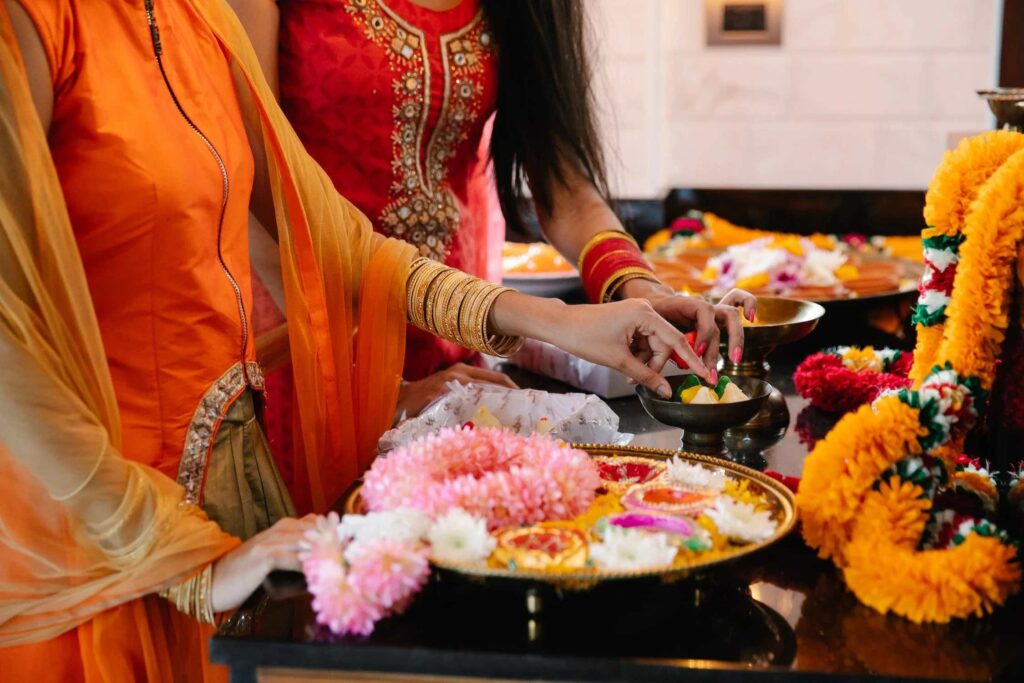 I love house decoration. Diwali means lights, Halloween means spooky themed decor and Christmas means hollies, tea-lights etc.
During Diwali, especially, doing up the house with the traditional decorations means spending hours doing mandir decoration, lighting it up and welcoming the festive-vibe all around your house. It doesn't end here! The worst period is post-Diwali, when the house is a mess.
From guilt-free sweet binges to preparing Rangoli, Diwali is a special occasion that I celebrate with full fervour and kitchen cleaning is an integral and essential part of one's pre and post festive regime.
Why did I not bother with kitchen deep cleaning services pre and post Diwali?
While Diwali brings joy along but the stress of cleaning the entire house is immense. For me, what it means in particular is to ensure the kitchen is spick and span not just around Diwali but post that as much. The cabinet doors are spotless, the slab is shining, all the unused or redundant utensils have been put aside (I usually offer them to house helps and they're always more than happy to put them to a better use).
Kitchen is the heart of the house. And so the cleaning process. What if I tell you that I am in some ways pretty excited about it this time around (read on).
To be honest, a happy and healthy kitchen ensures home food safety. It also means one gets to lead a good lifestyle.
One other thing that I essentially pay attention to is the sustainability factor. In the past, people used to simply go to a store and pick up whatever chemical-based cleaning liquid, bars, or powders one could find. Today, it has become a norm to review the contents, read the labels carefully and determine whether a product has any harmful chemicals in it or not. To simplify your choice of kitchen cleaning solutions for the festive season, let's take a look at 3 of the best options, and the reasons that made these products the best you can get in 2022 and continue to be popular for years to come.
CIF has replaced the kitchen deep cleaning services for me!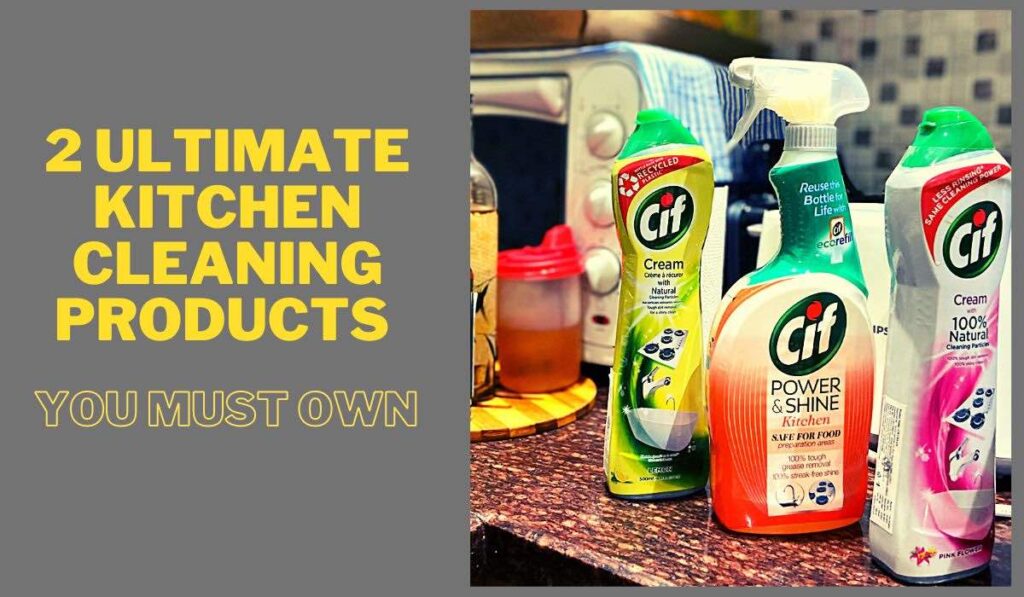 Two ultimate kitchen cleaning products that you must-own:
#DontJustCleanItCifIt
Here are the best products in 2021 that are also doing the rounds in 2022 and the answers to 'how to keep your kitchen clean not just during Diwali, but all the time.'
1. Multipurpose cleaner (available in two fragrances)
Purchase now: Cif Pink Multi Purpose Surface Cleaner Cream with Floral Fragrance, Removes Grease & Dirt with Natural Cleaning Particles for Shiny Surface
Purchase now: Cif Abrasive Surface Cleaner Cream, Lemon| Kitchen & Bathroom, Removes Grease, Dirt & Tough Stains with Natural Cleaning Particles
This is a steal! I mean it. Gone are the days when I would spend hours soaking cloth one in the DIY homemade solution of white vinegar and dish wash soap and a little warm water, and would use that solution to wipe off the dirt or grime with another clean and dry kitchen towel! It was tedious and never 100% effective. After having discovered the CIF Multipurpose surface cleaner, grease stain removal has become so easy. Now when I look at my gleaming clean stove burners, and pearl like slab, plus other surfaces of the kitchen, my heart knows, this Diwali would be special.
The product provides 100% tough dirt removal. Besides, it is packed with natural cleaning particles for shiny clean results. The fresh floral scent means my kitchen would stay fresh 24*7
Also, why just restrict this to my kitchen? I have been using Cif multipurpose surface cleaner cream to remove tough oil stains from the tea-light holder and brass diffusers used in my mandir, on hobs and hotplates, door handles (Metal and synthetic door handles), car seats, garden furniture, sports equipments, light switches, windscreens, bath toys, table mats, knives and cutlery (and teapots too), sinks and washbasins, shower curtains, fish tank, vases and pet bowls!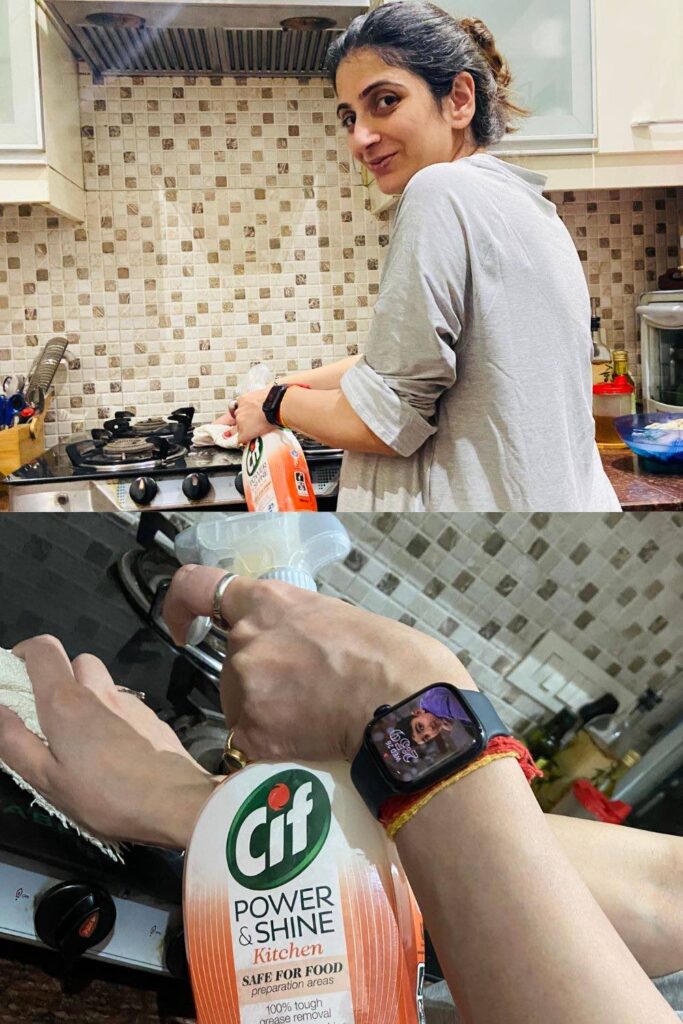 2. Kitchen gas stove cleaner
Purchase now: Cif Power and Shine Kitchen Cleaner with Orange and Tangerine Oil
A clean gas stove not only smells fresh and the sight is pleasant, but it's a kitchen safety essential. Burnt-on food and grease lurking around the burners can mean unhealthy lifestyle and it's also pretty hazardous. For a sparkling Diwali, I must have a sparkling kitchen for which I must own a sparkling clean gas stove and burners. While Cif Multipurpose Surface Cleaner Cream does it's job pretty well, Cif Power and Shine Kitchen Cleaner has the powerful deep cleaning molecules that instantly lift away even the toughest kitchen dirt such as grease. This is why it's a notch up and a great product to buy! The fresh notes of orange and tangerine add life to the kitchen's festive vibes!
So, this is my secret mantra to Diwali cleaning. Only two products for your kitchen and the heart of your house is all set plus Diwali ready home.
Additionally, I have got you some pro-tips (smart too) to always being on top of your clean kitchen!
Smart tips to stay more organised in your kitchen:
1. Clean while you wait
If you find yourself with some free time in the kitchen, use it wisely! For instance, the milk has been put to boil, and you're waiting, instead of standing around, CLEAN! You could just clean the slab or put away washed cooking utensils that you're done using. Wipe down the counters.
2. Kindly let the water out of the sink right away
It's so gross when I would forget to let the water out, and had to stick my hands in cold, greasy water. If you do it right after you wash dishes, it's way easier to wipe out the sink
3. Please wipe out the sink after washing dishes
I know it's super gross, but I used to leave all the little chunks of food from washing dishes in the sink when I was done. Those leftover morsels would quite literally stink. If you take 45 seconds to dump out the food scraps and wipe down the surfaces, your sink will be ready to go the next time you need to wash dishes.
4. Clean up spills on a priority
Never neglect this too, even if you are in a rush. The reality is, if you get to a spill as soon as possible, it will be so much easier to clean up. Dried-on gunk has to be soaked or scraped first, when it could have been cleaned up with a simple wipe!
Hope you like these ideas and now that I've decoded my secret mantra to an ultimate clean kitchen hacks, do share with your loved ones. Also, don't forget to comment below your thoughts, and tell us how you liked my choice of CIF products using #DontJustCleanItCifIt.
I bet you would never have to avail kitchen deep cleaning services in your life if you follow my tips and hacks.